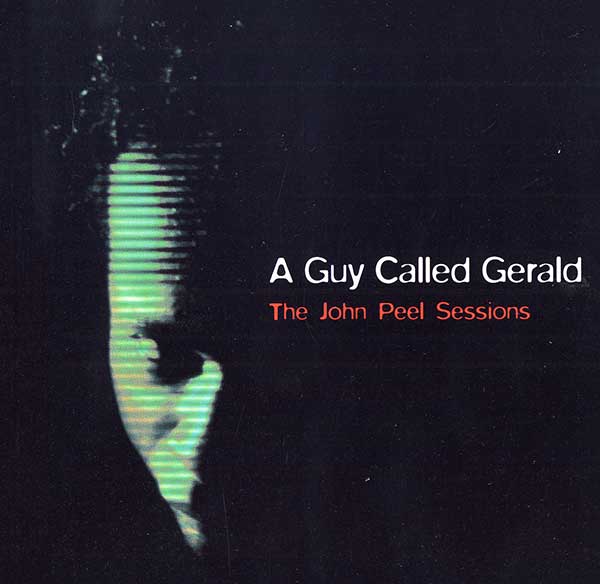 A Guy Called Gerald - The John Peel Sessions (album)
UK 1999 3xLP; Strange Fruit: SFRSLP 083 [Unconfirmed - I have never seen a copy!]
UK 1999 CD; Strange Fruit: SFRSCD 083
UK 2001 CD; Blanco Y Negro/Celebration: CELCD-068
UK 2008 Digital; A Guy Called Gerald Records: SUGOI-03

4:12 Time Waits For No Man
4:11 Rockin' Ricki
4:38 Emotions Electric
4:00 Johnny Roadhouse
4:23 Satisfaction
4:37 Bruford
4:18 Amabruku
5:14 Time Labyrinth
5:20 3 2 B One
5:27 I 1 2 4 Q

Released:
August 1999.

Credits:
"Time Waits For No Man", "Rockin' Ricki" and "Emotions Electric":
Recorded on 30th October 1988.
Engineered by Mike Engles.
Produced by Dale Griffin.
Synthesizer by Aniff Cousins and Colin Thorpe.
"Johnny Roadhouse", "Satisfaction" and "Bruford":
Recorded on 6th August 1989.
Engineered by Paul Allen.
Produced by Dale Griffin.
"Amabruku", "Time Labyrinth", "3 2 B One" and "I 1 2 4 Q":
Recorded in June 1995.
Engineered by Gerald Simpson.
Produced by Gerald Simpson.
"Emotions Electric" vocals by Paulette Blake.
"Satisfaction" vocals by Cola Nile.
"Bruford" vocals by Edward Barton.
"Amabruku" vocals by MC Kusta (aka David Simpson).
Reviews:
The John Peel Sessions album reviews.

Comments:
Tracks 1-3, recorded in October 1988, have already been released before on the original Strange Fruit 12" single and also in the US on Cassette/CD on the Dutch East India Label. Tracks 4-6 were recorded in August 1989 - some of these tracks may well have been destined for the unreleased Sony album "High Rise, Low Profile".
"Satisfaction" is a different version to the one recorded under the name of Inertia on the Buzz label compilation, "Panic In Detroit", whilst "Bruford" features the rapping talents of Edward Barton - a constant recording partner of Gerald featuring on the early 'Us' recording (collaboration between Barton, Gerald and Chapter & The Verse), on the "Edward (Not Edward)" compilation, and finally on Jane's "It's A Fine Day" single.
Tracks 7-10 were recorded in June 1995 and feature the rhyming skills of MC Kusta (aka David Simpson) on "Amabruku", who also appears on the "Essence" album. Finally, the track "I 1 2 4 Q" is an early version of "When You Touch Me" off, initially, the "Trance Europe Express 4" compilation, and then the reissued version of "Black Secret Technology".
The Spanish CD came out in 2001, via Celebration Records/Blanco Y Negro, with Gerald's sleeve notes translated into Spanish.
I still haven't, however, seen a copy of the vinyl version of this, even though it was advertised as such upon it's release.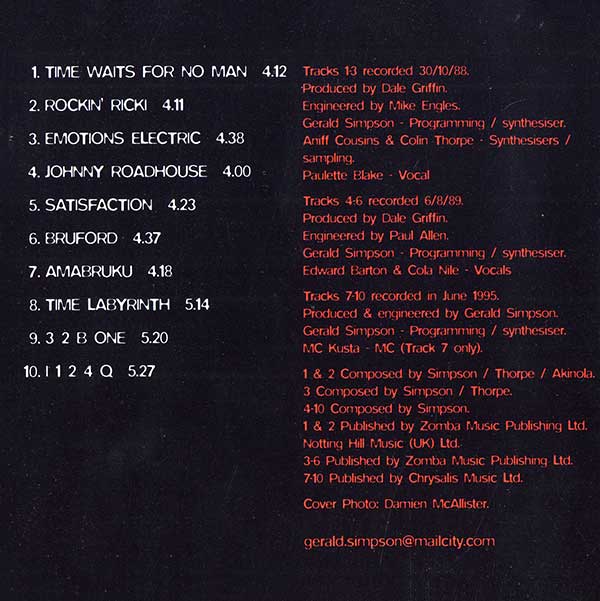 A Guy Called Gerald - The John Peel Sessions - UK CD - Credits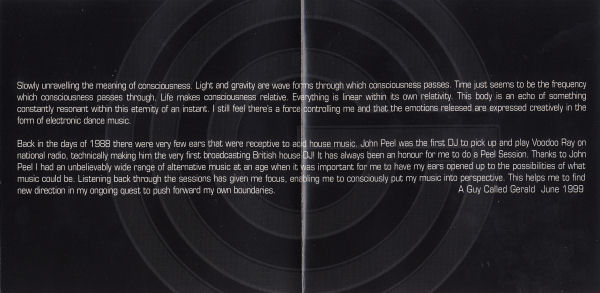 A Guy Called Gerald - The John Peel Sessions - UK CD - Inner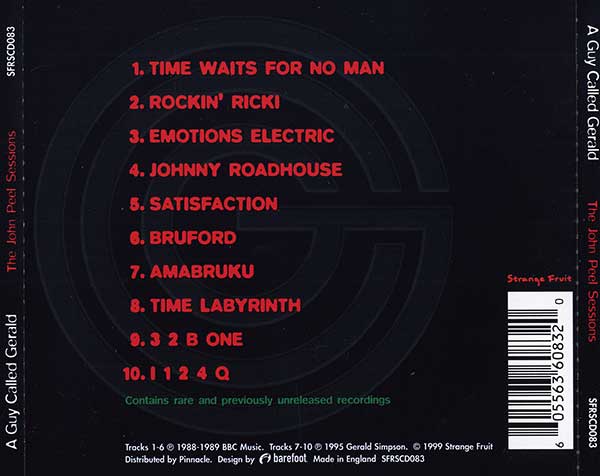 A Guy Called Gerald - The John Peel Sessions - UK CD - Back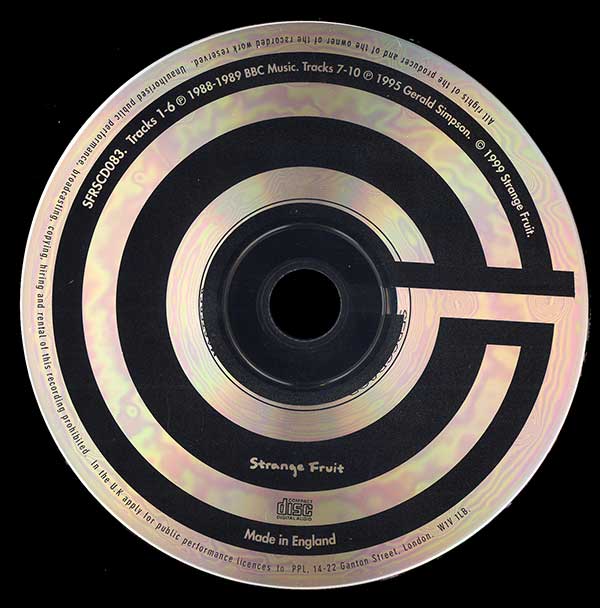 A Guy Called Gerald - The John Peel Sessions - UK CD - CD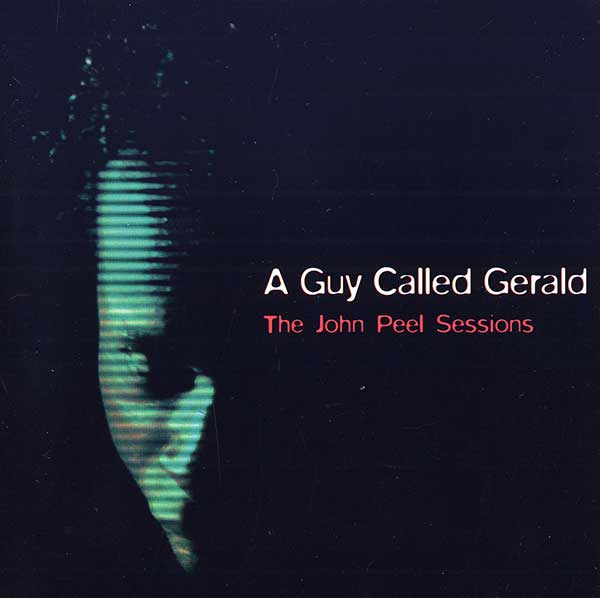 A Guy Called Gerald - The John Peel Sessions - Spanish CD - Front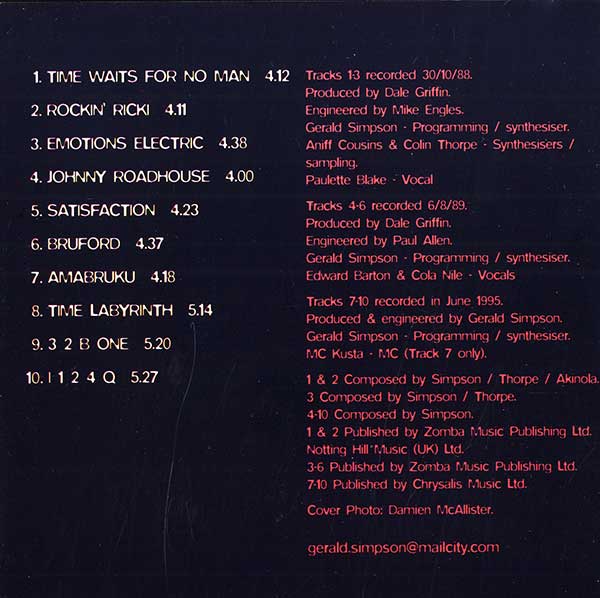 A Guy Called Gerald - The John Peel Sessions - Spanish CD - Credits
A Guy Called Gerald - The John Peel Sessions - Spanish CD - Inner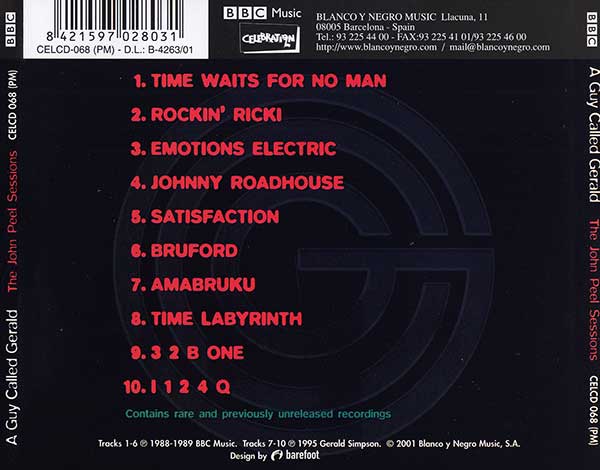 A Guy Called Gerald - The John Peel Sessions - Spanish CD - Back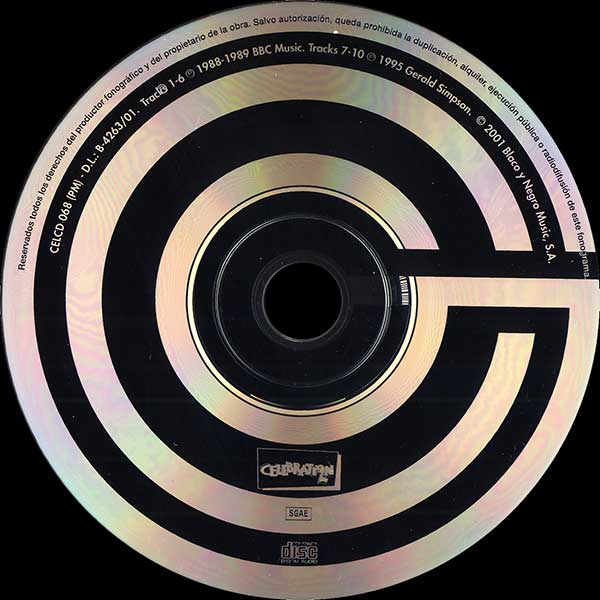 A Guy Called Gerald - The John Peel Sessions - Spanish CD - CD