November 1996
30 November: Space Children presents Be Here Now, Maritime Hall, San Francisco, USA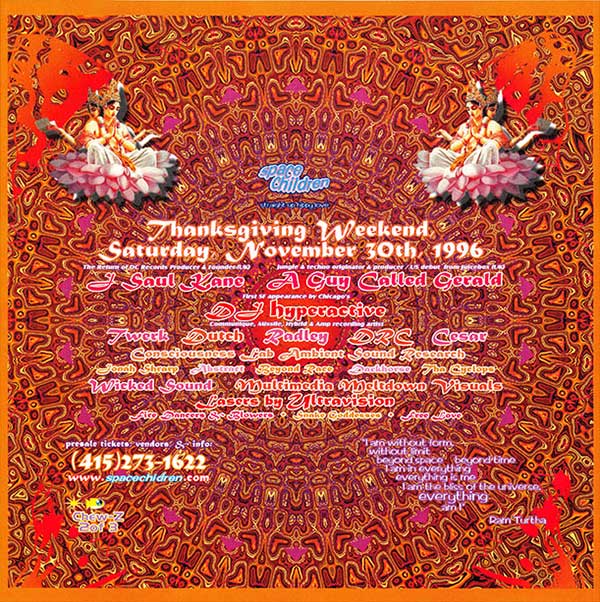 23 November: Tricky, Middlesbrough Arena, Middlesbrough, England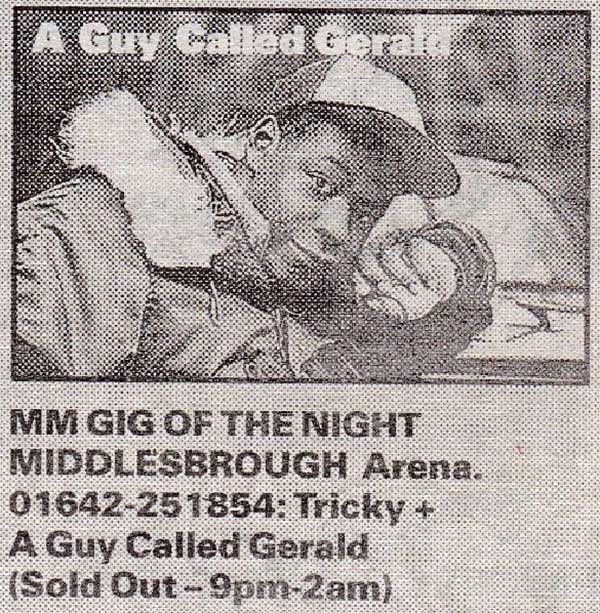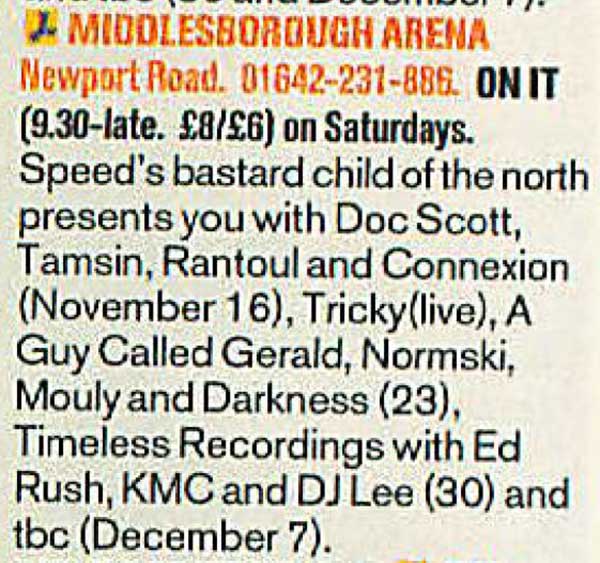 23 November 1996 - Tricky with A Guy Called Gerald, Normski, Mouly & Darkness
14 November: Blissed Out, Tramps, Swansea, Wales

Blissed Out at Tramps, Kingsway, Swansea. £4/£5, 9.30-3am. On November 14th with A Guy Called Gerald, MC Normski and Cuchi.
1 November: Mixed Blood, The Clinic, London, England

Mixed Blood at The Clinic, 13 Gerrard Street, W1. Claiming to be a club for the future generations. No house, no techno - just a study of the science and evolution of the breakbeat. From hip hop to Ninja Tunes, from ragga and ska to the new dark school of jungle, scratch DJs and four deck mixing. Residents are Skycutter, Dub Pistols and Kiki Mojo and they'll be joined by A Guy Called Gerald and The Spy Kid on November 1st. Info: 0181 964 3954.
?? November: Now 96 Festival, Nottingham, England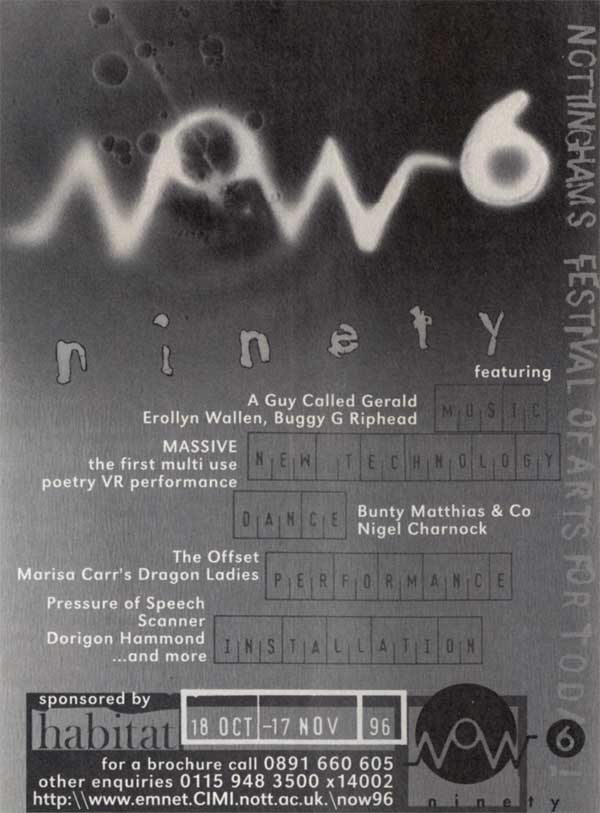 Errollyn Wallen & A Guy Called Gerald
(with visuals from Buggy G Riphead)
Music for Alien Tribes, with Gerald Simpson, (Errollyn Wallen), voice, v, elec, kbd, tape, 1996

October 1996
25 Oct: It's Obvious, The Warehouse, Somers Street, Leeds, Yorkshire, England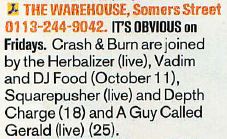 The Warehouse, Somers Street, Leeds.
It's Obvious on Fridays feat. A Guy Called Gerald (live) (25).
16 Oct: Breakbeat Science Launch Party, PM Scientists, Smithfields, Farringdon, London, England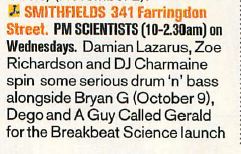 Breakbeat Science Launch Party, Smithfields, 341 Farringdon Street, London.
Dego and A Guy Called Gerald.
5 Oct: Ultraschall, Munich, Germany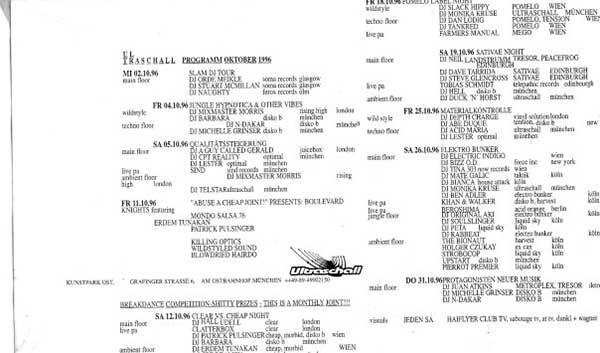 Ultraschall, Munich, Germany
A Guy Called Gerald, DJ Set
Also playing: Mixmaster Morris, DJ Lester, etc
?? Oct: Bristol Sound '96, Bristol, England
"A Guy Called Gerald is also involved with Sound '96, taking part in a series of "strong club nights."
Melody Maker, 12th October, 1996
Wendy Page
toured with A Guy Called Gerald, at the European festivals and stuff in '96.
September 1996
14 Sep: Aarhus, Denmark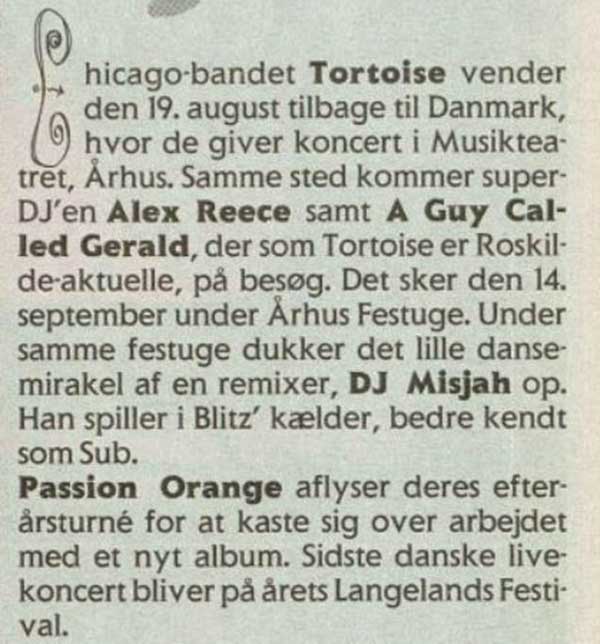 14 September: Aarhus, Denmark
with Alex Reece
August 1996
31 August: On It, Arena, Middlesbrough, Teesside, England

Saturday 31st August 1996.
On it: Sterling junglist rhythms from A Guy Called Gerald, Renegade and Glider.
Arena, 208 Newport Road, Middlesbrough.
9pm-2am.
£7.
10 August: Energy 96, Hallenstadion/Messe, Zurich-Oerlikon, Switzerland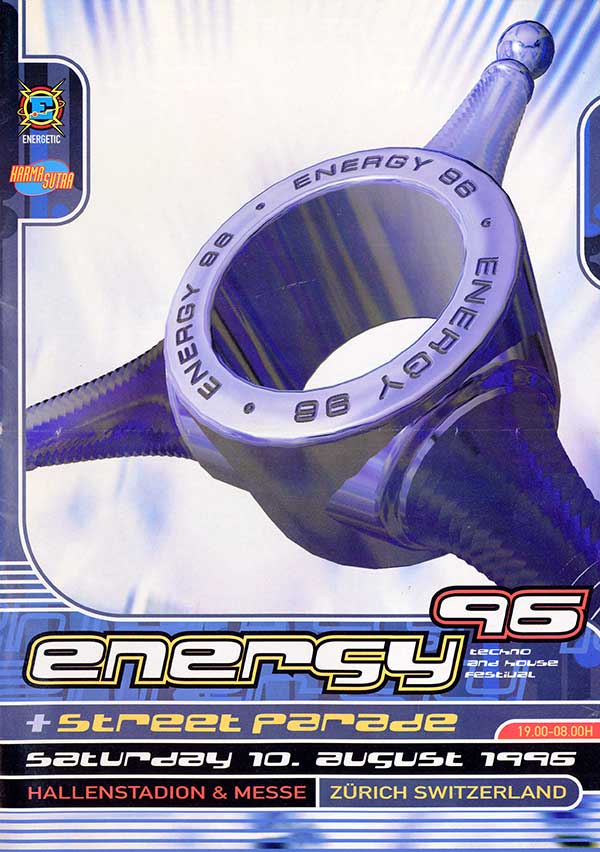 Energy 96, 10.08.1996, Hallenstadion/Messe, Zürich-Oerlikon
Live: Charly Lownoise & Mental Theo, Ingler (Laurent Ho), Mark N-R-G, Stunned Guys, Tesox, Hardfloor, Robert Hood, Green Velvet, a.o.
DJs: Mark Spoon, Paul van Dyk, Yves de Ruyter, Commander Tom, Dave Davis, Stefano Noferini, Laurent Garnier, Ian Pooley, Joe T. Vanelli, DJ Deep, Herbert, Alex Reece, Kemistry & Storm, A Guy Called Gerald, Jacob's Optical Stairway, Dream, Dani Künig, Obsession, Mind-X, Eric Borgo, Rozzo, DJaimin, Mr Mike, a.o.
4 August: Digital Playground Sessions, Brix Theatre, Brixton, London, England

Digital Playground Sessions
LTJ Bukem, A Guy Called Gerald, Marque Gilmore and others do their digital drum 'n' bass thing in Brixton for the benefit of Net users and a jungle club in Los Angeles.
Sun 11pm, Brix Theatre, London SW2 (0171-274 2122)
DIGITAL PLAYGROUND SESSIONS: DRUM N' BASS ROCKS L.A.
Featuring
LTJ Bukem (Featuring MC Conrad), A Guy Called Gerald and Marque Gilmore's Drum FM (Featuring MC Tricksta) other special guests to be confirmed Video projection & mixing - Digital Diaspora, Interactive audio/ visual links - Netmare
Produced by Digital Diaspora
On August 4 Digital Diaspora, from their base in Brixton's 'The Brix' at St Matthew's, will host the London broadcast of 'Billboard Live' from Sunset Strip in Los Angeles. As part of the grand opening celebration of LA's new live entertainment venue, Digital Diaspora will provide a live interactive link between the stateside celebrations and an unique live club performance from London. Other cities involved include: New York, Dublin and Paris.
Fusing elements of jazz, dub, hip-hop, techno and funk to create abstract soundscapes, Digital Diaspora will be collaborating with the UK's leading DJ's and musicians taking the progression of live drum 'n' bass to a new level of innovation. The session will include artists: LTJ Bukem (Featuring MC Conrad), A Guy Called Gerald and Marque Gilmore's Drum FM (Featuring MC Tricksta) other special guests.
The London leg of 'Billboard Live', takes place from 11pm till 4am, August 4 and boasts the cream of the UK's drum and bass` fraternity coming live from The Brix to Sunset Strip and the potential 50 million audience on the worldwide web.
This outdoor gala centres around the launch of the Billboard Live night-club, with over 1000 celebs and VIPs and the first time closure of 'the Strip' to accommodate this mammoth event. Digital Diaspora will broadcast audio and visuals via ISDN from London with Diaspora VJs cutting and mixing between LA and Brixton creating an unparalleled transatlantic hybrid
cyberspace broadcast. Two monster Sony Jumbotron, located outside the venue on Sunset Strip will display the event to an audience of over 1000. In addition, Digital Diaspora in
association with Netmare will also provide a live netcast of the event (using 'CU-SeeMe' and 'RealAudio) via the Internet.
'Digital Playground: London To L.A. is the latest in a long line of groundbreaking Digital Diaspora events on the worldwide web using ISDN. The brainchild of Marc Boothe,
Digital Diaspora itself is a network of artists, musicians and writers dedicated to fusing urban culture with new media. Digital Diaspora events have already included Digital Slam I, a live networked event linking the ICA, London and New York's 'Kitchen' and previous ground breaking 'Digital Playground' sessions. Live from Brixton to the worldwide web, the last
session featured a historic fusion of hip-hop legend Afrika Bambaata and UK Drum and Bass pioneer Grooverider and was the first ever net broadcast from a club via the internet .
Then on 25 & 26 August, Digital Diaspora will produce a truly unique event - the first live interactive broadcast from the legendary Notting Hill Carnival, taking the one million strong
street festival onto the worldwide web.
This autumn the story continues with the launch of the first ever monthly networked sessions between London and New York. These will showcase a diverse array of established and
emerging artists in contemporary popular culture collaborating on-line. Leading musicians DJs and visual artists performing simultaneously at the cutting edge of multi-media technology. Later the 'network' will be expanded to include Paris, Tokyo and L.A.
To access the event visit our website:
https://www.diaspora.co.uk/diaspora
For further information contact:
Marc Boothe @ Digital Diaspora email: dig...@diaspora.co.uk
voice: +44 171 274 2121 fax: +44 171 274 2222 Tickets available on the door.
July 1996
20 July: Axion Beach Rock Festival, Zeebrugge, Belgium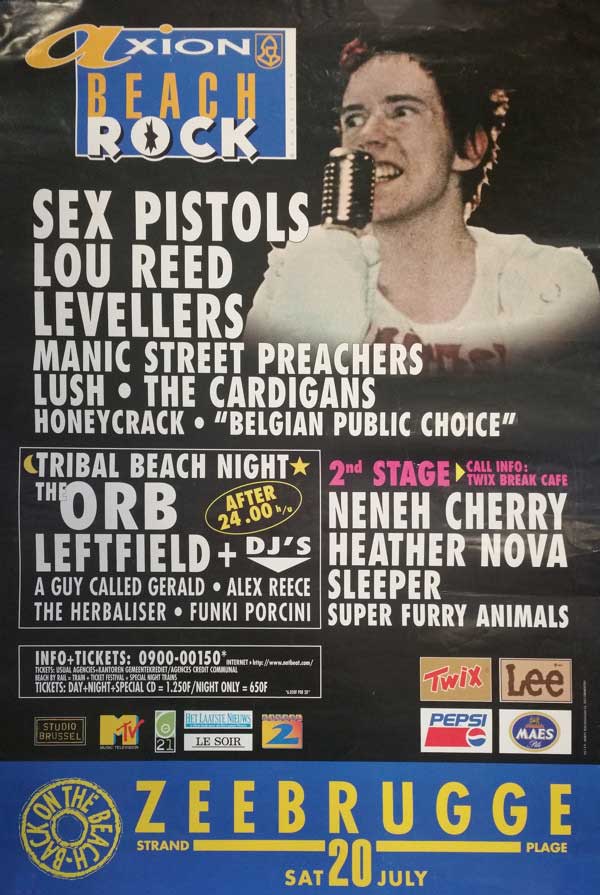 Axion Beach Rock Festival, Zeebrugge, Belgium
13 July: Doctor Music Festival, Escalarre, Spain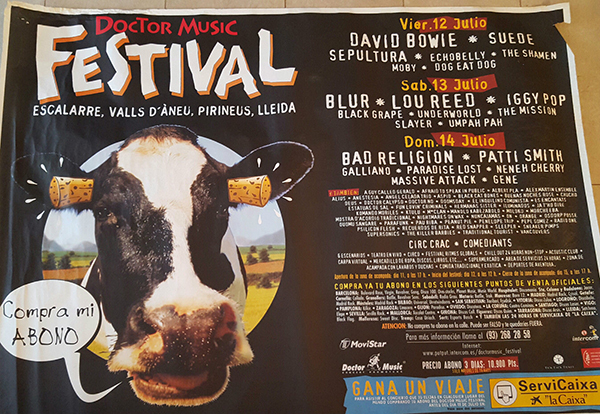 June 1996
30 June: Roskilde Festival 1996, Dyrskuepladsen, Darupvej, 4000 Roskilde, Denmark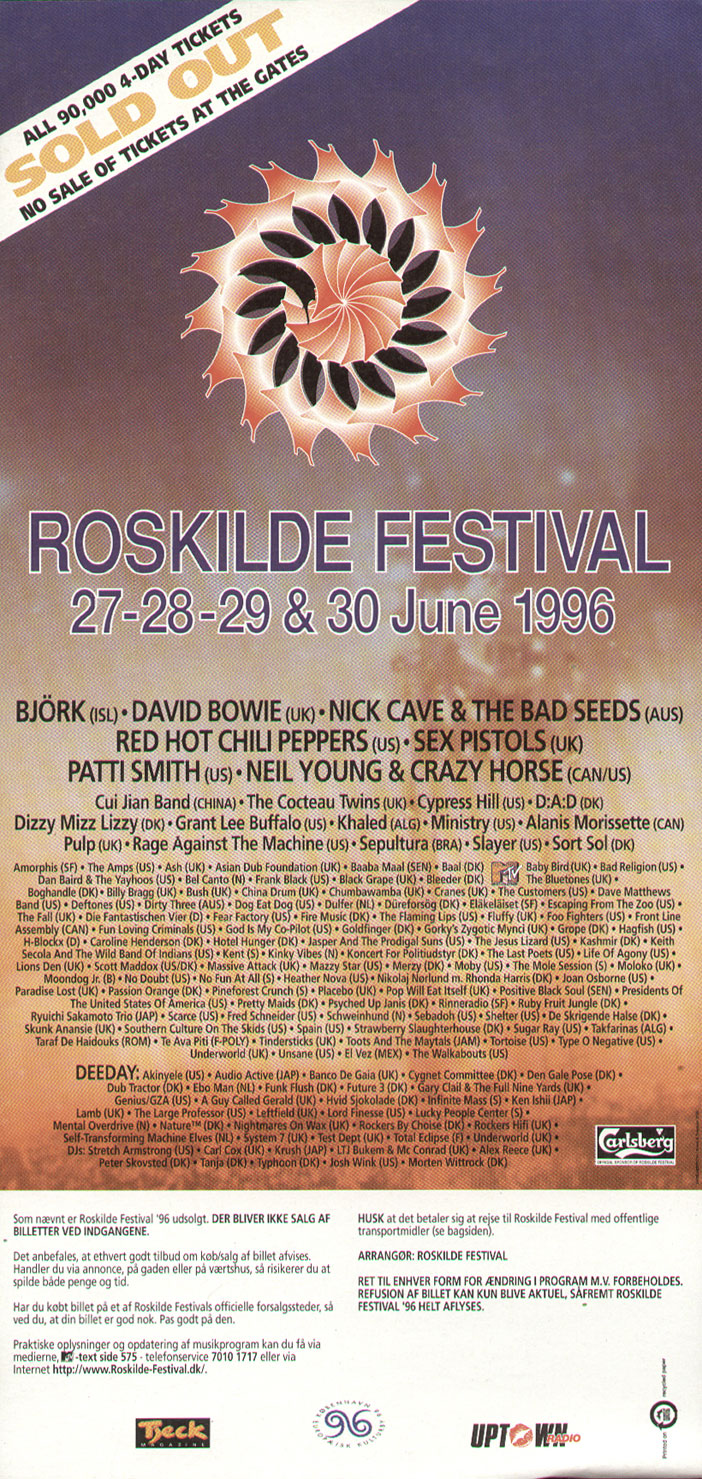 Saturday 29.06.96 - 03:00 - Deeday
On the record "Black Secret Technology" the Manchester wonder-boy Gerald Simpson - alias A Guy Called Gerald - bends and stretches voices, beats and bass lines out into time and space. The album, which can best be described as a hybrid of techno and jungle for the feet and brain has been called the best record of the year in sections of the UK music press. It rises above other jungle-like efforts because of its pioneering originality. The speeded-up breakbeats and sounds really are "in tune" with each other - they have almost the same function as African talking drums.
A Guy Called Gerald released the pioneering 1988 minimalistic, acid house album "Hot Lemonade" and later "Automatikk" in 1990. He played an excellent set at Roskilde Festival 1990 - in his acid house days.
28 June: Strange Fruit Jazz Festival, The Fruitmarket, Glasgow, Scotland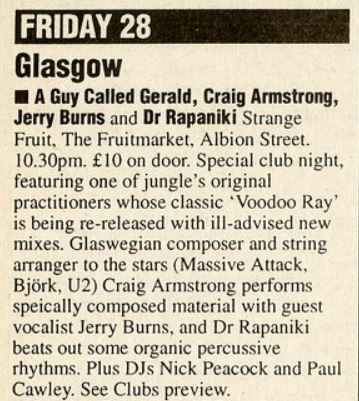 Daily Record, Thursday 27 June 1996:
"Glasgow's Jazz Festival goes jungle this Friday with a host of the hippest Scottish acts.
Topping the annual Strange Fruit bill at the city's Old Fruitmarket venue is drum 'n' bass star A Guy Called Gerald, along with Scots singer Jerry Burns."
Also mentioned in this article.
May 1996
15 May: On The Jungle Vibe, Volcano Nightclub, Glasgow, Scotland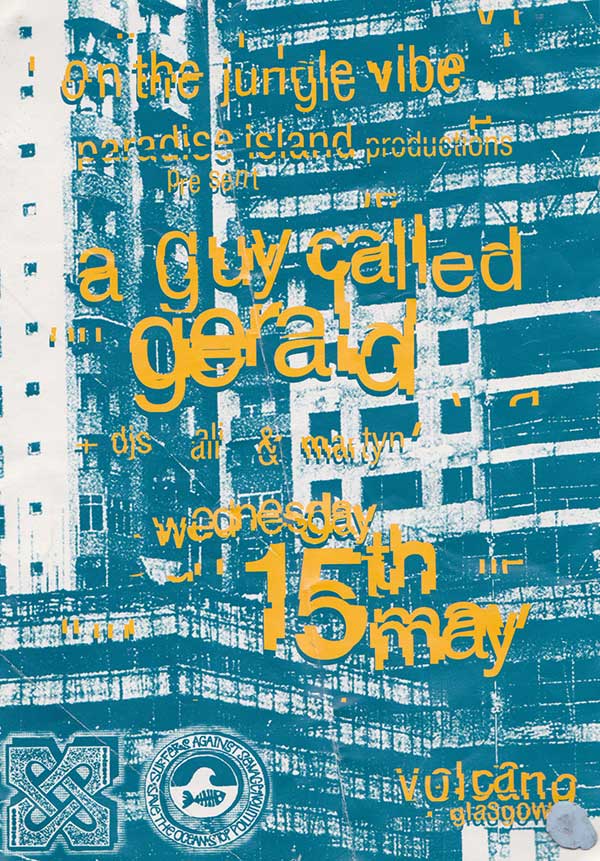 Wednesday 15th May
"On The Jungle Vibe"
Paradise Island Promotions Presents: A Guy Called Gerald plus DJ's Ali & Martin.
Volcano, Glasgow
Flyer from https://djmash.co.uk/?page_id=208
News story from the Glasgow Herald:
" At the creative centre of A Guy Called Gerald there is, naturally enough, a guy called Gerald......Gerald Simpson. Straightforward enough, but Gerald Simpson is a guy who's curiously difficult to pin down.
He's a musician, as his forthcoming Strange Fruit engagement will reveal. He's a DJ, as folk at Glasgow's Volcano discovered a couple of weeks ago. He's a re-mixer, as can be vouchsafed by acts as diverse as jazz diva Flora Purim and industrial grindcore merchants Cabaret Voltaire. He's pioneered all forms of dance music, from Chicago house in the eighties to today's drum'n'bass excursions. "
3 May: Virtual Futures 96, K-Nova, University of Warwick Students Union, Warwick, England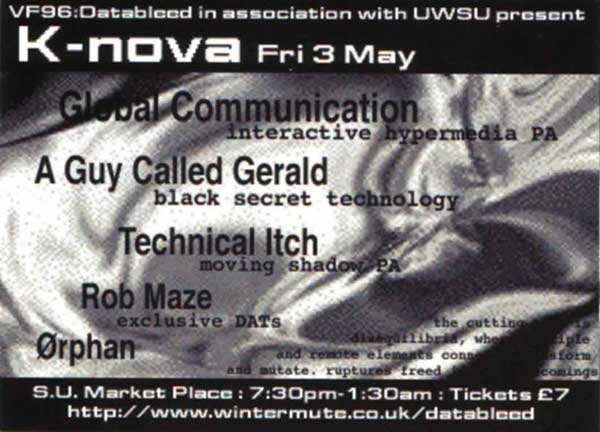 Flyer from https://danohara.co.uk/archive.html
virtual futures 96
~~~~~~~~~~university of warwick~~~~~~~~~
CONFIRMED SPEAKERS...update!!!
Manuel DeLanda
Pat Cadigan
Sue Thomas
Jim Flint
Linda Dement
Kodwo Eshun
Mark Sinker
Scanner
Sadie Plant
Stylophonics
Nick Land
Linda Kaufman
O[rphan] D[rift>]
Iain Hamilton Grant
Steve Beard
Hex
Matthew Fuller
Switch
****collapse
Conrad Becker
Beth Stryker
...and more!!!
*PLUS*
vf96 presents:
~~~ K-NOVA ~~~
featuring
A GUY CALLED GERALD
GLOBAL COMMUNICATION
ORCA
RED MERCURY (dan o'hara and rob mayes)
university of warwick students union
friday 3rd may --- ticket prices t.b.a.
____________________
***Order your conference tickets and reserve your K-Nova place NOW!!!***
____________________
Still time to get your proposal in - but don't hang about. Send as much
information as possible to Anna Greenspan (speaker coordinator) at:
vf96
Cybernetic Culture Research Unit
Faculty of Social Studies
University of Warwick
COVENTRY CV4 7AL
vf96: a wilder, deeper, and more hideous epilepsy of stark panic than
they had seen on human countenance before.... the horror...
K-Nova, University of Warwick Students Union, Warwick, England
March 1996
8 March: Le Bikini, Toulouse, France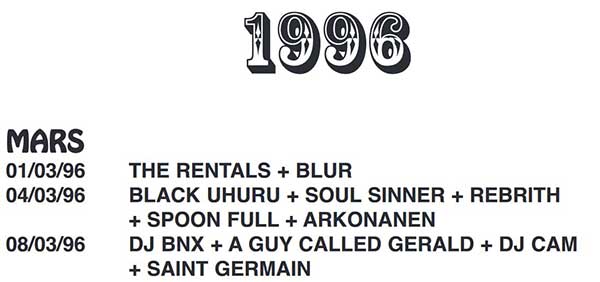 January 1996
29 January: La Laiterie, Strasbourg, France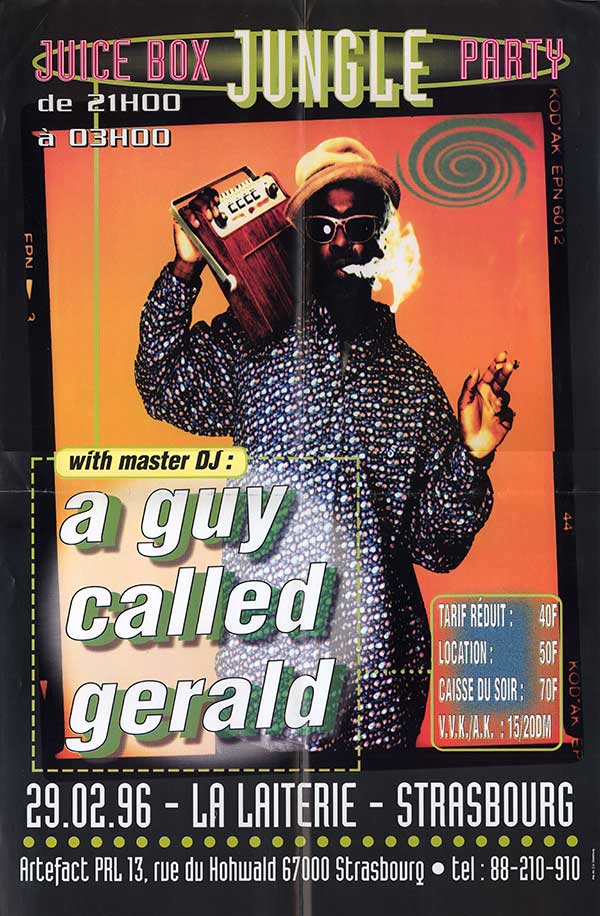 28 January: L'Aeronef, Lille, France
22 January: Le Chabada, Angers, France
21 January: L'Ubu, Rennes, France