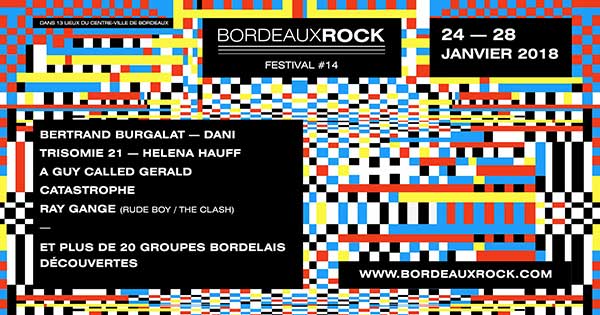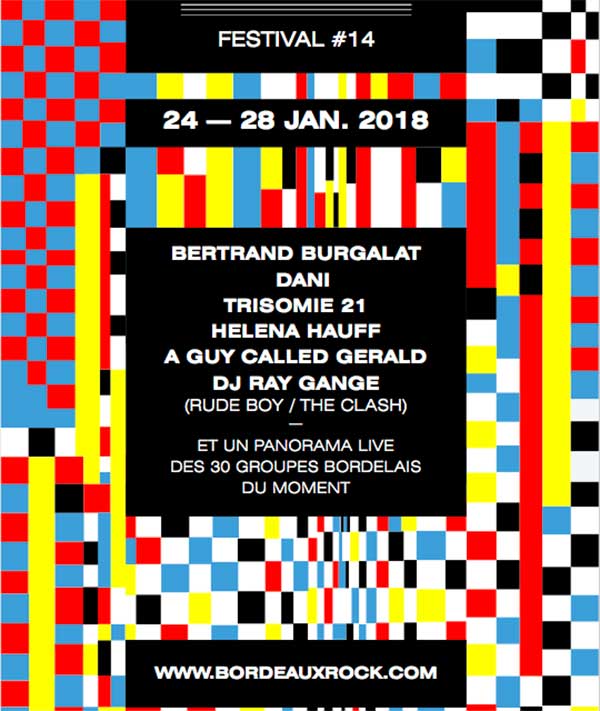 Bordeaux Rock Festival #14
JAN 27
IBOAT : A Guy Called Gerald / Hang the DJ / Crème Fraîche dj's

Saturday, 27 January 2018 at 23:59–6:00 UTC+01
IBOAT
Quai Armand Lalande Bassin à flot n°1, 33300 Bordeaux, France

Tickets available
yurplan.com
- A Guy Called Gerald (Acid house/Haçienda Legend /Manchester)
Que dire, si ce n'est que cet homme originaire de Manchester est un véritable monument de la house music, ayant écrit les plus belles pages de l'histoire de la dance anglaise. Résident du mythique club Haçienda, il en a composé ses hymnes les plus emblématiques avec "Voodoo Ray" ou encore "Pacific State" sur son projet 808 state. A la pointe en matière de production musicale, il est un pionnier de l'acid house qui déferlera sur l'Europe en 1988 lors du second Summer of Love. Après 30 ans de carrière, il pose ses valises à Bordeaux le temps d'une nuit qui s'annonce anthologique.
🔸 HANG THE DJ (Madchester / Bordeaux)
La boum survitaminée du 4 sans de retour à l'I-boat pour un set spécial "Madchester".
🔸 Crème Fraîche dj's (acid ! / Bordeaux)
Qui de mieux que ce collectif de dj présent sur la scène underground bordelaise depuis 2011 pour représenter l'esprit acid.
> https://soundcloud.com/itscremefraiche <
__________________
BILLETTERIE
Préventes : 10€ (hors commission) sur http://urlz.fr/6bTq
Sur place avant 1h : 10€
Sur place après 1h : 14€
__________________
Partenaires publics : Mairie de Bordeaux, Bordeaux Métropole, Département de la Gironde
Partenaires privés : Crédit Mutuel du Sud-Ouest, Histoire d'y Voir Opticiens, Arlette Gruss officiel, La Taupinière, Chez Cocotte, Phood, Hôtel LA COUR CARREE // Bordeaux centre, Seeko'o Hotel Design Bordeaux, Resid'Hotel, TBM, Feeling Tattoo Piercing, XL Impression, Studio Josepho, Musical Wines
Partenaires médias : Nova Bordeaux / Agen, Junkpage, Radio Campus Bordeaux 88.1, Le Bonbon Bordeaux, Happe:n, France 3 Aquitaine, BDXC / Bordeaux Concerts, Handle with care productions, Le Drone, Mowno, TSUGI , Kiblind, Manifesto XXI / Gonzaï, Trax Magazine, FestivalsRock.com, Modzik, Noisey France, PWFM
___________
UBLO, l'appli mobile de l'I.BOAT
___________
• Agenda • Billets coupe-file • Bons plans
Connectez-vous vite ++
sur APPSTORE : https://itunes.apple.com/fr/app/ublo/id1203647617?mt=8
sur ANDROID
https://play.google.com/store/apps/details?id=ublo2.com.ublo

INFOS PRATIQUES

× I.BOAT
Bassin à flot n°1
33300 Bordeaux
Accès
- Tram B : arrêt Cité du Vin
- Bus 76 : arrêt Cité du Vin
- Vcub : arrêt Cité du Vin, Bassins à flot ou Lucien Faure
LA CANTINE DE L'IBOAT
___________
Spécialités de salades, burgers, wraps, hot dogs et desserts maison, préparées à base de produits frais cuisinés en musique et avec amour
Prix cools de 2 à 10 euros
Du lundi au vendredi de 12h à 14h
Du mardi au samedi de 19h à 23h
https://www.facebook.com/lacantineiboat/
SUIVEZ-NOUS
___________
https://www.youtube.com/user/iboatbordeaux
https://www.facebook.com/intelligentboat
https://www.twitter.com/Iboatbordeaux
http://instagram.com/iboatbordeaux/
https://soundcloud.com/iboat
https://www.iboat.eu/
PLUS D'INFORMATIONS SUR LES CONCERTS, LE CLUB, LES CINE-CONCERTS, AFTERWORKS, RESTAURANT, THEATRE... www.iboat.eu.