April 26th: Felipe Valenzuela / Pier Bucci / Gerald track "Mas" out soon via Room 9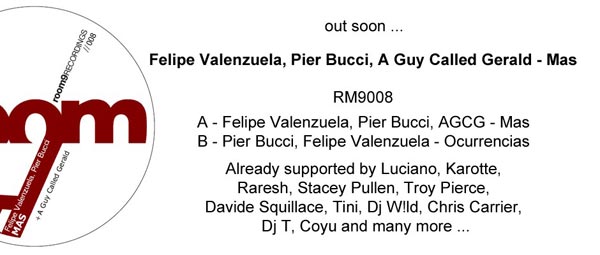 Felipe Valenzuela / Pier Bucci / A Guy Called Gerald - Mas
IT 2013 <Unknown Media>; Room 9 Records: RM9008

Side A

Felipe Valenzuela, Pier Bucci & A Guy Called Gerald – Mas

Side B

Felipe Valenzuela & Pier Bucci - Ocurrencias
Released:
25th May 2013.
Press Release:
Andrea Appolloni's Room 9 label is back with a fantastic new EP from the chilean producers Felipe Valenzuela and Pier Bucci, supported by the great touch of the former acid house uk producer A Guy Called Gerald.

Felipe Valenzuela is at his second Ep at Room 9 and he has built a superb reputation for producing quality house, always mixed with his own South American vibe. His releases and remixes for labels including Cadenza, Melisma and Metroline Ltd, have granted him fantastic support from the best international artists. For this Ep he worked in studio with his friend Pier Bucci.

Pier's sound is a personal blend of lush, colorful melodies, wrapped inside elegant techno, all tied together with a Latin twist.

A Guy Called Gerald's touch increased the quality of this Ep, thanks to the refined taste of the uk producer. AGCG marks more of 20 years of production in dance music and his style is a gateway between Chicago House and Detroit Techno.

Ocurrencias, music by Pier and Felipe, is a percussive groove track characterised by lots of organic elements and powerful percussion that progresses into a wave of acid naughtiness.

ACGC worked with the chilean producers in order to realize the track "Mas", a perfect combination of the styles of all artists, with deep acid haunting synths creates an impressive crescendo to drive the emotions in this sophisticated melodic elegant track.

Room 9 Records release page here.
Listen:
Purchase from:
TBD
April 26th: Gerald track "Thu The Diehold" on "Bosconi Stallions NEGED" - due 22/05/13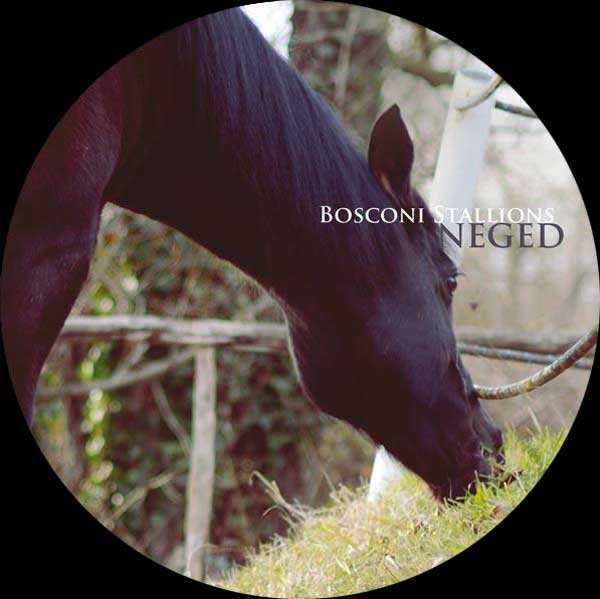 Various - Bosconi Stallions NEGED
IT 2013 12" Single; Bosconi Records: BOSCONI 023

Side A

1. A Guy Called Gerald - "Thu The Diehold"
2. Altered Natives - "The Legend Of Neglect"

Side B

1. Brothers In Low - "Testacorta"
2. Eduardo De La Calle - "Virata Rupa"
Released:
Vinyl: 22nd May 2013.
Digital (Beatport): 2nd June 2013.
Press Release:
For the second installment of the Stallions saga, Bosconi Records entrusts the fate of the muscular thoroughbred Neged. The stallion is flanked by five stallions at an older age and with four tracks have a responsibility to drive the seductive ride, set synergy between Uk, bass and balearic sounds.

The first maximum weight is A Guy Called Gerald, with a melodic and other times The Diehold Thu, following close behind Altered Natives that lay snares for between environments dreamy and epic of The Legend Of Neglect. The B-side turns on a wide range of positive feelings derived from spatial Testacorta melodies, written by Alex Picone and Mass Prod aka Brothers in Low, and Virata Rupa by Edoardo della Calle, who is a great travel companion for a ride reached only half of the final goal.

Bosconi Release page here.
Purchase from:

April 26th: Sender Flashbacks Vol #3 feat. Gerald's "Time To Jak"out 29/04/2013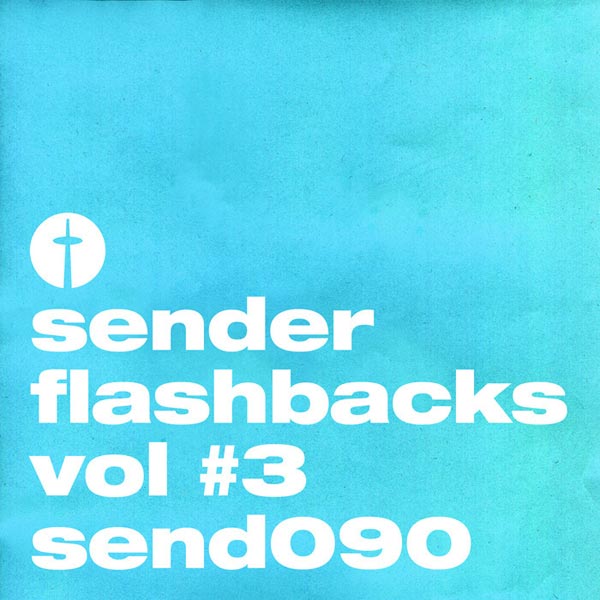 Various - Sender Flashbacks Vol #3
DE 2013 Digital; Sender Records: send090

06:50 A Guy Called Gerald - Time To Jak

Released:
Digital: 29th April 2013.
Press Release:
Originally released in 2006 (backed with Beno Blomme's version of "Time To Jak", now included on a digital compilation via the label, Sender Records.

Bosconi Release page here.
Purchase from:

March 16th: Black Secret Technology in "The Sun"!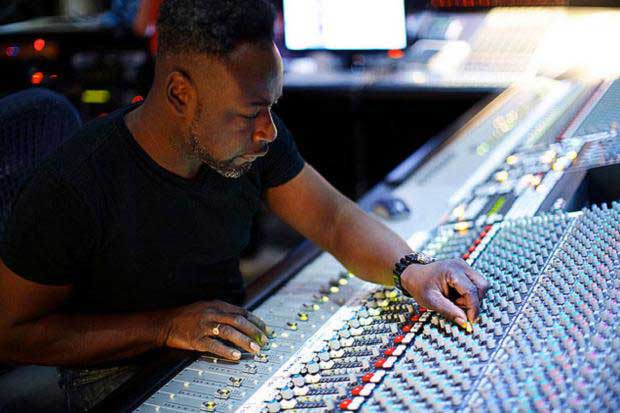 Gerald article in The Sun from 16th March here.
February 18th: Gerald on Kraftwerk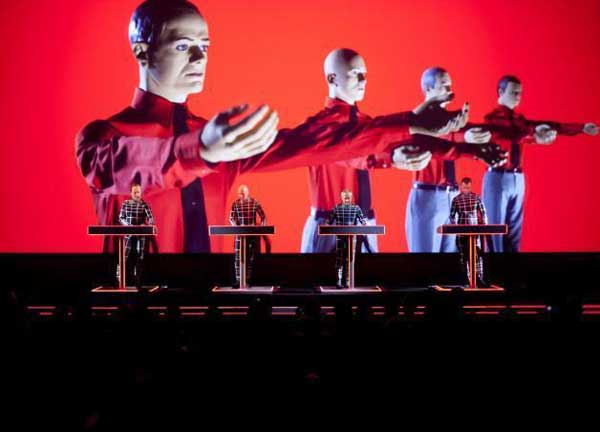 An interview with Gerald on Kraftwerk here.
February 6th: Gerald chats with Terry Farley
Here's a YouTube clip of Gerald being interviewed by Terry Farely.
January 13th: Interview with Soundwall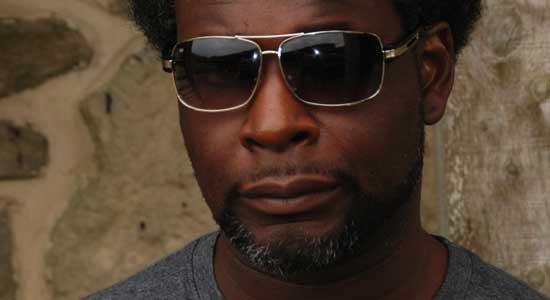 Here's an interview with Soundwall (English version at the bottom of the page).
2012 News