December 1999
18 Dec: Jimi Tenor, The Cooler, New York City, New York, USA

The Cooler, 416 West 14th Street, NYC 10014, New York, USA
From the Jimi Tenor website:
"18 Dec 99
The Cooler, NYC
Jimi Tenor doing his thing with Nicole Willis and Wanda Pittman on backing vocals, Maurice Fulton on turntables and Satoru Ito on guitar. The bill also includes members of We and a Guy called Gerald on turntables."
From The New York Times:
"JIMI TENOR, the Cooler, 416 West 14th Street, West Village, (212) 229-0785. Jimi Tenor, from Finland, is a dance-music hipster who doesn't take his own blandishments too seriously. He sets up fashionable grooves that look back to the 1970's -- funk and pop-jazz filled with analog synthesizers, wah-wah effects or big-band arrangements -- and tops them with vocals professing pure devotion: ''I wanna be the guy in the laundromat to give you change.'' The bill also includes We, which generates atmospheric sound collages, and A Guy Called Gerald, an English disc jockey and producer who was an early convert to the sparse propulsion of drum 'n' bass. Tomorrow at 10 p.m.; admission is $12 (Pareles). "

From everything2.com (link dead):
"I saw this guy play at the cooler with we(tm). He spun some good breaks, and I believe he had some other audiosonic weaponry as well. His music could be defined as drum n bass, if you are into classification. And after looking up his stuff on the old web, we see that Gerald Simpson was a member of 808 State. Pump it up. "

November 1999
30 Nov: Viper Room, Los Angeles, California, USA
Viper Room
8852 Sunset Blvd
Los Angeles
USA
Tel: 310.358.1881
Fax: 310.652.8471
September 1999
15-18 Sep: G-Shock CMJ Music Fest '99, New York City, USA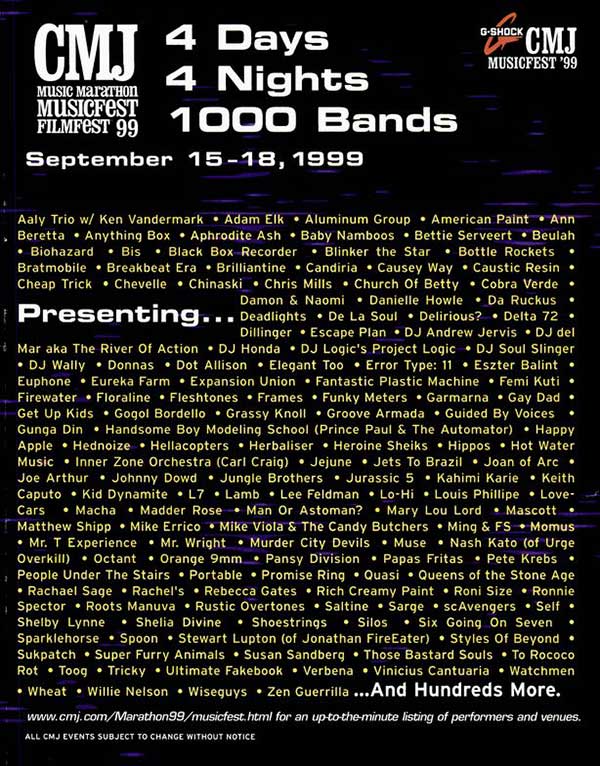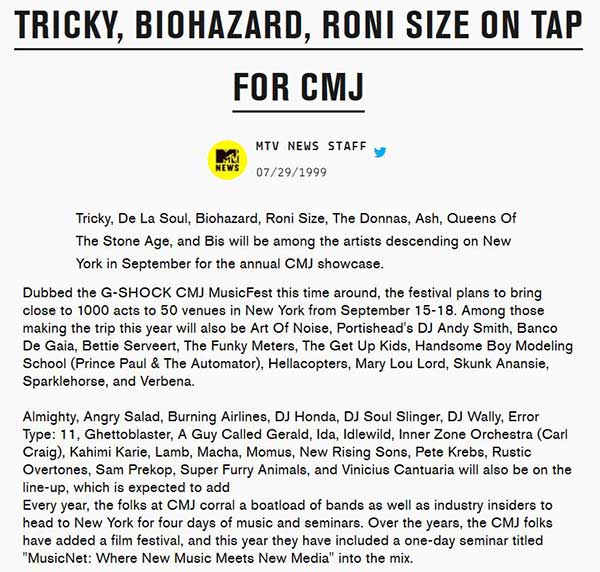 Tricky, Biohazard, Roni Size On Tap For CMJ
Jul 29 1999 1:30 PM EDT 36
Tricky, De La Soul, Biohazard, Roni Size, The Donnas, Ash, Queens Of The Stone Age, and Bis will be among the artists descending on New York in September for the annual CMJ showcase.
Dubbed the G-SHOCK CMJ MusicFest this time around, the festival plans to bring close to 1000 acts to 50 venues in New York from September 15-18. Among those making the trip this year will also be Art Of Noise, Portishead's DJ Andy Smith, Banco De Gaia, Bettie Serveert, The Funky Meters, The Get Up Kids, Handsome Boy Modeling School (Prince Paul & The Automator), Hellacopters, Mary Lou Lord, Skunk Anansie, Sparklehorse, and Verbena.
Almighty, Angry Salad, Burning Airlines, DJ Honda, DJ Soul Slinger, DJ Wally, Error Type: 11, Ghettoblaster, A Guy Called Gerald, Ida, Idlewild, Inner Zone Orchestra (Carl Craig), Kahimi Karie, Lamb, Macha, Momus, New Rising Sons, Pete Krebs, Rustic Overtones, Sam Prekop, Super Furry Animals, and Vinicius Cantuaria will also be on the line-up, which is expected to add more acts as the festival draws near.
Every year, the folks at CMJ corral a boatload of bands as well as industry insiders to head to New York for four days of music and seminars. Over the years, the CMJ folks have added a film festival, and this year they have included a one-day seminar titled "MusicNet: Where New Music Meets New Media" into the mix.

August 1999
12 Aug: Kind, Groovetribe presents Club Pompeii, Phoenix, Arizona, USA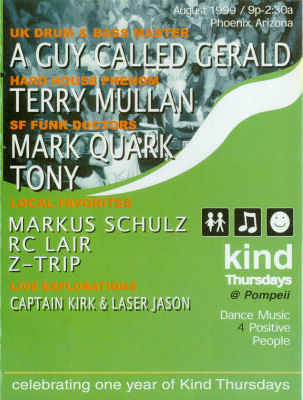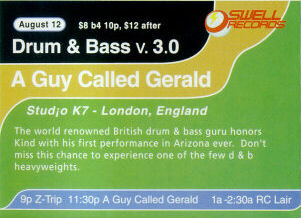 Kind, Groovetribe presents Club Pompeii, 919 E. Apache Blvd. (Tempe), Phoenix, AZ, USA
More info here
KIND 8/12/99
It had been a while since I made a visit to Pompeii. The crowd on this night was about average, around 450. The outdoor patio and the balcony were almost empty and the dance floor was less than full. The mood was very relaxed and laid back. A Guy Called Gerald was the headliner. He played a long set of Drum & Base that went until after 1 am. I haven't been able to appreciate the D&B sound yet and this night didn't change my attitude much. I felt it was a bit choppy and a little hard to listen to at times. I still find the D&B sound too repetitive and not organic and natural enough for dancing. I prefer the uplifting buildups of progressive trance much more. But, that's just my personal taste. I love strawberry icecream and I hate rocky road. I spent most of the night in the patio, chatting with people. I must admit that I enjoyed RC's set a lot more. He played a nice variety of deep house and got a lot of people moving on the floor. I took most of the photos during his set and even did a bit of dancing myself.
Maybe I'll never learn to completely appreciate the drum and base sound but, I'm glad Groovetribe continues to bring such a great variety to the scene. Sure, I would have enjoyed a good trance DJ a lot more but, I'm even more glad the variety is there and I can honestly say I was not disappointed at all that I spent another Thursday night at Kind.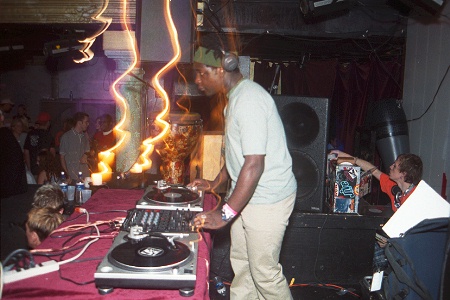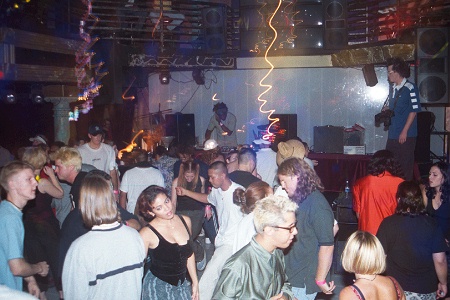 July 1999
8 July: Seven, The Atrium, Stone Mountain, Georgia, USA
SEVEN was one of the most anticipated events of this summer. Shapeshifter did an excellent job of generating buzz, and the players themselves attracted this kind of attention. How can you not with these names: Sandra Collins, Christopher Lawrence, and Danny Tenaglia? The rest of the lineup was no pushover either: ODI, UFO-cancelled due to booking conflict, A Guy Called Gerald (does anyone remember "Voodoo Ray"?!), Metrodub, and our local talents like Steven Sacks, Gene Carbonell, et al.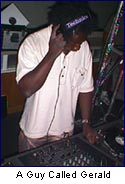 Review from Lunar Magazine.
3 July: Shrine Expo Hall, Los Angeles, California, USA

Saturday 3rd July 1999 (from LA Times, Sunday 27th June 1999)
Richie Hawtin AKA Plastikman, Mark Grant, A Guy Called Gerald, others:
Shrine Expo Hall, 640 W. Jefferson Blvd., [323] 993-3340, 10 p.m.
June 1999
26 June: Music At The Anchorage 99, Anchorage, Brooklyn, New York, USA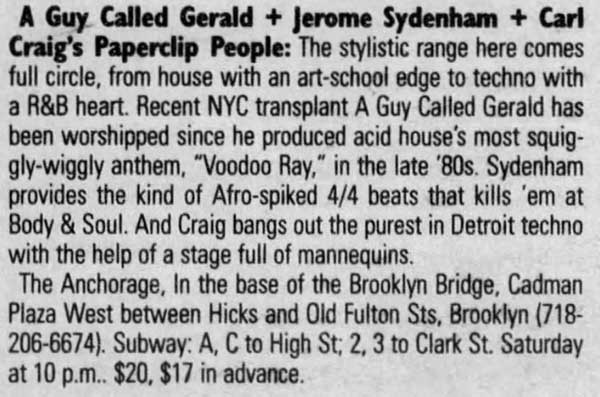 Anchorage, The foot of the Brooklyn Bridge, Fulton Landing, Brooklyn, NY, USA
A Guy Called Gerald + Carl Craig's Paperclip People + Jerome Sydenham
From Creative Times' website:
Saturday June 26, 10pm - 3am $17 ADV/ $20 DOS
Tonight marks the launch of konkrete jungle's Confluence Project, which showcases the variety of styles in fashion and music that are integrated in dance/DJ culture today. A Guy Called Gerald, Jerome Sydenham and Carl Craig are all artists who cross the artificial boundaries of most genres to create timeless music.
A Guy Called Gerald - Practically worshipped for more than a decade, A Guy Called Gerald continually pushes the limits of house music, keeping bodies moving all night long.
Jerome Sydenham - House music with a real African feel to it. Fans may know him from either Ibadan Records, which he runs, or the Body & Soul Scene for which he produces tracks. He is just back from a highly successful European Tour.
Carl Craig - Paperclip People project could be his most famous. A group of collaborators who don¹t actually move (they're mannequins) help him bang out spacey bleeps and pounding rhythms. One of the reigning kings of Detroit techno, Craig will be making his second appearance in one of his "favorite places," the hallowed caverns of the Anchorage.
TO ATTEND YOU MUST BE 21 YEARS OF AGE OR OLDER
Tickets @ Other Music - 15 East 4th Street
available early June
Tel: (212) 206-6674
11 June: Joe's Pub, Manhattan, New York City, USA
Public Theater, Joe's Pub, 425 LAFAYETTE STREET, NEW YORK, NY 10003, USA
April 1999
12 April: A Guy Called Gerald, Metropolis, KCRW-FM, California, USA

12th April 1999 (Radio Listing - The Los Angeles Times):
8-10 p.m. - Metropolis: A Guy Called Gerald (9-10 p.m.), KCRW-FM (89.9).
March 1999
16 March: XL8R Paraffin Party / OM Records, The Beta Lounge, Winter Music Conference, Miami, Florida, USA
paraffin-3... Presented by OM Records, The Beta Lounge, XLR8R Magazine and
Diesel Clothing: Tuesday, March 16th 10pm to 5am @ The Mission, 637
Washington Ave., South Beach Miami, FL
featuring 3 sound systems, 4 bars and serious sounds from:
DOWNSTAIRS:
Mark Grant (Guidance)
Stacey Pullen (Black Flag)
Mark Farina (Om Records)
DJ Fluid (Om Records)
UPSTAIRS:
DJ SS & MC Warren G. (Formation Records)
Bill Riley (Full Cycle)
Ming & FS (Om Records)
E-Z Roller (Psygnosis Software)
Stakka & Skynet (Audio Blueprint)
UFO & Sage (Phunkatech)
OUTDOOR:
DJ Craze (DMC Champion)
A Guy Called Gerald (Studio K7)
Andrea Parker (Studio K7)
Funkstörung -live! (Studio K7)
Peanut Butter Wolf (Stones Throw)
An all night electronic music affair ... Sponsored by: Studio K7,
Skinny.com, Under Fire Records, Formation Records, Psygnosis Software, Black
Flag Recordings, Metry Clothing, MTV Amp & Phazer Mag. Free to WMC Badge
holders - $10 at the door info: www.betalounge.com/paraffin
Miss E's Journal
"There were crazy antics all around at the kick-off of the North American Kung Fu Knowledge Tour. The Lava Lounge heated up as the night progressed with some Stateside playaz rollin' out the beats, including Machete from Junglist Platoon, Ezra, and Daniel of Moontribe plus yours truly and DC's 2Tuff crew out on the patio under the stars. We checked the UK sounds of Deep Rooted of No U Turn and Metalheadz' Dom & Roland takin' over inside, then dmarie, Qzen and I bounced over to the XLR8R Paraffin party just a few doors down with Mihai and DJ Craze for his set at 2AM. On the patio there, Funkstörung's minimal techno styles filled the air and I ran into none other than A Guy Called Gerald! It absolutely made my night to, by chance, meet this man and get to thank him for sharing his visions of music. He snuck up close to the front with me to catch Craze's turntable wizardry, and then he jumped on the wheels for a sweet set of breaks & bass. He told me he just signed on with !K7 so we'll be seeing more of his music being released domestically in 1999. "
You can listen to this set via Betalounge
10 March: Blind Pig, Detroit, Michigan, USA
Blind Pig: Techno-house, with A Guy Called Gerald, 8en and Arron, 9:30 p.m., 208 S. First St., Ann Arbor, Detroit.
$8, £10.
1-734-996-8555.