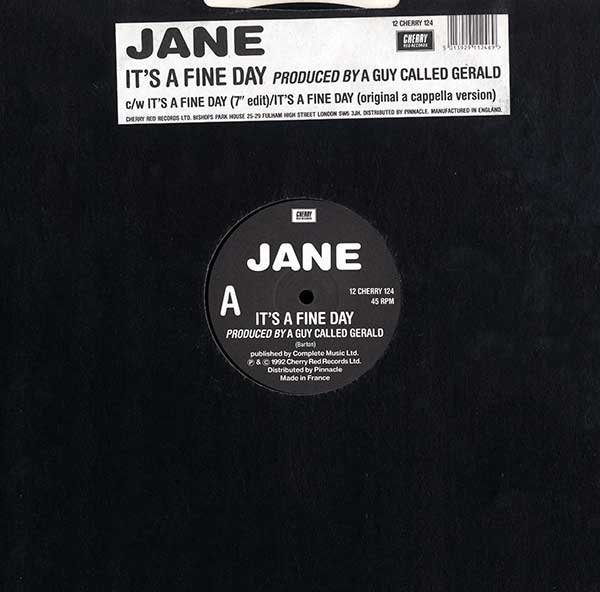 Jane - It's A Fine Day (12" Single)
UK 1992 12" Single; Cherry Red: 12 CHERRY 124

4:15 It's A Fine Day (A Guy Called Gerald Remix) [produced by A Guy Called Gerald]
3:49 It's A Fine Day (A Guy Called Gerald Remix - edit) [7" edit]
Released:

9th March 1992.
Credits:
Remixed by A Guy Called Gerald.
Etched into the vinyl: "It's A Fine Day - Jane sings on this one". :-)
Press Release:
JANE - IT'S A FINE DAY
By now, nearly everyone is aware of JANE + BARTONs "It's A Fine Day" - in either it's original form or its new chart incarnation. Cherry Red now present "It's a Fine Day" produced by A GUY CALLED GERALD. Out on 9th March 1992, it is being released on 12" only.
IT'S A FINE DAY is the work of the following three people:-
JANE -
*** Ex actress with the Royal Shakespeare Company
*** Was converted to the Jehovah's witness faith (but has since given it up!?!)
*** It's A Fine Day was recorded during her first recording session (costing a mammoth £30)
*** Last seen in an advert for Zanussi dishwashers?!?!
EDWARD BARTON -
*** Legendary eccentric from Manchester
*** Designs his own T-shirts (as featured in I-D/Elle)
*** Directed the "Sit Down" video for James
*** The subject of a tribute LP (featuring 808 State, Inspirai Carpets, Stump, etc)
*** Currently working with Roland Orzabal(ex Tears F.F.)
*** Once wrestled a Teddy Bear live on TV!!!!!
A GUY CALLED GERALD -
*** Was at the fore-front of the Manchester dance scene in the late 80's
*** Top Ten single with Voodoo Ray
*** Currently finishing his new LP
*** Re-emerging as an artist/producer "....Gerald, on the other hand, is ahead of the game again." -
ANDREW SMITH MELODY MAKER 7th December 1991
12" includes full dance mix, 7" radio edit and original accapella version.
For further information, please call Danny or Neal at Cherry Red
(telephone 071 371 5344 - fax 071 381 1854 )

RELEASED - 9/3/92 12" ONLY (12CHERRY 124) D.P. £2.25 BARCODE 501392911246
Comments:
Originally released in the mid 80's, this song, featuring the sole vocals of Gabriel Gawin's girlfriend - Jane Lancaster, originally had no music to it - Gabriel was Edward Barton's friend at the time. The idea was to reissue the track complete with Gerald's drum 'n' bass mix, but missed out on chartdom as it came after the cover of the song by Opus III (which Orbital sampled in their song 'Halcyon'), which probably prevented chart exposure. This is not Gerald's only collaboration with Edward Barton: he contributed a track called 'Barber Barber' to the compilation 'Edward Not Edward' featuring mainly Mancunian acts such as 808 State and the Inspiral Carpetscovering Barton's off-beat songs. Also, Gerald can be heard saying 'Listen to Edward Barton - Do You Good!' on "To The Other Side" off the 'Automanikk' LP.
There's an interesting story by the head of Cherry Red (Iain McNay) on this track here - reproduced below:
"Late one extremely wet and cold Monday evening I was driving home from having dinner with our German licensee, when I suddenly found I had two flat tyres. I called the AA rescue service and sat somewhat dejectedly as I waited for them to come. I switched on the John Peel show and the first record I heard was the haunting song by Jane, 'It's a fine day.' I loved the record, and even more, loved the song. Next morning I rang Peel's producer to find out more about the record. I tracked down Edward Barton the owner, bought the rights to the record and the song, and three weeks later 'It's a fine day' was out on Cherry Red and sitting in the lower reaches of the National charts. It wasn't until nearly 10 years later that the true significance of my flat tyres became apparent. In January 1992 I was having dinner at MIDEM in Cannes again when Pete Waterman from PWL came over to me enthusiastically pronouncing, "Iain, we're going to have a No 1 hit with your song.' I didn't even know which song he was referring to until he explained that he was putting out a new version of 'Fine Day' by a group called OPUS 3. It didn't actually get to No 1 but was a big hit all over the Continent and has now become one of Complete Music's biggest copyrights. [Cherry Red Music changed it's name to Complete Music in 1984]"
Check out my (needs major updates!) mini site on Edward Barton here.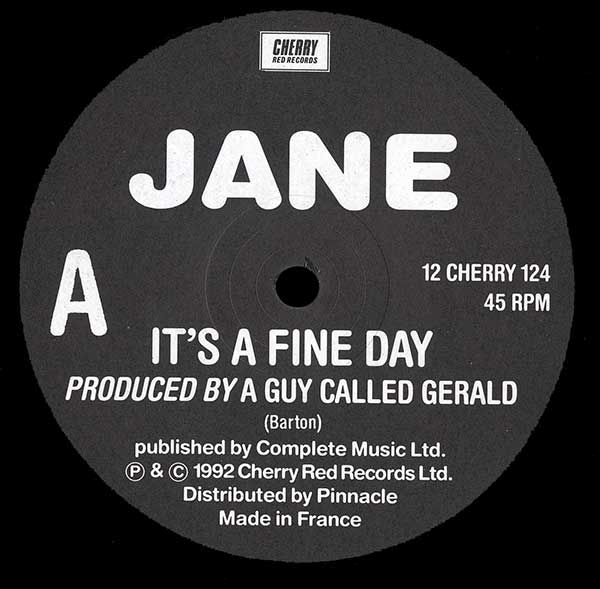 Jane - It's A Fine Day - UK 12" Single - Side A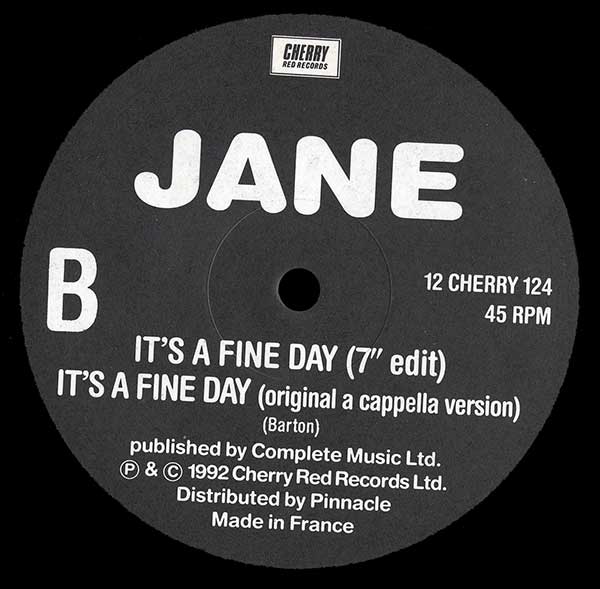 Jane - It's A Fine Day - UK 12" Single - Side B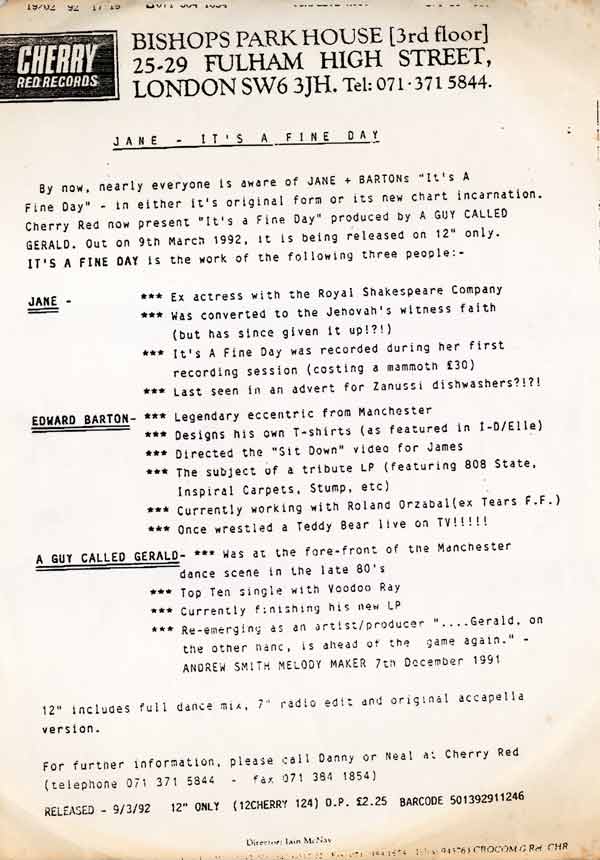 Jane - It's A Fine Day - UK Promo12" Single - Press Release