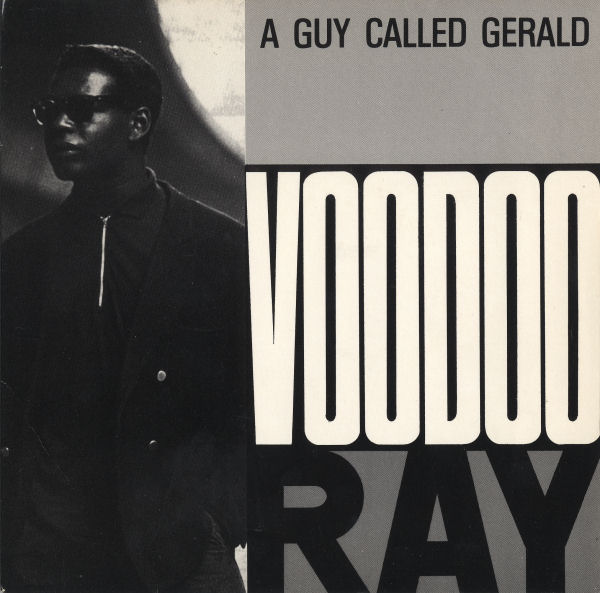 A Guy Called Gerald - Voodoo Ray (7" Single)
UK 1989 7" Single; Rham!: RS 804 [Promo - no sleeve, "Red Rhino Distribution" - w/Press Release]
UK 1989 7" Single; Rham!: RS 804 [Picture Sleeve, "Pinnacle Distribution"]
4:28 Voodoo Ray (Radio Mix)
5:15 Arcade Fantasy
Released:

6th March 1989.
Credits:
Written by Simpson.
Produced by Gerald & Chapter.

"Voodoo Ray (Radio Mix)" engineered by Lee Monteverde.
"Arcade Fantasy" engineered by Adam Lesser.
(Credits on the label are incorrect - they switch the engineering credits! Correct credits on the sleeve)

Press Release:
*** A GUY CALLED GERALD ***
There has been a lot of confusion surrounding Manchester House svengali A GUY CALLED GERALD, and his New Brighton label RHAM since the demise of Red Rhino. Now, at last, all is to become clear:
RHAM now have a new distribution agreement with Pinnacle (despite what is printed on the record sleeve), making GERALD's thriller dancefloor hit 'VOODOO RAY', available through-out the country once more.
As well as this, on March 6th, a brand new Ricky Rouge re-mix of 'VOODOO RAY' will be released and at the same time 'VOODOO RAY' will be released in the States by the Jungle Brother's label War Lock in a different Frankie Knuckles re-mix.
After that, a week later, on Monday 13th March, A GUY CALLED GERALD's long awaited debut LP 'HOT LEMONADE', will finally be released, on RHAM, through Pinnacle. Track listing is as follows:
Side One - Hot Lemonade; Rhythm Of Life; Arcade Fantasy; Radio Active; Music Sweet Muzic.
Side Two - In The Beginning; K9; Escape II; I Am Somebody; Tranquillity On Phobos.
Also, A GUY CALLED GERALD, as already announced, will be supporting New Order on the 25th March at the Glasgow SECC.
Confused? You soon will be:
For the next episode in this garage groove tale, 'watch this space'.
For further information contact:
Press: Jerry or Lysette
Radio: Pete or Ian
TV: Carol
Comments:
7" single of Voodoo Ray - released at the same time as the EP.
Copyright/Publishing credits are 1988.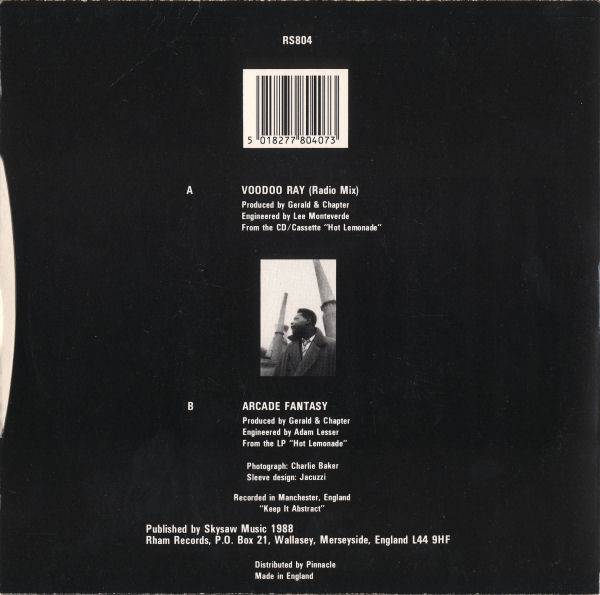 A Guy Called Gerald - Voodoo Ray - UK 7" Single - Back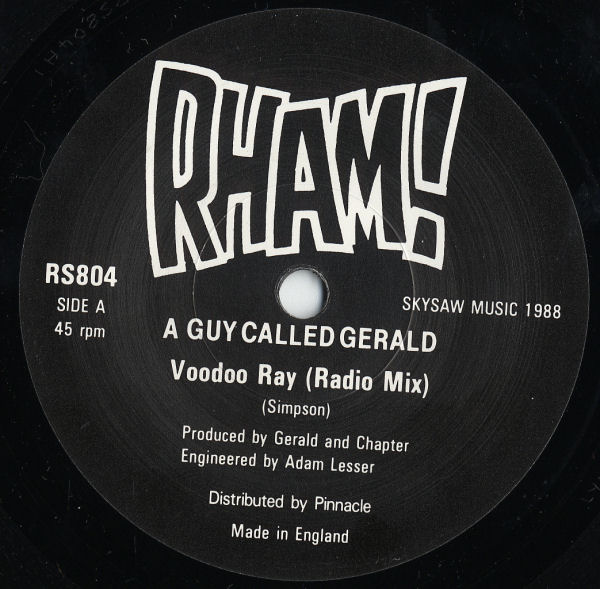 A Guy Called Gerald - Voodoo Ray - UK 7" Single - Side A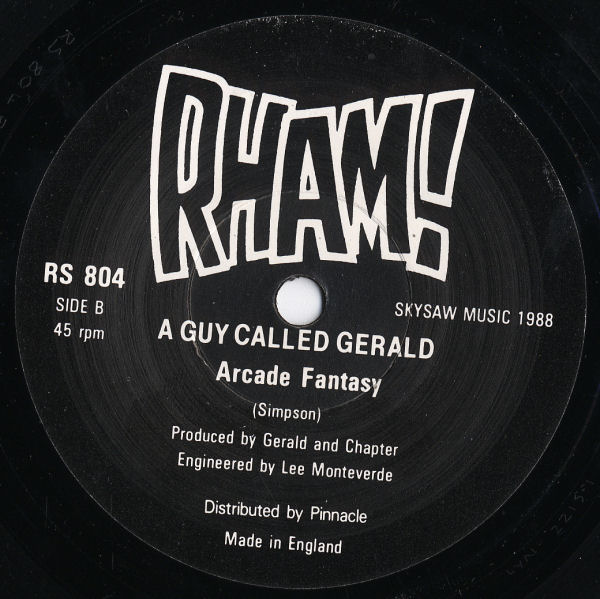 A Guy Called Gerald - Voodoo Ray - UK 7" Single - Side B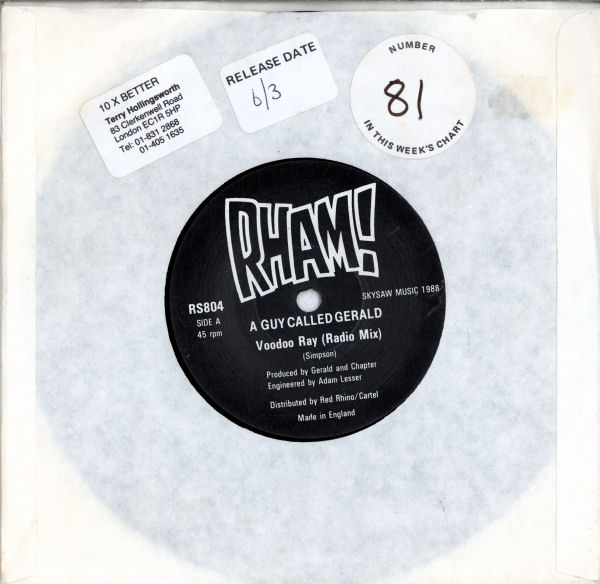 A Guy Called Gerald - Voodoo Ray - UK Promo 7" Single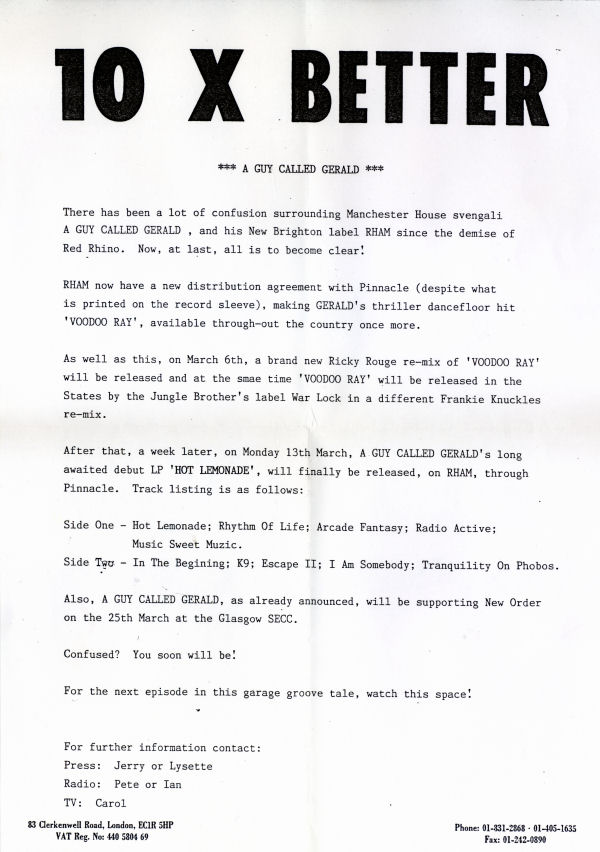 A Guy Called Gerald - Voodoo Ray - UK Promo 7" Single - Press Release