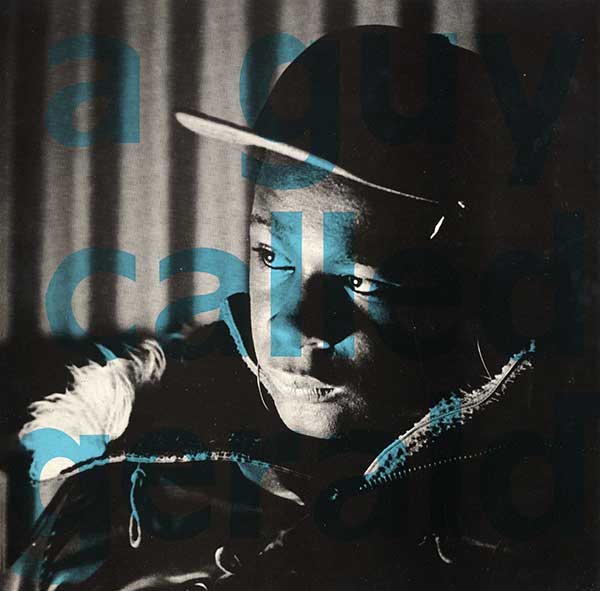 A Guy Called Gerald - Voodoo Ray E.P.



UK 1988 12" Single; Rham!: RS 8804 [W/L promo in 'Rham!' company sleeve, labelled 'PRE RELEASE']
UK 1988 12" Single; Rham!: RS 8804 [October 1988]
UK 1989 CD Single; Rham!: RCD 8804 [6th March 1989]
BE 1989 12" Single; LD Records: LD 8925
UK 2006 MP3 Single; Sugoi: SUGOI-088 [Available via Beatport/iTunes/etc]

4:28 Voodoo Ray
5:15 Escape
5:22 Rhapsody on Acid
5:03 Blow Your House Down

Released:

12" Single: October 1988.
CD Single: 6th March 1989 (in conjunction with RX 8804).

(Indie chart: Date of entry: 19th November 1988; Highest Chart placing: 2; Weeks in chart: 23.)

Credits:

Written by A Guy Called Gerald.
Produced by Chapter.
Engineered by Lee Monteverde.

Reviews:

Press Release:

"The 4th single to be released on the new dance label from the north, Rham Records, comes from Manchester's very own acid housemaster, A GUY CALLED GERALD. Already famous around Manchester for his benevolent work in finding homes for retired keyboards, Gerald's years spent tinkering with obsolescence have culminated in his first single, the Voodoo Ray EP, which rolls with the title track as an opener, followed by Escape, which uses samples from obscure West Coast electro freaks Negativland. Side two starts out with Rhapsody In Acid, a mega track which uses chants from a Tibetan monks' tribal soundtrack over a wild piano, and a heavy bass drum. The whole thing ends with Blow Your House Down, a solid cut which makes no attempt to disguise its inclination, to wire your brain. Well Mental!"

Comments:

33 1/3 rpm.

The original Gerald 4-tracker - extremely hard to find nowadays, especially the CD single. The last 2 tracks, 'Rhapsody On Acid' and 'Blow Your House Down' were resurrected for Gerald's 'Cryogenix' MP3 CD, although 'Escape' wasn't! 'Escape', however, is readily available through the numerous 'Funky Alternatives' compilations currently available.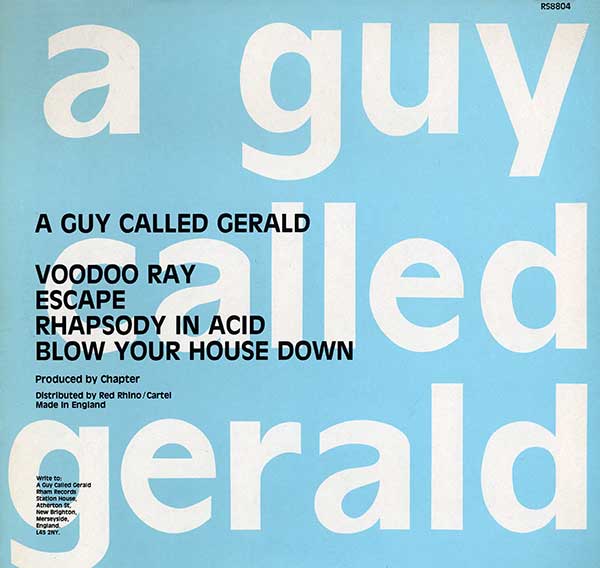 A Guy Called Gerald - Voodoo Ray E.P. - UK 12" Single - Back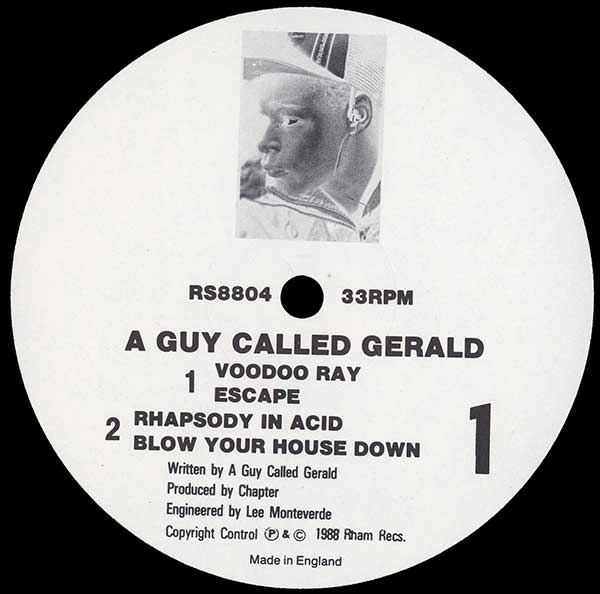 A Guy Called Gerald - Voodoo Ray E.P. - UK 12" Single - Side 1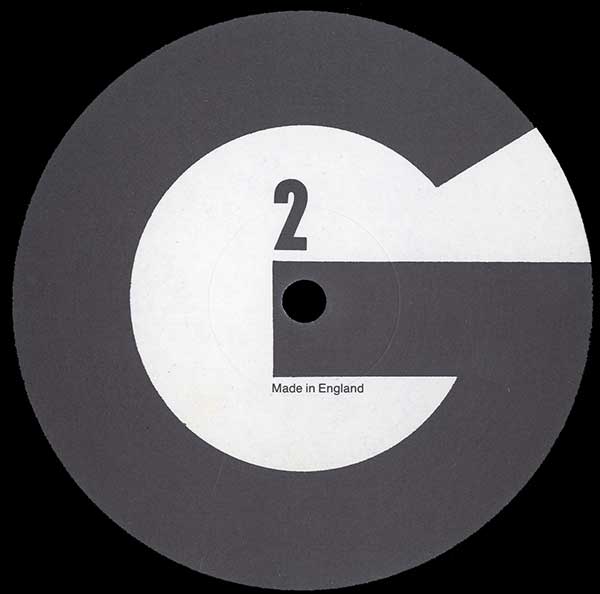 A Guy Called Gerald - Voodoo Ray E.P. - UK 12" Single - Side 2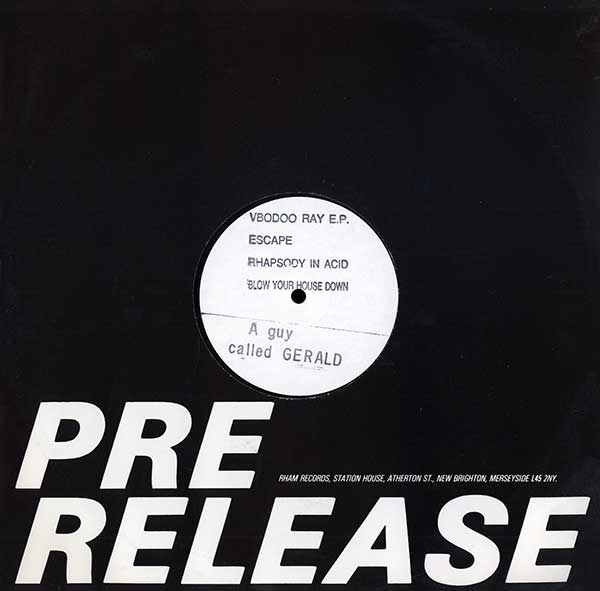 A Guy Called Gerald - Voodoo Ray E.P. - UK 12" Promo Single - Front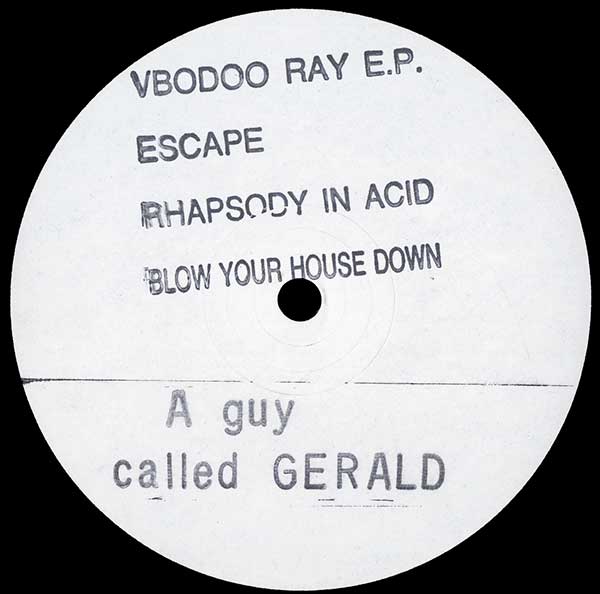 A Guy Called Gerald - Voodoo Ray E.P. - UK 12" Promo Single - Side 1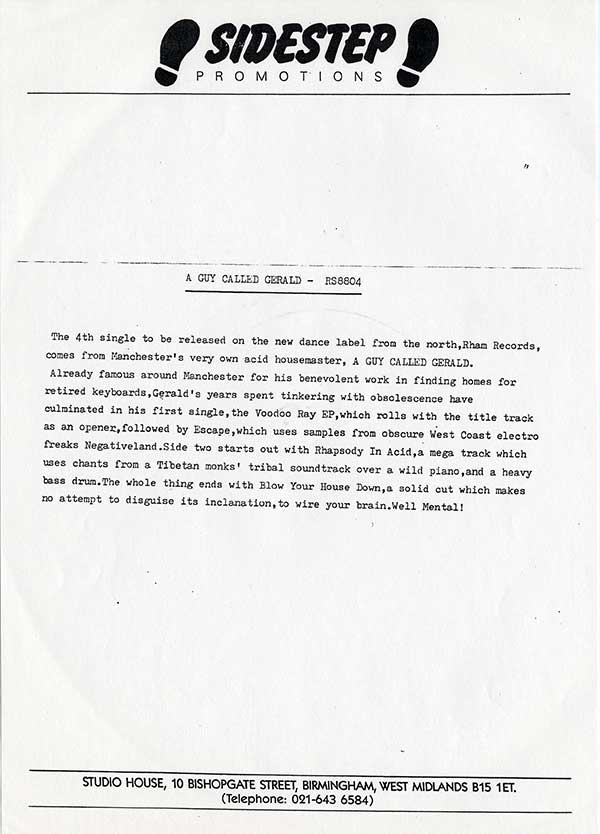 A Guy Called Gerald - Voodoo Ray E.P. - UK 12" Promo Single - Press Release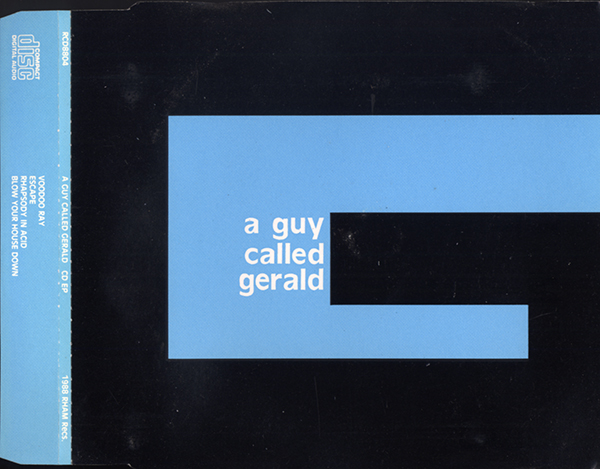 A Guy Called Gerald - Voodoo Ray E.P. - UK CD Single - Front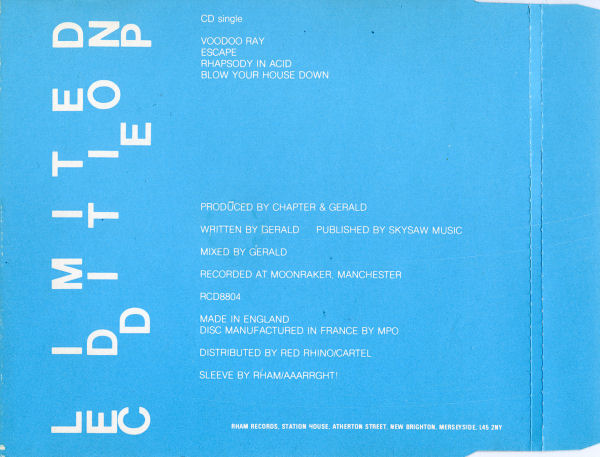 A Guy Called Gerald - Voodoo Ray E.P. - UK CD Single - Inner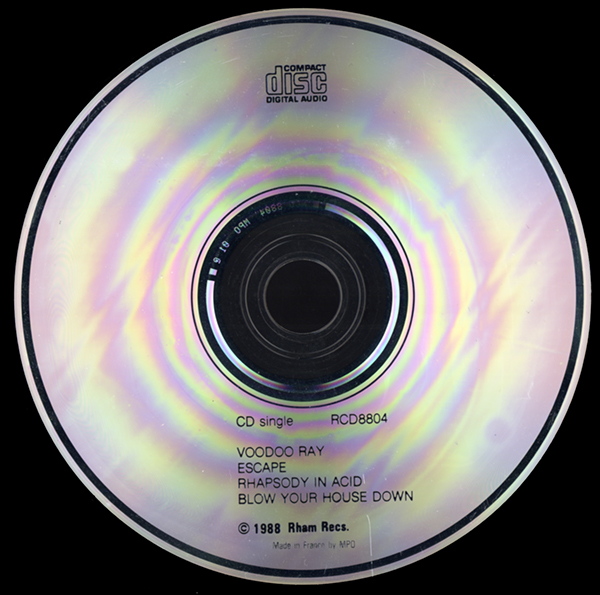 A Guy Called Gerald - Voodoo Ray E.P. - UK CD Single - CD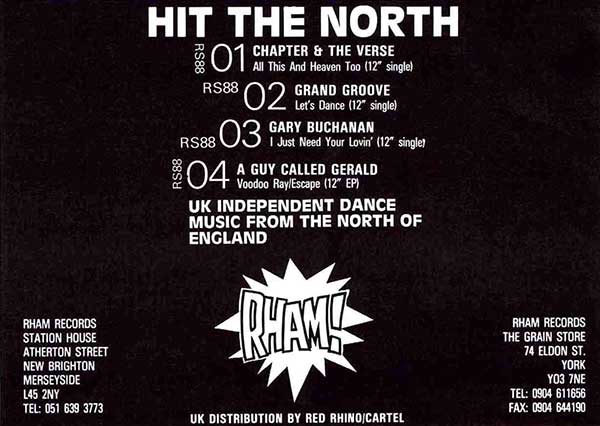 A Guy Called Gerald - Voodoo Ray E.P. - UK Advert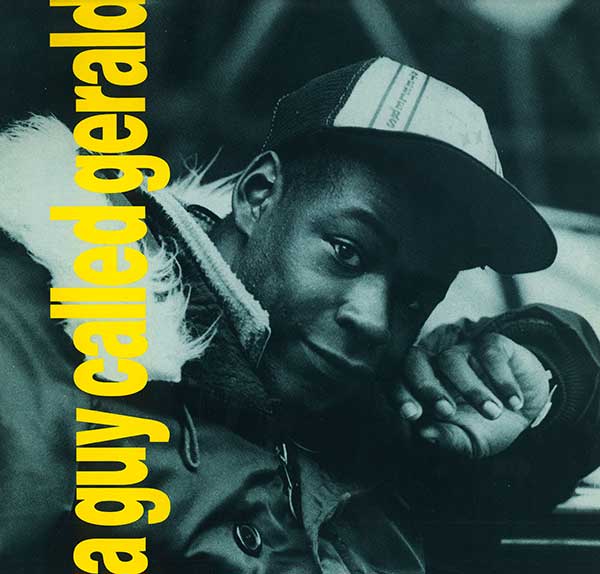 A Guy Called Gerald - Voodoo Ray E.P. - Belgian 12" Single - Front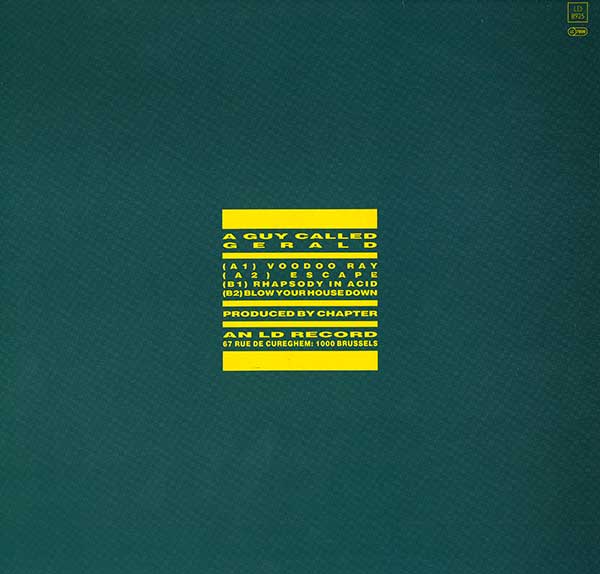 A Guy Called Gerald - Voodoo Ray E.P. - Belgian 12" Single - Back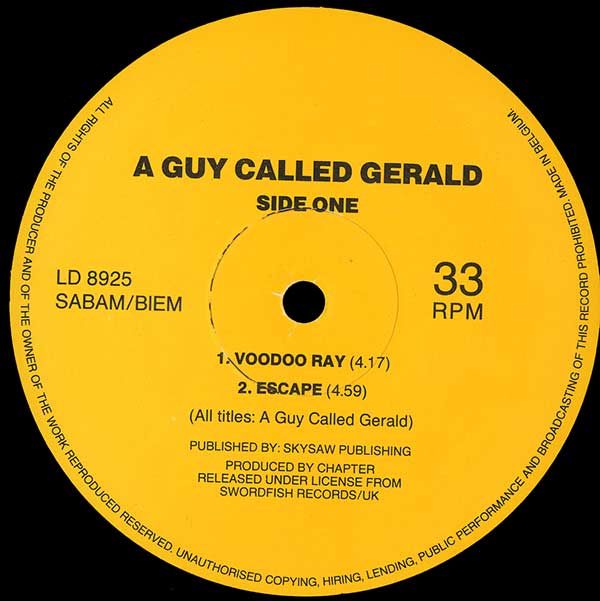 A Guy Called Gerald - Voodoo Ray E.P. - Belgian 12" Single - Side 1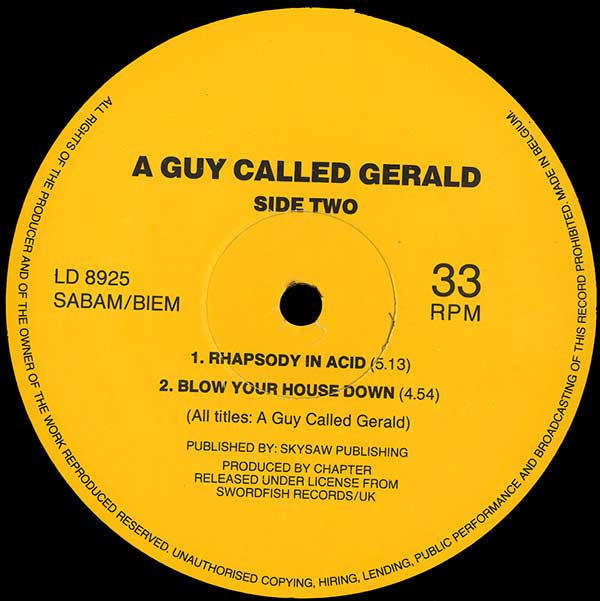 A Guy Called Gerald - Voodoo Ray E.P. - Belgian 12" Single - Side 2