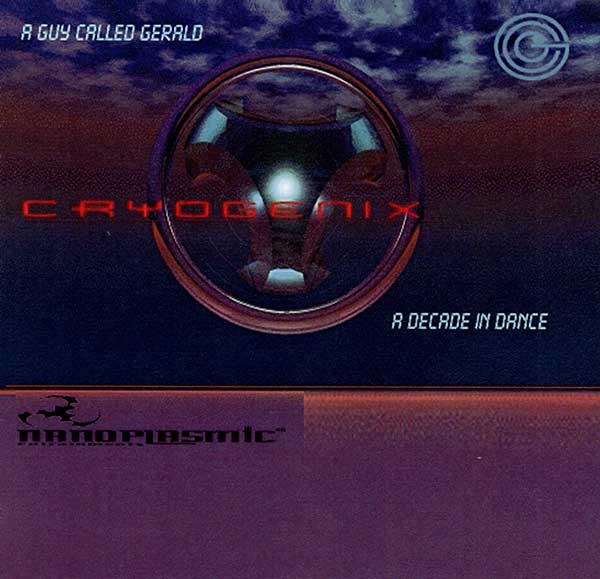 A Guy Called Gerald - Cryogenix: A Decade In Dance (album)

US 1999 CD; MP3.COM: 23990

4:30 The Feelings Can't Explain
8:17 Spesiphic Hate
5:26 Anxiety
5:22 Rhapsody In Acid
5:03 Blow Your House Down
5:13 All Over The World
2:37 24 7
2:14 Machine Room Jam
4:12 Anything Can Happen
5:54 Badness A Madness (featuring MC Navigator)



Released

:

26th October 1999 (I posted a message about it on 26th October 1999).

Credits:

1: "The motivation for this track was to maintain a balance in harmony. The entrainments masked within the lower oscillations echo reflections of music from our past civilisation."
2: "you will have to check you're dance history books for this one they have a nice selection in the virgin mega stores look for 808 sate v a guy called Gerald"
3: "This track was part of a project called Emotions which i did in 93. @ this time, I was seriously scrutinising the music I was making and the behavioural patterns sounds had: using an oscilloscope for this purpose. "
4: "i just finished Voodoo Ray and I thought I hadn't used the 303 baseline machine enough on the EP. So I decided the write this track."
5: "blow your house down blow your house down blow your house down blow your house down blow your house down blow your house down so blow already blow your house down blow your house down blow your house down blow your house down blow your house down blow your house down so blow already" "i felt the need for somthing house but melodic & party"
6: "i wanna spread love iei wanna spread love [pause] all over the world. repeat as required..." "old, i don't know.... the way house music used to be... moe soul than sample"
7: "this track was recorded i Manchester in 94 & is just 1 from the men tracks from the cryogenix files.some of these tracks came out on juice box witch was i label i started in 92 the distribution was poor so if you wasn't in the wright place at the right time you might be missing tracks like this because of the poor distribution i put a lot of this material on ice due to the overwhelming power of this mp3 thing &the need to do a pre millennium clear out i present you with cryogenix"
8: "see description"
9: "As it was being made someone was burning my kitchen down, so it rang true that anything could really happen. This track for the record books was recorded back in 1993. "
10: "Navigator came up to Manchester one day and decided to cut some music. This is just one of four tracks we did. Because everything is in alphabetical order, you will probably hear it later on down the line if you stay tuned to this page."

The player's info panel also contains the following artist info:

Description: cutting edge sound & versatile
History: This is nothing more than something never to be forgotten. The next two weeks will be concerned with compiling Cryogenix a kind of best of set of c.ds, which will be material remixed and produced by A Guy Called Gerald spanning the last decade. Within the Cryo-files, will be found previously unreleased material, together with material which has to date been poorly distributed.
Some of this music dates back to the time before 808 State were 808 State; before DrumnBass was Jungle; before JungleTechno was Rave ; before Rave was House . The sounds you will hear are my underground dance decade ....the volts are unlocked....be prepared.
Musical Style: dance (drum&base)
Instruments Used: anything with midi in thru & out

Comments:

A compilation of Gerald's music past and new comprising of released/unreleased tracks spanning Gerald's music through the years. Hopefully the first of many and a bloody good idea - why don't other artists do the same? This is well worth getting and has the added bonus that Gerald can release as many of these as he wants without having to answer to record companies.

Of the tracks included here, some of the original "Voodoo Ray" E.P. b-sides ("Rhapsody In Acid", and the superb "Blow Your House Down") appear, as well as some new drum & bass tracks (the great "Machine Room Jam"' - a work in progress), and several other released tracks such as the infamous "Spesiphic Hate" (Gerald's take on "Pacific State") and "Anxiety" (appeared on Dego's compilation "The Deepest Shade Of Techno").

Well worth purchasing, although now no longer available.

Also includes MP3 tracks of all the songs as well as an MP3 player to play them on.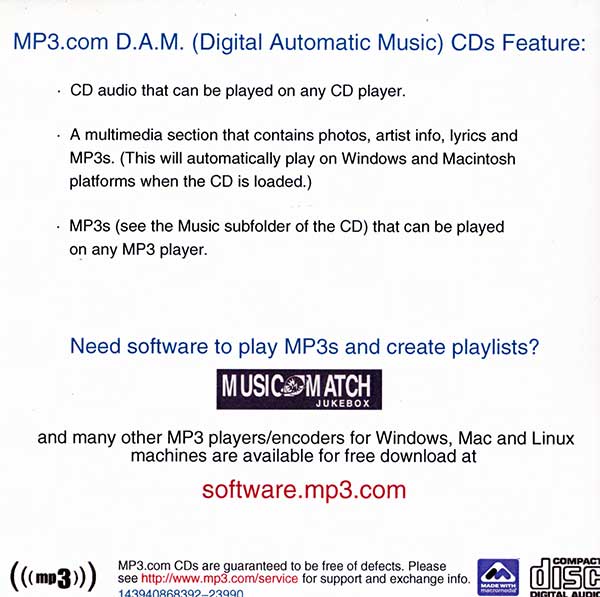 A Guy Called Gerald - Cryogenix - US CD - Inner Sleeve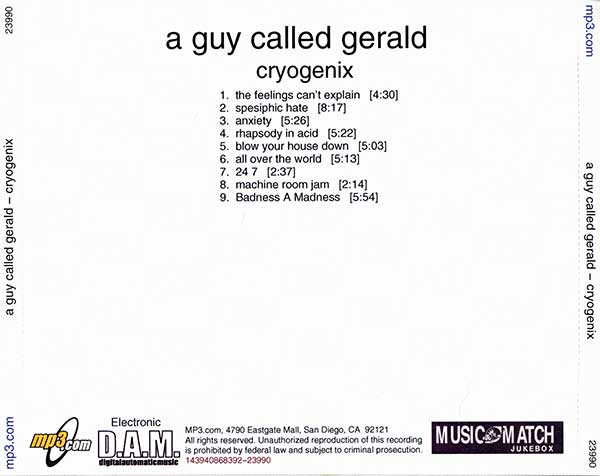 A Guy Called Gerald - Cryogenix - US CD - Back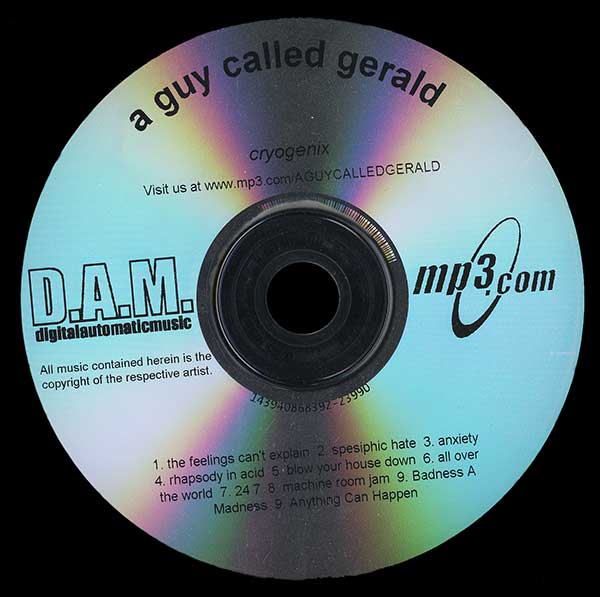 A Guy Called Gerald - Cryogenix - US CD - CDR