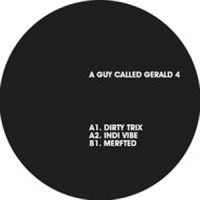 A GUY CALLED GERALD
TRONIC JAZZ THE BERLIN SESSIONS - SAMPLER VOL 4
12"
CAT NUMBER: AGCG4
RELEASE DATE: 1 Nov '10
This is the fourth and last 12" featuring tracks taken from the CD-only "Tronic Jazz - The Berlin Sessions". "Tronic Jazz" follows a certain minimalist impulse, but it's far too lush ever to be mistaken for the dreaded 'mnml' of recent years. This stuff is wide-eyed and full of life. When it funks, it funks hard, and when it smoothes out, it can be as intimate as a hand-written note left on a lover's pillow. Yet as 'classic' in tone as "Tronic Jazz" may be, it's no retro trip… instead, Gerald uses the foundations of house and techno as a language of his own, and speaks volumes with them. This plate carries three tracks; "Nuvo Alfa" skips and swings with acidic intent, while dark strings from the Detroit school create an ominous swellacidic skip with dark strings; "Flutter" revisits the kind of lush and melodic techno punch that 808 State trademarked around the time of their early 90s "Ex El" period; finally, B-side "Wow Yheah" spreads out to an eight minute miltaristically-driven hard jacker that sounds like Phuture remade for the funky dubstep age.
TRACK LISTING
A1. Dirty Trix
A2. Indi Vibe
B1. Merfed
[Reviewer: Unknown]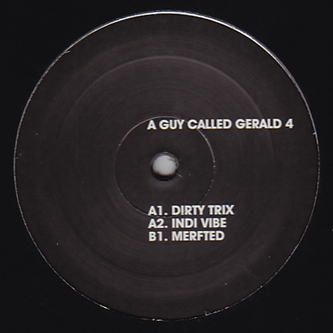 A GUY CALLED GERALD - Tronic Jazz The Berlin Sessions EP4
Laboratory Instinct
TECHNO / HOUSE
Released: Oct 2010
Catalogue Number: AGCG4-12
Contrary to what we stated on the last AGCG 12", THIS is the final of four 12"s cutting the tracks from 'Tonic Jazz The Berlin Sessions' to wax. On the A-side is the crispy tech-house jacker 'Dirty Trix' and its moody, filtered strings next to the more piquant jack 'n roll of 'Indi Vibe'. On the flipside you can tell he's spent some in Berlin from the schaeffel flow of 'Merfed' and the distinctly Teutonic flutter of synths.
[Reviewer: Unknown]