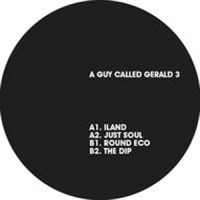 A GUY CALLED GERALD
TRONIC JAZZ THE BERLIN SESSIONS - SAMPLER VOL 3
12"
CAT NUMBER: AGCG3
RELEASE DATE: 20 Sep '10
Third in a series of four limited edition 12" singles constituting the vinyl release of A Guy Called Gerald's killer new album "Tronic Jazz - The Berlin Sessions" - a powerful statement of intent that communicates more persuasively than ever Gerald's vision for techno in its third decade of existence. "Tronic Jazz" follows a certain minimalist impulse, but it's far too lush ever to be mistaken for the dread 'mnml' of recent years. This stuff is wide-eyed and full of life. When it funks, it funks hard, and when it smoothes out, it can be as intimate as a hand-written note left on a lover's pillow. Yet as 'classic' in tone as "Tronic Jazz" may be, it's no retro trip. Instead, Gerald uses the foundations of house and techno as a language of his own, and speaks volumes with them. From the rolling, dubby textures of opener "Iland" to the more ambient, floaty layers of "Just Soul", with flourishes of amazing keyboard touches - side A greets us with warm open arms. Side B has a bit more bite and edge with "Round Eco", the most club friendly cut on this twelve. "The Drip" concludes matters and is a stripped down, mechanical dub exercise, perfect for the early hours at Panorama Bar.
TRACK LISTING
A1. Iland
A2. Just Soul
B1. Round Eco
B2. The Dip
[Reviewer: Unknown]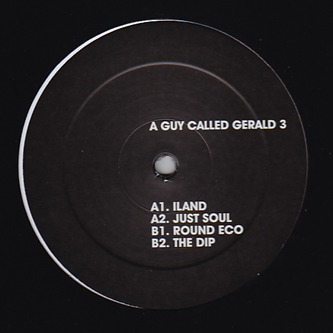 A GUY CALLED GERALD - Tronic Jazz The Berlin Sessions EP3
Laboratory Instinct
TECHNO / HOUSE
Released: Sep 2010
Catalogue Number: AGCG3-12
Laboratory Instinct complete the run of 3x12"s from A Guy Called Gerald's 'Tronic Jazz: The Berlin Sessions'. There are four beautifully fluid and typically melodic productions here, from the heaving, sub-driven deep house flow of 'Iland' to the more fragile Hulme-meets-Detroit spirit of 'Just Soul' on the A-side, and over to the aqua-jack of 'Round Eco' or the most "Berlin" moment here, the highly refined and atmospheric pulse of 'The Dip' on the flipside. Double deep sh*t!
[Reviewer: Unknown]