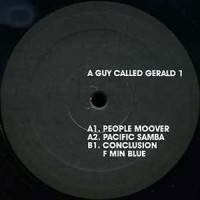 A GUY CALLED GERALD
TRONIC JAZZ THE BERLIN SESSIONS - SAMPLER VOL 1
12"
CAT NUMBER: AGCG1
RELEASE DATE: 19 Jul '10
A Guy Called Gerald's "Tronic Jazz The Berlin Sessions" will be released on vinyl across a series of four limited edition 12"s, and this is the first part. The EP includes three tracks; "People Moover", "Conclusion F Min Blue", and "Pacific Samba". "People Moover" opens in a gliding, luminescent sheen, machine-code hi-hats flanging away while bleeps and stabs from deep within the mainframe fizzle with electricity. "Pacific Samba" is, you've guessed, a revised "Pacific State" by 808 State. Gerald lifts that timeless riff and adds a looser, live percussion backing plus a more mechanical swing and plays with the arrangement a little, making for a nice new take for a modern dancefloor. Now we all know reworks can often bastardize the original, not the case hear however as the sheer elegance and euphoria of THAT pad melody plus THOSE calling birds and THAT unforgettable sax line are all pleasant and correct making for supreme listening! "Conclusion F Min Blue" is in similar vein to "People Moover" with its glistening tones and radiant glow. This time taking a more organic drum palette, with fine jazz brushes providing subtle syncopated rhythms. Sounding as good soundtracking the long dark drive home as it does in the club at 4AM, this music for when the Sun's gone in and the wolves come out to play. Lush future musica! Don't sleep.
[Reviewer: Unknown]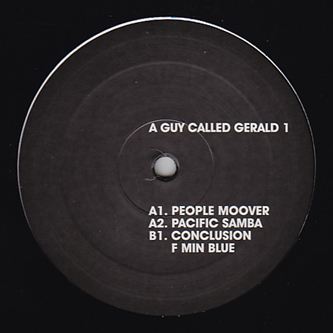 A GUY CALLED GERALD - Tronic Jazz The Berlin Sessions EP1
Laboratory Instinct
TECHNO / HOUSE
Released: Jul 2010
Catalogue Number: AGCG1-12
AGCG drops three tracks of deep and effervescent digital techno lifted from his recent album. Since moving to Berlin earlier in the '00s, Gerald has been hard at work hewing his familiar analog warmth from a new palette of digital equipment. The results are typically lush, exemplified in the crystal clarity and firm bass tones of 'People Moover'. The best way to compare the old and new AGCG is probably in his 'Pacific Samba' cut, revising the 808 State classic (which he played a major part in) with an acute Latin shuffle and deceptive melodic textures, finely sculpting digital sound sources to elicit a rich analogue soul, bridging skools old and nu. On the flip 'Conclusion F Min Blue' features your man stretching out with a breakbeat stirred houser licked with arching synth pads. Ace.
[Reviewer: Unknown]