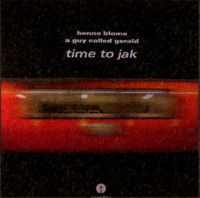 HEAVY ROTATION
BENNO BLOME / A GUY CALLED GERALD
TIME TO JAK
(SENDER RECORDS 058)
Gestandene Klassiker wiederbeleben zu wollen, ist schon häufig in die Hose gegangen. Deswegen bleibe ich trotz der Namen Blome und Gerald erstmal vorsichtig skeptisch. Das Ergebnis ist dann aber doch augesprochen hörenswert. Der Sender-Chef liefert einen treibenden Tune mit minimalem Arrangement und einer kühlhypnotischen Dauermelodie ab. Auch das geflusterte, "Time To Jack"-Sample kommt ausgesprochen stimmig herüber und bereitet freudige Gänsehaut im Nacken. Gerald nähert sich dem Track aus einer anderen und schickt einen bedrohlich darken Technotune mit ausgefransten Bassläufen ins Rennen. Beides rockt.
******
[Reviewer: Achim]

A Guy Called Gerald / Benno Blome
Time To Jak
Sender 12"
"Time to jack" - what a call to attention, a jolt to the brain synapses, here retrieved from its auspicious mid-late-eighties Chicago origins. A Guy Called Gerald was of course the man there at the time, running exclusives to an increasingly hectic Haçienda dancefloor, presiding over the epicentre of what proved to be an uncontrollable global explosion. By way of tribute to another inspirational forefather, his rousing original is coolly modified, the bass beefed up for a new generation, the acid mesmeric as ever, lent a fresh dynamic and frankly sounding totally awesome. For the flip welcome Benno Blome, a recent compadre from Gerald's new adoptive home of Berlin, giving the darkness of the original a more contemporary twist for the '06. With Blome you sense less of a line of continuity with the original, but offset against the raw power of the Gerald monster, working very well indeed as an alternative, melodic, elegant, dynamic, tangible and hypnotic . Buy!!
[Reviewer: Unknown]