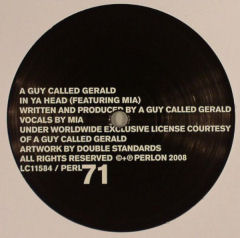 A Guy Called Gerald
In Ya Head
Perlon / 071
Minimales Intro, punchende Kick plus ein paar geflangte Percussions und funkiger Bass kündigen bei "In ya head" erst mal prima Partyspaß an. Die Chor-Samples, die dann hereinsäuseln, kommen etwas schräg. Mit Strings, Stabs und geheimnisvollen Vocals wird es dann mystisch und später macht dann doch alles Sinn, zusammen. "Moon Jelly" auf der Flip kommt mit langgezogenem Intro daher. Sehr housig, deep und dann recht trocken. Ziemlich minimalistisch wird es schließlich immer reduzierter. Verwunderlich, denn Intro und Track gehören am Ende so gar nicht zusammen. Ganz ok, sicher aber kein Anwärter auf meine Lieblings-Guy-called-Gerald.
[Reviewer: ork]

A Guy Called Gerald
In Ya Head
Perlon
Gerald Simpson has a rightful place at the head of the electronic music table, a pioneer of acid house, techno, drum and bass, and many spots in-between (including a stint in 808 State). Now making the move to Perlon has apparently inspired our man Gerald to unleash his best single in years. With a reissue of his groundbreaking Black Secret Technology LP in shops at the same time, Simpson's genius and flexibility is on full display.
Lead off cut, "In Ya Head," instantly recalls classic "Voodoo Ray"-era Gerald, with some nifty vocal tricks from Mia (of Sub Static and Karloff fame), a deep, undulating bass swerve, and a fistful of his particular brand of acidic pings and noises - including my favorite, which sounds a bit like the theme from Knight Rider run through a very dirty EFX unit. One could be forgiven for thinking this is a long lost Automanikk outtake if not for the updated drum machines (which still sound a bit like prime-era Derrick May, regardless). The track creates a dark, late-night groove with Mia's vocals both ethereal and slightly spooked-out holding court in the middle while Gerald works the filthy bass.
"Moon Jelly" on the flip is just as good, perhaps even better. Opening with a majestic stringed sweep, the track quickly ventures off into anti-gravity heaven, a series of chords walking over the craters and bouncing the requisite 10 feet in the air. By the time the groove hits - a sizzling stripped-down acid beat slathered in Gerald's trademark low-end "clonks" and bleeps - you're already sold. With a canny sense of space and a deft hand at mixing the varied elements, this is Gerald in full-on cosmic mode. A triumphant return to form after a few missteps of late, both tracks are instantly identifiable as Gerald's work, perfectly updated for a modern dance floor. Welcome back to the big room, sir.
[Reviewer: Todd Hutlock]
A Guy Called Gerald feat MIA
In Ya Head
Perlon Germany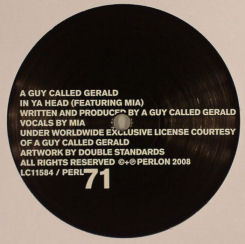 When sonic pioneers collide in an ideal setup within club culture dynamics, they do not just produce dents on the floor, but in fact amalgamate in a pliant way to stretch the space-time continuum by means of enrichment through sound. And knowledge. were we have such a mighty hook up: Gerald Simpson is known to be an innovator of electronic dance music. Starting with Manchester-based 808 State in 1988, sparking the fire of Voodoo Ray Acid Soul, measuring the Black Secret Technology jungle, finding the Essence of song based dance via New York City, he continues pushing evolutionary music processes since taking up residence in Berlin. Now he joins forces with the Perlon visionary community of unfathomable deepness and unrivalled sound design always leaving room for novelty, scientific curiosity and blasting mind frames.
[Reviewer: Elektriklife]
A Guy Called Gerald
In Ya Head
Perlon
The man known as a Guy Called Gerald returns with his first new tracks in over a year!! "In Ya Head" is the proof we needed that mr Gerald remains at the top of the game… Two dark cuts that balance oomph, melody and the underground perfectly…
[Reviewer: Unknown]