A GUY CALLED GERALD
Black Secret Technology
JUICEBOX CD 30
First released in March 1995, Gerald's fourth album - an innovative expansion of the creative horizons of drum'n'bass - has undergone a minor facelift. Two new tracks (Heckle & Kosh and Touch Me) bookend the previous set, while the original opener, So Many Dreams, has undergone a radical reworking with scratchy rhythm guitar, touches of dub and an echoey "Some day we'll all be free" vocal that sounds like Deniece Williams on another planet: Ironically, since presumably the point of all this is to grab Gerald a share of the commercial limelight awarded to those who came after him, the new tracks are probably the least commercial he's ever recorded - sparse instrumentals with rattling rhythmic patterns and a faint synth motif rising and falling behind. Sadly, however intricately built the rhythmic patterns and skilfully worked the creative touches, unless Gerald deals in more than mere fragments of melody, the appeal of those skittery rhythms to wider audiences will remain elusive.
* * *
[Reviewer: Ian Cranna]
A GUY CALLED GERALD is best known for his acid house anthem, 'Voodoo Ray', but in recent years he's started producing some innovative drum'n'bass material on his own label. Black Secret Technology (Juicebox)**** gets a timely re-issue with revamped mixes and extra tracks. Almost two years old, it shows how ahead of its time it was as a radical musical statement, using deep bass to underpin new sonic terrain. With a new album on the horizon and collaborative work with David Bowie due, Gerald is setting his own agenda for '97.
[Reviewer: Unknown]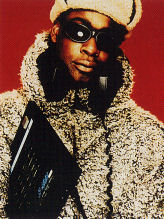 A Guy Called Gerald
Black Secret Technology
"SOME PEOPLE ARE MORE sensitive to these mysterious electronic impulses than others," warns an official-sounding voice halfway through Black Secret Technology (Juice Box), the extraordinary fourth album by enigmatic Mancunian Gerald Simpson. Yet it's hard to imagine how anyone could remain unmoved by the intoxicating range of moods, skills and frequencies contained herein. Essential listening for wide-eyed breakbeat ingénues and hardened junglists alike, this is the one piece of urban beat sculpture no self-respecting modern home can afford to be without.
A Guy Called Gerald is still most widely known for his silkily hypnotic 1989 hit single "Voodoo Ray", but the constant interruptions that have beset his career make a stark contrast with that record's headlong saunter. From an ugly legal wrangle with former partners 808 State, to having his second album for Sony (the prophetically titled High Life/Low Profile) rejected on the grounds that it was "too avant-garde", to losing £10,000 worth of equipment to an electronically minded cat burglar, this man could be forgiven for thinking himself the object of the Mummy's curse.
All of which renders the almost mystical air of serenity that pervades Black Secret Technology's relentless quest for innovation still more miraculous than it appears. Originally released in 1995, but now repackaged with a couple of extra tracks and some new singing - in the hope of finding the mass audience opened up by Goldie's adventures in the over-ground - this record sounds even better now that the world has had a little while to catch up with it. How do you explain the bewitching simultaneous momentums of "Finley's Rainbow"? Gerald has had a go himself: "If you're on a train and you look right at the tracks, everything's going mad, but if you look further back, at the trees, they're sailing by."
Black Secret Technology is released on Juicebox on January 13.
[Reviewer: BEN THOMPSON]
A Guy Called Gerald
Black Secret Technology
Juice Box 30
Largely ignored on its issue two years ago, this pioneering drum'n'bass album from Manchester's Gerald Simpson has justifiably acquired cult status since Goldie and Alex Reece have polished drum'n'bass into a sharper, more commercial shape but the experimentalism of Gerald's futurist soundscapes remains a Nineties landmark.
[Reviewer: Neil Spencer]
A Guy Called Gerald
Black Secret Technology
(Juicebox)
THE future is here, and while mainstream attention still seems focused on the re-tro rock of the likes of Oasis, A Guy Called Gerald (along with quite a number of other guys not called Gerald) is providing the soundtrack for our sci-fi dreams. A drum 'n' bass pioneer whose career has been somewhat eclipsed by the crossover success of Goldie, Gerald Simpson has revamped, remixed and re-released last year's acclaimed Black Secret Technology album in the hope of capturing a wider audience. He certainly deserves it. Despite the frantic pace of the beats that underpin his ambient electronics, there is nothing overbearing about the effect. Gentle chord changes create a dreamy setting for musical travelogues, ideal listening for a journey into (inner) space.
[Reviewer: Unknown]
A GUY CALLED GERALD
Black Secret Technology
Juicebox JB30, £14.49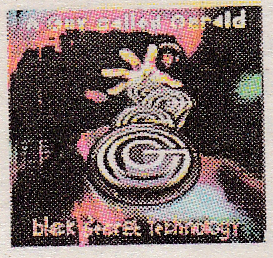 THAT rarest of beasts, a worthwhile re-release of a recent album. Gerald Simpson had been
respected as one of the more musical noises on the house and techno underground for some time when he came up with Black Secret Technology in 1995. For him, it marked a full-blooded shift into jungle territory and proved, for anyone who hadn't previously heard Omni Trio's The Deepest Cut, that this most radical and invigorating of emerging club sounds (rightly likened to bebop jazz, at its best) had become substantial enough to sustain whole albums by single artists - that it had become a genre in its own right. In the event, A Guy Called Gerald's groundbreaking effort was obscured by the major-label marketing budget attached to Goldie's admirably ambitious, but inferior, Timeless. Now it is available once more, slightly rearranged and sounding as fresh as it did first time around, serving as a rebuke to the bland fare served up by the perceived "stars" of drum'n'bass (as jungle has become known), such as Alex Reece and, unfortunately, Omni Trio, in the past 12 months. Anyone with a penchant for adventure should at least hear this record.
[Reviewer: AS]
A GUY CALLED GERALD
BLACK SECRET TECHNOLOGY
Juicebox (14tks/70 mins)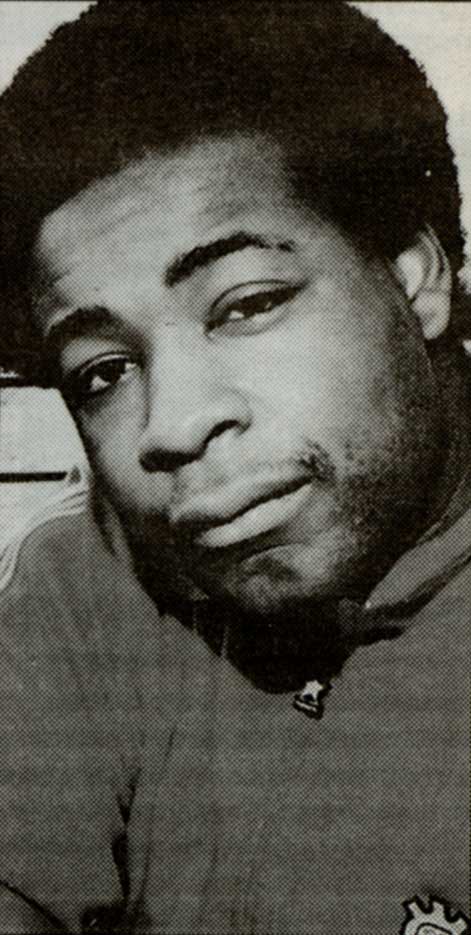 I DID it in the name of Method Journalism. Last night, I went out drinking until four in the morning, stayed up for the rest of the night snorting coffee and drinking drugs, and submitted myself to a mighty, Rimbaudesque disorientation of the senses - all in order that I might fully appreciate the dark, strung-out beats and itchy percussive mayhem of this half-new/halfold album from Gerald. Like, who is this guy, y'know?
It's been nearly eight years sinceAGuyCalled Gerald released his debut single-the minimalist acid classic, "Voodoo Ray". In retrospect, you can argue that "Ray", with its skin-and-bones production, was almost a legitimate precursor of drum'n'bass, while "Black Secret Technology" (Gerald's third album, originally released in early 1995), though largely ignored, did perhaps more to lay down a blueprint for drum'n' bass than Goldie's coffee-table masterpiece, "Timeless". So, perhaps to re-establish his position in the aftermath of the likes of "Timeless" and Bukem's "Logical Progression", Gerald's revamped "Black Secret Technology" -adding a few new tracks here, remixing some others over there.
The then-single, "Finley's Rainbow", is still all delicious and exhilarating - beats jostling against each other while a lone keyboard motif rises gracefully in the background; a perfect comedown record, if you like. His collaboration with Goldie, "Energy", is sharp, abrasive and as edgy as they come. "Hekkle And Koch", one of the two new tracks, is just a sick mess of mashed-up dark jungle beats, Eldritch noises, and the kind of bass subsonics that'll induce structural damage in certain large buildings over 50 years old. Loved it. The other new track, "Touch Me", is more of a subtle headf***, with bass loops tumbling haphazardly over half-whispered vocals, everything seemingly dancing to its own, secret rhythm. Only the reworked "So Many Dreams" disappoints. Why does every girl who contributes vocals to a jungle record think she's Minnie bloody Ripperton? It's not uplifting. Only bras are uplifting.
Otherwise, give me more of this crazy voodoo shit any day.
[Reviewer: MICHAEL BONNER]
A Guy Called Gerald
Black Secret Technology
Juice Box
Remixed, re-released and restating a point (with two new tracks to hoot), Black Secret Technology is hack to remind us who was thinking ahead hack in '95. Gerald layers sonic textures like an architect, building foundations from dense, resonating strings, slotting percussion like strata to create towering polyrhythms that speed off into the heavens. But it's the melodies that ring in your ears long after the fact - 'Finley's Rainbow' is still as joyous and uplifting, painting a kaleidoscope of colours in sound. 'The Nile' explores a shrouded groove, CompuRhythm beats snaking hack and forth in a river of eerie beauty, while 'Cybergen' comes on like future shock, robotic vocals spiralling inwards in a jerky, freaky meter, describing the manifesto of a drug that takes you wherever you want to go. With a new album 'Aquarius Rising' due in early '97 check out a futuristic classic before the next chapter arrives.
[Reviewer: MA]