Things The Quietus Learned At Incubate 2013
The Quietus , September 27th, 2013 08:21
Last week, the Quietus office relocated to Tilburg for the latest installment of Incubate Festival. Rory Gibb, Luke Turner, Mat Colegate and Laurie Tuffrey report back from the week's events
....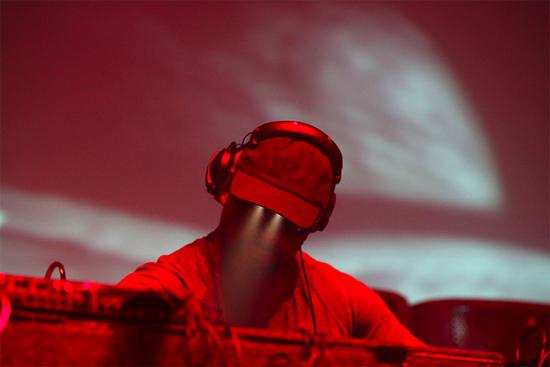 There's nothing like a good bit of interpretive dance
There's a high concentration of quality dance music at this year's Incubate: the Friday night hosts Levon Vincent, Kowton and Kyle Hall (among others), while Saturday night in the main 013 venue is a themed celebration of '25 Years of Acid House'. The scene is set for the weekend's dancefloor activities, however, by an in-depth onstage interview with A Guy Called Gerald, hosted by The Wire's Derek Walmsley. It's particularly insightful, delving into Gerald's personal history and the Manchester scene, his understanding of acid house's name ("like funk dipped into an acid bath ... In goes Curtis Mayfield, out comes Adonis") and how his studio process has developed along with technology. One of the predominant stand-out themes that he returns to repeatedly, however, is the reciprocal relationship between dance music and the activity of dancers. Referring to the parties in Manchester he'd attend while still in the early stages of his career, he describes how sound system DJs would mix a variety of styles - funk, reggae, early house, soul, jazz fusion - but all with dancers in mind, allowing them to interpret the music in myriad show-off ways. Later, he describes imagining how dancers might move to music while he's composing it, and why responsiveness is a crucial trait in a DJ and live performer - being open to reacting to your audience's moves just as much as they're reacting to your music.
After a slightly disappointing Friday night session - the usually claustrophobic pressure of Levon Vincent and Vatican Shadow frustratingly lost to the echo-ridden contours of the Hall Of Fame space - Gerald's Saturday night set illustrates his philosophy in action. He's been asked to return to an older style of set for the acid house night in 013, and so he's playing entirely off hardware. His performance is striking for several reasons. Foremost, how open-ended it is; its slow and warm throb opening up possibilities for many different styles of dance, from the appreciative head-nodders near the back of the room, to my awkward, twitchy flailings, to full-scale loose-limbed mania down at the front. The difference between Gerald and acid originator DJ Pierre, who plays immediately afterward, couldn't be more dramatic: the latter's set takes the signifiers of Chicago house and steroid pumps them to grotesque extents, like '80s acid-dipped funk retooled for attention-deprived EDM kids. House's ostensible focus on perpetual groove and momentum is stripped away to a series of towering 32-bar crescendos and unsatisfying drops, while the 303 squiggle is an overbearing, ever-present headache, scrabbling maniacally up and down the register. It's odd, considering his history and the amount of great music he's put his name to, but where Gerald's supple set beckons you to dance in any number of ways, Pierre's is frustratingly rigid - he demands that you move, but provides only one fixed avenue along which to do so.
Gerald's interpretation of the notion of acid is broader, too, matching his statements the previous day - rather than strafe his music with overdriven 303 splatter, that machine's presence is subtly threaded through the mix, its telltale percolations strung slender between beats like ectoplasm. His set is noticeably contemporary in texture and feel - thanks in part to many young artists becoming interested in live performance on old and analogue hardware - but being just as musically and emotionally nuanced as the best of the new generation, it serves as a snub to technological fetishism. A reminder that, as Moodymann put it in a RBMA interview a few years back, it ain't what you got - it's what you do with what you have.
....
[Reviewer: Rory Gibb, Picture: Thomas Quack]
Incendiary go to Incubate, Tilburg, Saturday 21/9/13
Wed, 09/25/2013
Pubs are great aren't they? We've been in the pub an hour, and I know in my heart that it's time to see A Guy Called Gerald at 013. But we have just done something daft which leads to considerable difficulties in crossing the tiny road that is between our hotel and the street with the pubs and venues. It's frustrating, I mean everything's cool and, (to quote Wymer from Vox von Braun), there are no problems, but… why on earth do the cars have to levitate above the tarmac tonight? Stay on the surface you pesky vehicles. I consider lying down to gauge the exact distance between rubber and tarmacadam but realise that this may freak out my fellow earthlings at the lights. I know, I'll hold someone's hand to cross the road. Yes she may be pushing 70, but intergenerational understanding is where it's at. We're over.
013 is thumping and swaying to A Guy Called Gerald's cheeky sinuous grooves. He's in fantastic, visceral form. My, oh my I could listen to him all night. But get this, it's acid house night at Incubate, and there's hours to go, and hours are going past like flies whacking your windscreen ....and now we get my all-time fave raver, DJ Pierre. I've loved his simple, fun-drenched music for years, there's always something cheeky and uplifting about the way he put his beats together, there was always, (always was? Still is!) this beautiful way with counter melody and then this fab shake down into no nonsense passages too. His set is mesmerizing. It's impossible not to move along to this bravura display. Man, he still shows up how cack-handed most deejays are. Acid house was such a free form thing, closer in my eyes to Sun Ra and trickster stuff like the Coldcut or the Orb than what morphed into the 90s club scene; its raw and ragged textures were always looking to escape down the path less travelled. I miss that personal freedom, the space it gave… I miss it because I'm hearing it in DJ Pierre's set; yes it's all inclusive stuff but the beautiful dichotomy of being on your own and totally safe in a massive crowd or in a group of happy loons in a bus refitting shed outside Blackburn, that feeling got lost along the way somehow. I blame football and Fat Boy Slim. And, oh I dunno, the BBC and Janet Street Porter. Why not?
Before I know it he's off and 808 State batters the room senseless. "Turn it up turn it up!" Cubik? Yeah Cubik early doors, with more riches to come. They are some band, quite brilliant at making loud festival music; quite why they get seen as a rave act is beyond me. They always sat to guzzle at every sonic table; and their sound is incredibly expressive and inclusive, Manc/Gothic urchindom grown patriarchal and wise. The crowd below is like a swaying terrace, or bier keller… it's a freeform muck about.
Wow… Pressure's rising.
[Reviewer: Richard Foster]