MUTEK 2012 - Highlights of a Contemporary Carnival
06.12.2012 Lukas Switlicki
Contemporary was in the air at MUTEK festival, nested in the adorably self-conscious city of Montreal, and rightly so. The lineup had a unique taste in diversity piecing together a collage of overhyped marvels, breakthrough acts, and underground recluses (see our top 12 crushes). But it was really the allusive things that strung the lineup together and made for a great festival. Captivating visuals (at times overwhelming), stout sound systems, and of course alluring venues filled with a crowd willing to accept forward thinking ideas even though they may taste bitter at first. The latter being a bit of a rarity as the money hungry music industry expands their waist line with consumption over creativity.
And you might ask, at the expense of? What makes MUTEK Montreal stand out in North America is a childlike sense of discovery and it's ongoing beyond the last act as you come home to dig through catalogues of leftfield names trying to capture a bit of what you just saw. The experience was as much educational as it was entertaining, a must in anything exposing you to stimulating sound in a stimulating environment. Here are the artists we managed to catch that did just that.
...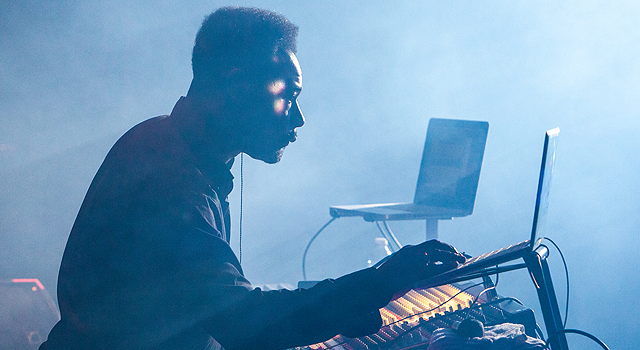 ...
Okay, so admittedly, my brain wasn't 100% present during A Guy Called Gerald's set and 24-hour-time isn't my forte, so somehow, I managed to think that previous act Roll the Dice just happened to look very similar to A Guy Called Gerald and play insanely awesome music out of nowhere. I didn't know that much about A Guy Called Gerald prior to the festival, other than having listened to his productions and mixes intermittently, and I had an inkling beforehand that he'd end up as a festival highlight, but it's sort of nice to know that he stole the show even without his reputation to precede him, and that he definitely did, playing everything from his signature acid house to a new genre he dubbed "stepno" that kept the highly varied, fun-loving crowd on their toes.
...
[Reviewer: Alyce / Lukas Switlicki, Photo: Miguel Legault]
MUTEK 2012 Wrap-Up, Part Two with Tim Hecker, Nicolas Jaar, Kode9, Kink, and More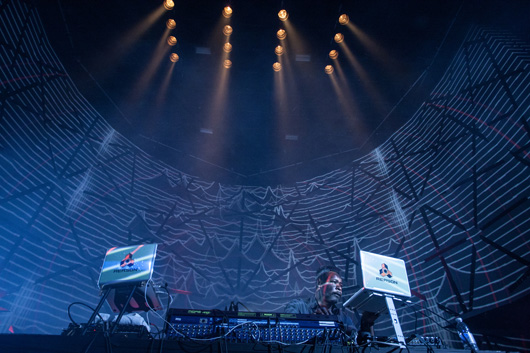 ...
Walking into Métropolis, it was immediately apparent that A Guy Called Gerald had the dancefloor kicking, initially with an assault of churning, acid-tinged techno. Performing live, he eventually segued into some stripped-down jungle, serving up rolling rhythms, thunderous drums, and essentially no melody. It was very tribal, very raw, and the crowd ate it up, particularly when Gerald came out from behind the decks and dusted off some of his old dance moves. At some point, he did make the dubious claim that he had invented a new genre, which he dubbed "stepno." It essentially sounded like drum & bass with some wobbly dubstep basslines, so the party didn't suffer. Eventually, Gerald slowed things down and moved back into techno, delivering warehouse vibes and pounding analog beats with rubbery basslines and raw drum sounds. Only at the end of the set did things truly cool down, as Gerald reeled in the energy with soft pads and some headier selections before wrapping things up.
...
[Reviewer: Shawn Reynaldo, Photos: Miguel Legault, Caroline Hayeur]