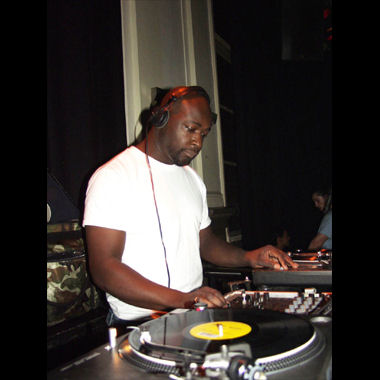 The last time I saw Gerald playing was four years ago, then live, in the same venue. I remember him not being on until after 3am, so was hoping this time he would have an earlier slot. Alas, as I checked the setlist, 3am it was again… Gerald was actually headlining, so I guess that's why he had the last spot. Due to the night not opening until 12am and the wait outside being 45 minutes (take note Blue Jammer J), the setlist got even later and it wasn't until 3:30 until Gerald was able to start. Still, that gave me some time to meet up with him. It was the first time I had personally met him.
This was a pure vinyl DJ happening, no laptop. Gerald played a very varied set. I didn't recognise anything (OK, that doesn't mean much – but what I'm saying is that it wasn't an old-skool set), so am assuming they were current tracks. The crowd was definitely up for the harder stuff. When Gerald dropped a vocal house record, the dance floor started emptying, and Gerald quickly responded with harder, industrial & Acid tunes, which the punters acknowledged with cheering and whistling. Quite often people asked him what the record was that he was playing. Which reminds me, he spinned a fantastic record which sounded like a harder cover version of "Fade To Grey" by Visage. Anyone know what it is?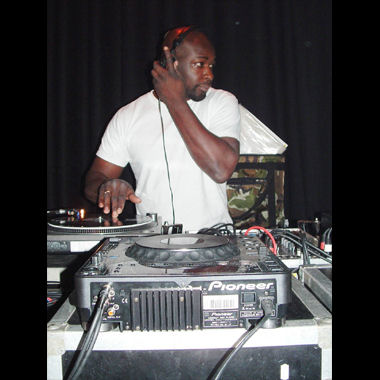 When 5 am came and Gerald stopped the record, the remaining 20 punters asked for one more. Gerald didn't mess around, searched his record bag and put on Model 500's "No UFO's". What a fantastic record to end a night with! Afterwards everyone was cheering, clapping and many people thanked him personally. I suppose that was aided by the fact that Gerald was giving out sweets to the punters! I have seldom seen such a grateful crowd. Somehow I think it won't be too long before Amsterdam will be seeing him again.
Gerald mentioned that he's looking forward to the DJ gig at Concorde II in Brighton in December, when he'll be spinning alongside the 808 State DJs again.
[Reviewer: Markus Arnold]