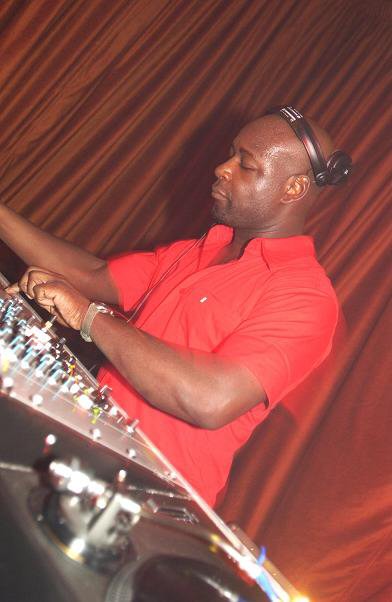 "Earthdance Manchester 2004 was an amazing party!
It was the 8th annual Earthdance, a perfect time for an 808 State reunion, especially with the release of 'Prebuild' on Rephlex records in early October, and an old-school reunion it was with (A Guy Called) Gerald Simpson, Graham Massey, Darren Partington, Andy Barker and some of their family in the house. It was also a beginning - the first 808 State participation at Earthdance, the largest simultaneous dance party in the world!
To go with the Hawaiian theme of the night, Graham Massey told me he had visited Hawaii - the 808 state (808 is the dialling code) - recently for 3 weeks! Maybe some Hawaiian rhythms and vibes are going to feature on the next 808 release????
A Guy Called Gerald started his set off with 808 State 'Pacific' and played some acid house, then a lot of new stuff - tough house, breaks and techno, and finished with his classic 'Voodoo Ray' (voted no1 dance single of all time in International DJ Magazine recently) then a drum n' bass version of the same tune... by that time the place was really going off!
We were most honoured to have Chika, one of the original Earthdance family, a lady who has put years of energy and dedication into promoting Earthdance, DJ-ing at the party. She played the ambient 'Prayer for peace' track at midnight GMT, as hundreds of DJS at other Earthdance parties across the world played the same track simultaneously creating a global consciousness for world peace, then proceeded with an amazing breakbeat set...
So, all in all, it was a night of high quality dance music - some of the music looked back a little to the initial excitement of acid house, but was mainly looking forward with intricate rhythms and positive energy.
It was quite a young crowd, with many attending their first Earthdance. Everyone I spoke to really enjoyed the party, including the DJS, despite the last minute change from a much larger venue.
A massive thanks to everyone involved who made Earthdance Manchester 2004 - all the DJS, the staff of Vision Classix, Silky and Dry Bar, sound engineers and everyone who attended...
Earthdance is a party designed to get the whole world dancing and reflects the 'global state' nature of some of 808's music and vibe. Manchester is a city with a healthy dance scene, pioneering nature and a council slogan of 'City of Peace', accompanied on the logo by a dove of peace, so hopefully this is just the beginning of something special...
[Reviewer: James Walsh]