A Guy Called Gerald / Funkstörung
London Brixton Mass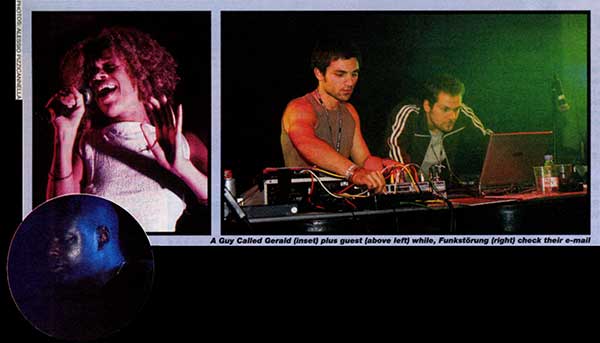 A laptop, a mixing desk and sound like a stethoscope put to a troubled stomach, this, in essence, is Germany's Funkstörung. Sure, there are the operatives, Michael Fakesch and Chris De Luca, who first became renowned for remixing Wu-Tang Clan and Bjork. But they take electronica sheepishness to new levels, as they attempt to prove their headphones-filling mix of fragile melodies floating in dub swells can also waylay venues.
Rewardingly, think LFO-deep techno, flashes of Detroit rhythm and an impressive range of clunking and spluttering. Think of a sound both as crisp as daybreak and as crushing as an electric storm. But don't, sadly, think that for too long...
...Because the gawky reticence of the Funkstörung duo is welcome compared to the ungainly cockiness of their rapper chum, MC Triple H. His lyrics seemingly informed by Disposable Heroes Of Hiphoprisy, Ali G and Neuromancer, he emerges halfway through to ooze unconvincing menace. Then he leaps on the dancefloor to pester the small crowd into yelping karaoke-style into the mic. Then he nicks someone's beer. All traces of ice-cool techno gravitas disappeared some time ago.
Next up is A Guy Called Gerald. This Mancunian - who started out with 808 State and who pretty much invented drum'n'bass but left Goldie, Grooverider et al to scoop the plaudits - has been living on the fringes for over a decade, but this, believe it or not, is his live debut in front of a paying audience.
Perched as innocuously as Funkstörung behind his hardware, he introduces a slew of guest vocalists, including Lamb's Louise Rhodes, and, in tracks like 'Humanity' and 'Fever', a sound which sways uneasily between post-breakbeat chic landing right on time, and soul-tinged jungle emerging four years too late.
Funny thing is, when Gerald goes back to the beginning of his peculiar 'career', the results are as modern as this month's latest technological breakthrough. The track in question is 'Voodoo Ray', the proto-rave barrage of irregular rhythms and funky chimes which rocked warehouses, introduced clubland to the ingenious phrase 'Mental!' and showed the then dominant US that the UK was getting the hang of dance. Ten years on, British dance music and culture rules, but Gerald hides in the shadows. Something tells you that's the way it will always remain.
[Reviewer: Andy Crysell]