A GUY CALLED GERALD
ULU, LONDON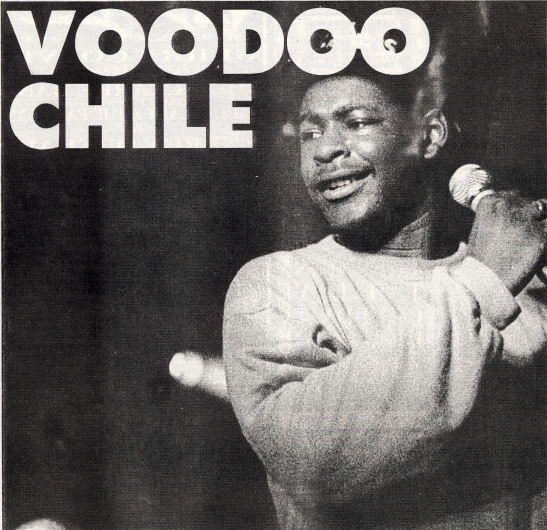 PUT A Guy Called Gerald beside the beatmasters, radical rap and survivalist electrodub that make up the rest of tonight's acts, and you'll see that he's somewhere else. Their urgency and agency, their in-your-face imperatives are replaced by his new narcosis and lotus-eating, becalmed passivity. It's all embodied in Gerald himself.
There's none of the "front" or danger of the crews that precede him, just a familiar, somnolent Mancunian accent and patient behind-the-scenes programming. If it weren't for his singer up front, and the crowd downstairs setting up an incongruous terrace chant for ''Voo-doo Ray", it'd be more ambience than act.
That's appropriate. Gerald and his northern satellites launched New Age", aka "ambient" house, the phenomenon that emphasises the trance in trance dance, and should reconcile House music with "head" rock. Both musics can offer the same fix, or rather un-fixing of consciousness. Both can free you from the co-ordinates of the here and now, and let you attain oneness with the world and peace.
Gerald translates House music from urban night-life to paradisial, pacific (often literally Pacific, with a capital P) scenes. Tonight there's "Eyes Of Sorrow", with its rainforest percussion and pipes; or 'Voodoo Ray", with its slow-scanning ritual limbo from the tropics; or, as an encore, Gerald's own reading of the halcyon surf of "Pacific State". While rock, rap, dub have kept faith in Africa's heartland, the place of origins and history, House has escaped to the southern hemisphere's soporific, out-of-time innocence and unworldly primitivism.
That shows in the minimalist fluctuations and meander of "Subtopia", a serenity you can lose yourself in. Gerald's visual effects confirm this mesmerising tranquillity at the heart of House too. They look as if they're influenced by the new model for the natural sciences, chaos theory (very much a buzz concept in club culture): instead of predictable forces and counter-forces (the grammar of "techno" music), there's indeterminacy and turbulence, back-projections of vapour, clouds, shoals of fish, self-ordering but unpredictable organic forms that fascinate.
But Gerald doesn't celebrate just nature or an Endemic past (none of rock's third-world heritage industry here). He's an unrepentant futurist. Just hear "Automanikk", his preview of the forthcoming album: all print-out chatter, split-second samples and arc-light strobes on stage. Or "FX", an ascent through a Lloyds-building ziggurat of glass and steel. Think Tokyo, think Ridley Scott. It doesn't contradict his Pacific states, though. He's found tomorrow's paradise, where hi-tech achieves voodoo's instantaneity of communication, and where cities dematerialise into flows of light and information (think Kraftwerk), a mosaic of signals as mesmerising as the time-lapse record of city life in the film "Kooanisquatsi", but without that film's technophobic undertones.
Gerald's performance is "plastic", as his music's often been called. Plastic in the original sense, of course: adapting to all kinds of shapes, a hypnotic, becalming changeability. Go with the flow.
[Reviewer: PAUL OLDFIELD]
A GUY CALLED GERALD/ON-U SOUND SYSTEM
Malet Street ULU
AMID A flurry of lasers, weapons and dancing girls, the great man was lowered to the stage on a shimmering space-chariot – well, sort of. Actually, he wandered on, murmured "Hello London", and fiddled with his sampler.
After second keyboardist Rohan Heath joined him things began in earnest, with the atmospheric 'Subscape' and a startling version of the new single, 'FX'. But when singer Viv Dixon appeared the pressure dropped. She needs someone to write her melodies that phrase around, rather than on, the beats.
Gerald used the mic to shout mid-song abuse at a dancer who had the temerity to wear an 808 State T-shirt and to reveal, on 'I Won't Give In' that he has a fine voice himself.
The set ended with a thunderous 'Automannik', with Heath whipping up a "guitar" solo on the boards. But the fun was just beginning. Gerald returned and played 'Voodoo Ray' – he didn't have half the vocal samples, but the crowd sang them anyway. Then came 'Specific Hate' ("I really shouldn't be doing this") – essentially his bits of 808 State's 'Pacific State' with piss-take vocal versions of the sax and bird noises.
Things got really weird when he stepped out front for a funky tribute to James Brown, 'Pass The Joint'.
What a larf. Live, some getting-together's needed, but it would be a shame if that was at the expense of Gerald's engaging looseness. His dropped beats and smart asides shatter notions of r predictability. On-U Sound System's voodoo beat followed. With his new accomplice, Gary Clail's moving away from traditional Sherwood rhythms to a hard House. Old chants and rhymes turn up on new rhythms.
Faced with airheads like the Freedom To Party crew, it's heartwarming to hear Clai! leading chants of "Bastards!", directed at city suits and Tory masters. If you only wanna dance, you're gonna get stepped on. It's powerful stuff. Superb.
[Reviewer: Russell Brown]
ON-U MATEY!
GARY CLAIL'S ON-U SOUND SYSTEM
A GUY CALLED GERALD
KISS AMC
RUTHLESS RAP ASSASSINS
FIRST OFFENCE
LONDON ULU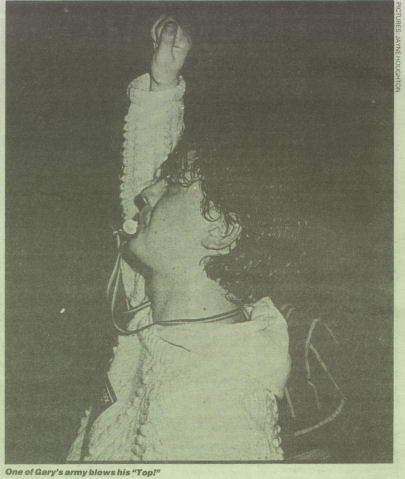 THE HOME Secretary would've had several purple fits. Despite his increasingly nauseous efforts to outlaw The House Nation, this was one supremely legal rave. The great unwashed, drug-addled hoodlums, business movers and shakers, celebs, assholes, the fresh-faced and innocent all gathered to proclaim Dance music's timeless popularity. You could cut the atmosphere with a sharp knife: no tension, just warm, peaceful vibes.
Things might've been even calmer had The Orb taken their rightful position as curators of The ambient room. It was a tailed experiment as the party-goers seemed to object most vigorously to the sounds Alex Paterson set up.
Meanwhile on the main stage First Offence were shifting into gear. This is Moss Side hip-hop, or thereabouts, another blast from Manchester, and the first post-Happy Mondays act. Complete with a wigged-out Bez type with mask and semi-spastic dance, they razed the roof. Comparisons might be made to Stereo MCs, The Beastie Boys and 3rd Bass but these guys map out their own rabid territory.
Cutting up The Beatles, Velvet Underground and The Stones might seem ludicrous on paper, but it actually works. First Offence's breakbeats are looping confections that pump iron: so what if the raps could use a little fine-tuning?
The only minor gripe about tonight's festivities concerned 'chilling out'. Maybe due to a 'paranoia or otherwise, you encountered security at every turn. Not to mention getting groped for drugs at the door.
Another blast from Manchester, Ruthless Rap Assassins didn't have much to offer. The incessant thump of their drum-machine generated beats didn't help anyone with migraines, as some wag was heard to bring up that chestnut "the tyranny of electronic rhythms". Me, I thought the noise was rockin', the beats pumping, and the raps were puerile and pathetic.
They were by no means sexist, just the overbearing machismo seemed out-of-date. Chanting out loud about your neighbourhood is too parochial a pursuit to engage the attention.
Kiss AMC walk it like they talk it: brash, rude arrogant yet somehow sensitive. It's a wonder they haven't graced the Top 40 more often. Certainly the use of pop hooks and readily identifiable signifiers should go down a storm with the undiscerning. As women rappers go Salt 'N' Pepa have some heavy competition here. Needless to say, they're from Manchester. This informs everything from the wry, somewhat droll delivery to the chug-chug beats ripped off some decidedly dodgy platters.
By now, the early hours have come and gone and still no sign of A Guy Called Gerald. He's getting souped-up, blow-drying his hair so it stands on end. You can't blame this slight, jovial figure for being at the forefront of British House. Someone has to do it. Finally he deigns to appear. We're hallucinating away merrily and he looks like a pineapple with the crown taken off. Flanked by a keyboard operator and a stunning session singer, it's all systems go.
With Gerald, form is all that matters. 'FX' has no content to speak of (except that "we've got the power" refrain) yet it's transformed by technology into a veritable juggernaut of emotions. On form, Gerald is untouchable, just the right side of quirky, a reasonable monster. Fast-forward to that crowning moment in his set (which included some fine Deep House grunts from the man, he should sing more) an absolutely loopy version of 'Pacific State' complete with Gerald doing the saxophone part vocally. Kickin' and hilarious to boot.
"On-U Sound in the area" is Gary Clail's rallying call as the night wears on. This garrulous fellow had the best share of liberating moments ... with the mighty Tackhead rhythm section on tape - in restrained form - and phasers, echo-units and sundry effects, you just locked into the steady groove until mesmerised. Clail is a DJ supreme - which means he alternates between spinning fabulously disjointed dub-tracks and pure House, occasionally toasting over the top. What's he chanting? "Battle scarred and weary, are you ready for home?/Like hell we are/Rave on/Rave on".
As a major treat, he showcases a couple of tracks from the soon-come Lee Perry LP. Heaving basslines, percussion scattershots, paranoid, nail-bitten rants, all carry Adrian Sherwood's indelible production stamp. Lesser fools would call it 'Acid reggae' but it just feels great, buddy. The sound-system is pumped up to full volume, your cranium almost bursts under the pressure, some anarcho-veggie types start slam-dancing, the ceiling shakes, "these vibrations rule the nation".
Gary Clail is currently re-writing history.
He's mad, bad and dangerous to know.
You weren't there? You missed the end-of-the-century party.
[Reviewer: Dele Fadele]