OTHER SIDE OF MIDNIGHT PARTY MANCHESTER, GRANADA STUDIO ONE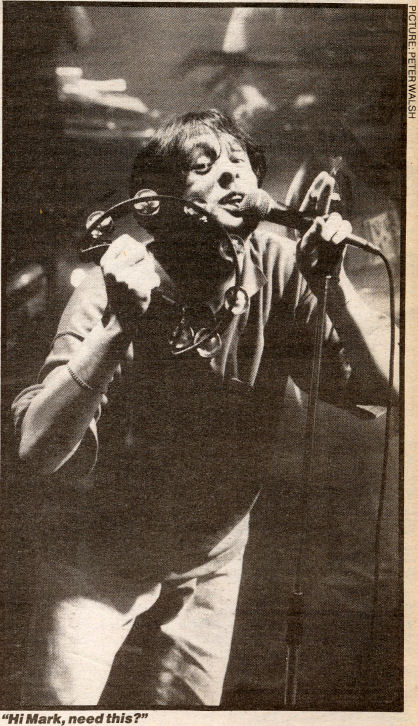 ANTHONY H Wilson, media entrepreneur, pop culture conceptualist and general gad about town decided to end the current series of seminal arts programme, The OtherSide Of Midnight, with an agenda dedicated to the art of throwing parties – Manchester style.
Some handy tips: First, find a venue that will pass for a warehouse – hence the half-empty aircraft hanger that houses the Studio One location. Secondly, select your 350-strong audience from the people who really matter – the ordinary Joe Bloggs off the street – and throw in the Factory mafia for good measure. Music should be a tempestuous fusion of live performances and dance floor tracks mixed by Mike Pickering. Finally, employ a camera crew to witness the mayhem and ensure the arms and legs continue to flail wildly... and it's party time!
Out of the fug of dry ice – supplied by a portable machine brandished by a very grumpy, very straight floor technician – step T-Coy, Mike Pickering's baby. They deliver a short 'n' sweet set including dancefloor favourite 'Carino', perfectly recreating the hi-tech dancefloor sound.
A bemused Guy Called Gerald isn't quite so lucky, giving us barely five minutes of pleasure plagued by a stroppy sequencer which refused to co-operate. "This is live, this is raw, "barked Gerald's MC. That means his computer's f-ed," muttered a mop top blowing furiously into his whistle. After a punctured 'Voodoo Ray', Gerald beats a hasty retreat leaving the floor to bump'n'grind. Outside, Manchester grizzles and drizzles. Inside, sweat drips and steam rises.
"Ladies and Gentlemen," foams Wilson over the microphone "Bez isn't here tonight, he's stuck in Marseilles . . . no, he's not in jail. But here for your pleasure..." The Happy Mondays shamble onto the stage to a cacophony of hoots, piercing whistles and swirling hands. Heads roll, hips gyrate and the dry ice man mutters miserably to himself, picking his way through the jacking bodies.
Shaun Ryder, smoke in one hand, tambourine in the other, curls himself around the microphone and drawls lazily "Hiya Manchiston". The pavlovian response is immediate, People cavort and writhe their way onto the stage – it's time to enter The Twilight Zone.
Playing a frenzied 20 minute set, the Mondays have the crowd in the palm of their sweaty hands. Some kids who have wandered into Surreal City from the street outside grin and nudge each other at the bizarre spectacle before them. Two seconds later they're up with Ryder.
The party ends with a ball-breaking version of 'Wrote For Luck', I swear my ears were bleeding. Two massive podiums either side of the stage are scaled by two typically untypical Mondays fans. On one side a loud-mouthed rasta trance dances, dreadlocks swinging furiously, keeping perfect time to the hypnotic beat, whilst on the other, a spiv in a pork pie hat and dodgy moustache totters around unsteadily spraying beer over the band. Security guards look on and up nervously. It's four o' clock and the half-empty venue is buzzing. Confining the Summer Of Love to long hot nights of ecstatic revelry is like saying people never have sex in the afternoon.
[Reviewer: Mandi James]