A GUY CALLED GERALD/ THE SHAMEN London Dingwall's
It could be that the least exciting thing in pop music is a hybrid that doesn't quite gel; it's certain that the one thing duller than an indie guitar band is an indie guitar band attempting house music. That's a circuitous way of saying that the Shamen aren't really up to much. Their newly-found method of overlaying a drum machine and housed-up keyboard base with their scratchy guitar rambling isn't an awful lot more sensible than, say, serving fried rice with strawberries and cream.
It might be more pleasing if they wouldn't insist on doing the rock vocal bit over the top. Even, or perhaps especially, during the finest of their efforts, 'Transcendental' (the collaboration with Bam Bam), it gives a push to the thought that's Gerald by the hand. As well they been searching for space in your mind throughout their set: that the overall sound is something akin to curdled mayonnaise. Shamen fans then make their feelings on house music abundantly clear when half of them make for the door the moment the last guitary twang issues from the sound system.
Admirers of A Guy Called Gerald are far more appreciative. Led by a feverish Mark Moore and a bobble-hatted Baby Ford they storm the dressing room in a bid to shake might, for despite having about as much equipment as you could sensibly balance on a fingernail, smiling Gerald and his cohorts perform about as live as their instruments allow, the admirable 'Voodoo Ray' spearheading the spaced-out advance of the techno-rhythm.
They may not quite live up to the tag of the best in British dance music (whatever that means), but we'll be seeing more of the man whose smile pleads, "Who, me?"
[Reviewer: Phil Cheeseman]
SHAME ON YOU
THE SHAMEN/A GUY CALLED GERALD - Live At Camden Dingwalls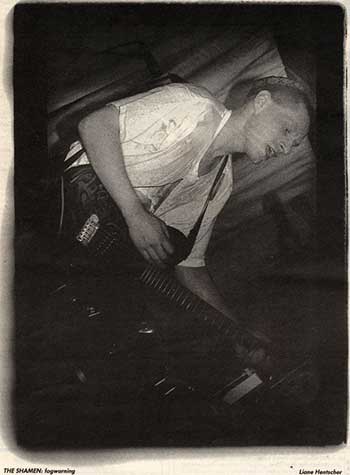 Not being too clear on the ground rules vis a vis Housey Housey music, I was expecting a stage appearance from A Guy Called Gerald. Instead of which, it turned out to be just another DJ on the PA.
With no way of knowing whether tapes were being used, or turntables, or what, it's a bit difficult to say for definite what he was like. Occasionally he would berate the (not very large) audience, instructing us to "jack the house". Well, absolutely. The house looked like it could do with a bit of jacking.
Not satisfied with this, he further invited us to "rock the house", reminding us "y'all know what time it is". It was 12 minutes to eleven.
John Peel, in a typical rhetorical beef, wanted to know why A Guy Called Gerald's tunes didn't figure in the Festive 50. Because they're shit, basically. Glad to be able to help, John.
The Shamen did deign to take the stage, although in severely truncated form. They are now down to a guitarist and a bassist, with a blonde Shawoman at the bongos. Obviously a player of the bongos, however keen, a satisfactory rhythm section doth not make, so it's fortuitous that the whipcracks on the backing tape have been prepared in fine detail.
Tracks such as 'Jesus Loves Amerika' and 'Adam Strange', on the imminent LP 'In Gorbachev We Trust', will testify to The Shamen's continuing interest in more traditional expressions of psychedelia.
Songs like 'Synergy' and 'Misinformation' are more representative of what they were up to tonight. Acid House meets Aberdonian estate, and it's not too happy a marriage.
All the dry ice in the world - and most of it seemed to be here - can't redeem a boring, aimless jaunt through a jittery electronic wilderness, and this can be practically written off as the sort of caper that give Sony Walkmans a bad name.
Thankfully, in time-honoured Housey style, it was all over in 20 minutes.
[Reviewer: DAVID CAVANAGH]