Since the '80s, British-born, Manchester lad Gerald Simpson, also known as A Guy Called Gerald, has proven to be a formidable music force; one whose roots run deep into electronic music history.
He was there for the birth of electronic music as we know it, playing in some of the most iconic venues across the UK. Back then "he didn't know he was in it until he left." In carrying Chinese wash bags of wires to his gigs, to traipsing around British backstreet looking for news sounds; through to starting imprints, Gerald's influence has gone from humble to international.
His music has spawned genres and generations of music culture, which has in turn, influenced a new age of music makers. From his early experimentation with techno and acid house to his groundbreaking contributions to drum & bass music, Gerald's art has perpetually evolved and shaped electronic music.
Currently on a tour of South-East Asia, we grabbed a few minutes with the legend to talk about the Hacienda days, black music and setting up on his own.
Nine albums, over 50 releases and a 25-year career. You started making music during what's been called 'the jacking zone', that small period of time in the 80's when Detroit techno crossed the pond - what was that time like?
It was an amazing time. Everything was different, everything was new. It was an escape from cheesy electronic pop music.
It seems that every day a new video from the '90s appears online showing the Hacienda nightclub in full throttle. For those not around at the time - what was all the fuss about?
Well, for a start, there were many other places that were happening before the Hacienda. I wish there was more video of those places - from the mid 80s to the early 90s.
It was the beginning of the acceptance of underground music in an artier scene. It was the start of hitting the mainstream. It was when the underground black music scene started to cross over into the indie scene. People like Greg Wilson bought the black crowd into clubs like the Hacienda. We were going to clubs like Legends, Sandpipers, Jamelles, The Gallery.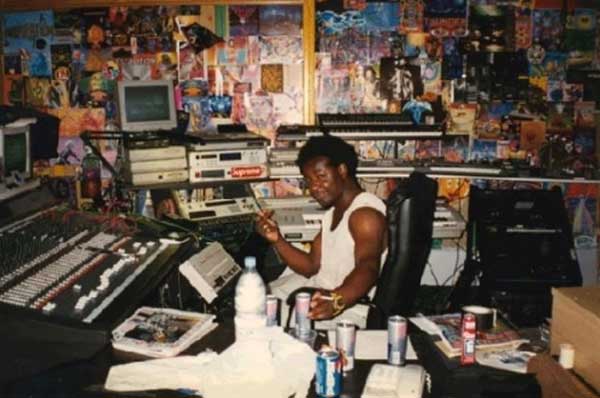 The dancers and the indie kids were bought together at the Hacienda but it was happening at The Reno since the 70s - the hippies, the dreads, the students were all bought together. We were all coming together at the blues and underground nightclubs like the Reno.
Is it true that you toured in your early days with a quarter of a tonne of equipment? - a little different to the mac book air and a USB stick used by the kids nowadays no?
Yes I did. I had to bring everything with me. If I was doing a studio session the other side of Manchester I would walk with two huge of those Chinese washbags full of equipment and wires. On tour it was 250 kg of equipment for my live shows.
How did your label Juicebox come about and lets not forget to talk about jungle - what a game-changing genre?
The label came about because I needed to be able to release music a lot faster than you could on a major record label. It was obvious from the lack of communication from the label that they were not interested in my ideas. If they were interested in what was going on they would have had a man on the street.
I was willing to share ideas. I started a sub-label with them but they would not even consider putting out a white label - that's how out of touch they were. Of course later it changed - by the time they were interested in what was going on Napster was already doing their thing.
You say you "refuse to compromise and follow trends" when it comes to your music - Its an approach we are fans of - but is that aimed at anybody or a particular area in general. I don't intend to put words in your mouth but are these things an industry problem at present?
It doesn't seem like there is an underground industry. What's happened is the people who try to monetise the cool are almost sat there waiting for the next new big thing, which I feel, is putting everyone off. As soon as something that is underground is monetised then it loses its soul.
Reason being you can't take any chances so there's no room for experimenting. And experimenting is the essential component for creating a new vibe of some sort. It has to be something untouched by a scene already - it needs to be something new, something fresh. It can't be the thing that everybody knows or everybody's got.
It has to be special. If we are all jumping on something before it's developed and watering it down it goes nowhere. Basically it seems that the "tastemakers" are in trouble trying to find the next new trend.
From your vantage point, how have you noticed dance music evolve over your career?
It's evolved into something that started out very twisted, grimy, greasy and funky and almost ironed out all the wrinkles - all the little individualisms have been ironed out. It's changed.
Even Stock, Aitken and Waterman couldn't have gotten away with putting a 4/4 beat under a country and western track. But now we've advanced to a technological situation when we can do these things. We've got the technology but we've regressed. Hahahaha!
If you could do it all over again - what 5 pieces of advice would you give younger self?
I'd just give one piece of advice - start your own publishing company and label straight away.
Your Asia pacific tour takes in quite a few sights - what can fans expect?
Although the technology has changed what I'm giving is a totally unchanged spirit. Most people I know seem so monetised the vibe has become homogenous. It seems that alot of people expect the same old hands in the air for a bit, up and down, up and down. What I want to give is the unexpected, not the same old routine. I never had to stick to a formula because no one ever bought me.
Give me one track you promise to play whilst on tour?
For DJ sets:
Malcolm X & Keith LeBlanc - No Sell Out
For Live sets:
I'm using a whole load of sounds that aren't tracks so who knows?
A Guy Called Gerald Dates
Thu, 26 Mar 2015 - A Guy Called Geraldat W Retreat & Spa, Bali, Indonesia
Sat, 28 Mar 2015 - A Guy Called Geraldat Lola Club, Shanghai
Thu, 02 Apr 2015 - A Guy Called Geraldat W Retreat Koh Samui, Thailand
Fri, 03 Apr 2015 - A Guy Called Geraldat Overground Bar, Thailand
Sat, 04 Apr 2015 - A Guy Called Geraldat Dada Beijing, Beijing
Sat, 11 Apr 2015 - Acid City vol.08at Air, Tokyo
Fri, 17 Apr 2015 - Selectaat Basing House, London
Sat, 06 Jun 2015 - Parallel Dimensions First Birthday Bash with A Guy Called Geraldat Lakota, West + Wales
Thu, 09 Jul 2015 - Electric Elephant 2015at The Garden Tisno, Croatia
Fri, 24 Jul 2015 - Tramlines Festival 2015at Various Venues, North
[Author: Jack Philips]