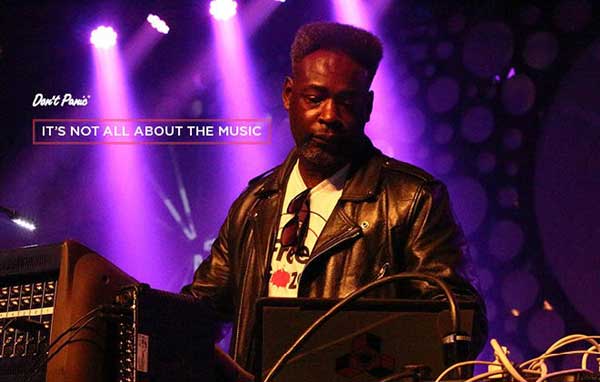 Catching up with one of the legends of electronic music. As a pioneer of acid house and techno, it was a privilege to talk about all sorts with A Guy Called Gerald.
Describe a typical day in the life of AGCG. Any daily rituals or habbits?
Usually one day melts into the other so it's difficult to have any daily routine plus I think a routine is a brain killer. There are so many brain dead people who pray for a bit of an argument or excitement in their lives.
DJing can mean a lot of travelling, late nights and an irregular sleeping pattern, how do you unwind and relax?
By locking myself in the studio and making music. You have to remember I did not come from the same school as most DJs these days. I do not do football, I don't have a TV and have spent most of my life in the studio - instead of playing records, I decided to make records in the 80s. I love reading non-fiction, I'm a sucker for science and I hate religion.
Can you give us one of your highlights from the Hacienda back in the early late 80s? / Any lowlights?
A highlight was doing the club lighting with the guys from Swivel back in the day. A lowlight is being at the DJ International party in 86 or 87 and ashamed there was only about 20 people there (but we still got down so it wasn't really a lowlight.)
Can you give us the best film(s) you have watched recently?
We Steal Secrets - The Story of Wikileaks
Best book/comic?
The Holographic Universe - Michael Talbot
What is your favourite bit of kit you own?
My computer with Reason

Our last interview for this feature was with Goldie. What was it like collaborating with him?
I knew Goldie for years before he started producing. It was like making music with a friend.
if you were to pick one track that sums up the spirit of Acid House, what would it be?
Personal Problem by Mike Dunn
What was your favourite cartoon/tv show growing up?
Mr. Magoo
Where is your favourite place to party in the world?
My studio
What advice would you give to any young producers wanting to start a label?
Make sure you protect your intellectual property and never sell, only license your rights.
What else can we expect from AGCG in 2014?
At the moment I'm building a new studio called the Sound Gallery. Some people love analogue gear, some people love vinyls, I love building studios. I'm finishing off a new project that includes music and tutorials. There's a few remixes coming out soon and a 25 Year Anniversary Limited Edition Reissue of Trip City.
https://www.pledgemusic.com/projects/tripcity
I'm putting a lot of focus into my live shows. I see this as my way of releasing music. You can hear the tracks as I want it to sound. Every show is a unique mix of the tracks.
Personally, I feel music production standards is being lowered, even though the technology has moved on. It seems that most think that by producing a digital track and putting it on vinyl instantly makes it sound "warmer and better" and gives some sort of credibility. The goal isn't to put a piece of art out, it seems the goal is to be booked for DJing so there is less effort being put into music production and more focus on the DJ as the buyer as well - making the intro and beats easier to beatmatch. There's less love going into composition and production. I've spent too many years trying to perfect my craft to be a part of that.
www.guycalledgerald.com
www.soundcloud.com/aguycalledgerald

You can catch A Guy Called gerald at Koko on the 18th October. Joining him will be Leftfield along with a rare live show from techno godfather Juan Atkins and "Mad' Mike Banks and their techno group Model 500. The rest of the lineup can be found on the Playground website: www.theplayground.co.uk
[Author: James Ratcliffe]