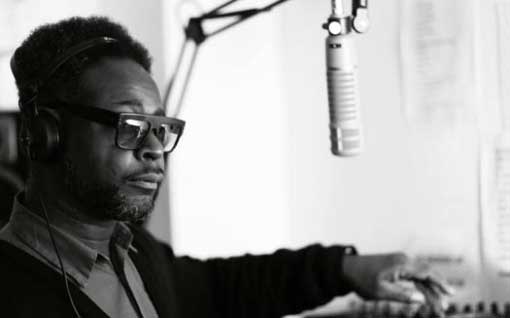 THERE'S a rumour going round that Gerald Simpson, aka house and techno fiend A Guy Called Gerald, is lying in a heap somewhere, dying of a crack addiction. We know this because Simpson, speaking from a day trip to the beach in Hastings with friends and family, is chuckling at the unlikely suggestion – he is very much alive and brimming with sharp ideas for the future.
A Guy Called Gerald, first famous in the 80s due to his days playing Madchester HQ the Haçienda, known for seminal house hit Voodoo Ray and being founder member of 808 State, will play Camden alongside house legend Derrick May, James Lavelle (UNKLE), Barem and Richard Fearless for The Playground's return to Koko on August 16. Attendees may well find themselves featuring in a Hollywood movie, as the men behind The Matrix – the Wachowski brothers – will film scenes for their next sci-fi movie on the night.
"Maybe I'll get a cameo," wonders Simpson. After all, his music fits the genre. "For me, the music is made in a sci-fi way, it's sci-fi music. It is built in a scientific view of music and is kind of fictional – you're making false drums, synthesisers. A lot of people have heard about the music via a theory from someone else but the passion for me was the electronics part and being a futurist. I was always into the future of how it would be, where it's going to go, trying to push the boundaries."
After 26 years in the business, and with a reputation for playing 14-hour sets, Gerald shows no sign of slowing down.
"I'm too energetic, I have to remind myself to sleep," he says, putting his lively nature down to "being independent, not being bogged down by other people's stuff, having your own frame of mind, seeing things within your own picture, loving what you're doing, having your own personal religion, instead of being bogged down by religion you inherited from other people – and not forgetting to be kind to animals, especially animals." Now there's a set of rules to live by.
Growing up in Manchester's Moss Side, Gerald showed an interest in the scientific, "reverse engineering" anything he could get his hands on, trying to create an electric bass with elastic bands and constructing almighty sound systems. Thanks to his understanding parents, Sundays became a welcome event on his estate, where Gerald would blast beats, windows wide open, heard half a mile away, while neighbours and friends would come and party.
It was this interest in creating sounds that attracted Gerald to house and techno in his teens as he accumulated all the equipment possible to experiment.
As he reached the attention of the music industry, he soon identified the middle men taking advantage of musicians. He took matters into his own hands, built his own studio and started label Juice Box, at the forefront of Jungle and drum 'n' bass.
One particular experience – in which Gerald found himself having to pay an agency for the right to lend his own music (in this case Voodoo Ray) to Damien Hirst, despite the agency having failed to place his music elsewhere – hardened his resolve. Gerald now plans to help other musicians become masters of their own destinies. He has enlisted programmers to help create a way for musicians to see when and where their music is being played (made easier by today's digital format), so they no longer have to rely on collections agencies who take a cut of their profits.
He said: "When I started, still today, there were a lot of people, really brilliant musicians, very talented, and at the same time there are these other people who are not so nice, very naughty, who try to manipulate these people and take what they've got, but it leaves them broken-hearted and they don't want to be making music any more. I thought, if there's a system where they can tell their music is being played, appreciated, it gives them inspiration. And if there was some kind of payment for them, even better – there's usually a middle man saying, 'I'll count your money for you'."
He added: "I've been in areas where people were trying to help me out and I found that I was helping them out more than they were helping me.
"You don't need them as much, it's simple, the digital format totally changed this thing about having a cheesy A&R man with a ponytail doing coke all day waiting for you to bring him tunes.
"It's the same in the publishing world. You spend years working on this stuff and you give it to someone and they tell you you can't put it on YouTube unless you pay them. It's a mafia – they are powerful people. Imagine if the music just stopped and was manufactured by them, you'd all become Stepford Wives. It should be something you develop yourself. They want to own the music and sell it between each other. They're not looking out for your interests. The only people who are looking out for the interests of artists are other artists."
"I try and tell young kids, 'Do your own thing', it creates different types of fruit on the tree. At first it might not make your million straight away, but if you've got this thing telling you how many times it's been played, where it is and know how much you should be paid, it may help."
Gerald has devised a novel way of beating the rumours.
"I'm starting a live stream from the recording studio showing people how to build a track," he said. "Instead of writing a book, I'm going to try and do this 'day in the life' thing and get people to tune in if they want. There was this rumour that I was on crack and dying somewhere. If I can show I'm in the studio, working online, they could be there with me."
[Author: ROISIN GAD EL RAB]