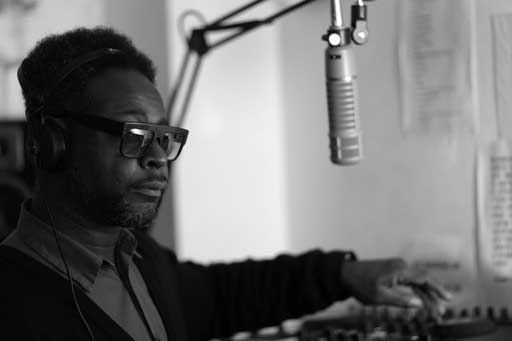 Berlin expat Gerald Simpson delves into his roots, and reveals why he doesn't plan on releasing any new material in the near future
Moss Side has certainly spawned its fair share of pioneers over the years. Leader of the suffragette movement Emmeline Pankhurst grew up there; so did dystopian satirist Anthony Burgess. Looking slightly north to Hulme and you'll find the birthplace of the first Rolls-Royce engine, not to mention Lemn Sissay's old stomping ground. There's also some bloke called Gerald Simpson, who is chiefly responsible for setting two completely different strains of British electronic music in motion. We have him to thank for the bare-knuckle blueprints of both UK acid-house and jungle. Tip of the hat, sir.
A nomad at heart, Simpson has spent the last 20 years flitting between England, America and, now, Germany, sculpting sonic waves and scouting out venues for his latest live project. Speaking from his flat in Berlin, he is keen to dive straight into the thinking behind an evolving "in session" approach.
"Basically, I need a place where I can experiment on people," he laughs, crunching through a bag of anonymous German crisps down the line. "We're working on a space here, an old punk rock club in Kreuzberg; it's actually our first night on 10 Feb. Early days yet, but I'm definitely drawn to the idea of finding a few stable venues around the planet, using them once a month to showcase new material live. That way, even though the number of ears is limited, people will get to hear the tracks as they were meant to sound."
Never one to sit on the fence when it comes to the various systems at play in the music industry, Simpson's live experiments are a reaction to what he calls the "aesthetic change" in dance culture. "The current state of the scene has put me off the idea of releasing anything right now. Putting out a track in this climate is like adding a drop of water to a rainstorm, and it wouldn't get any credit unless it was pressed on vinyl. That ultimately means losing half the sound quality."
After gathering the bones of 28 Gun Bad Boy together in the early 90s, Simpson insisted on attending every cut, watching different studio hands work their magic on the mixing desk. "In fact, the whole it-sounds-better-on-vinyl debate is so stupid," he chides. "It's like somebody saying they'd rather eat at Maccies over a Michelin-starred restaurant. People don't understand that you've got a limited amount of real estate to put that music on, and the deeper the bass, the wider the cut. Some engineers are wizards when it comes to compression but you could never get it sounding like the DAT on the limited space of a 12″. It's kind of heartbreaking when you get the finished record back and half the track is missing."
For Simpson, the key lies in sound sculpture, and doing all he can to defy the progression of "dry-ass, thinned-out, over-sampled stereo tracks with no intent." He describes how his passion for mind-bending bass music stems from the vibrant sound clash culture in late 70s, early 80s Manchester. Back then, before dubstep shot itself in the proverbial foot, the whole genre debate seemed infinitely simpler.
"You were either a dubhead or a funkhead," he remembers. "Reggae or soul. I used to work as a box boy for these guys who built amps. The bass seemed so unrestricted back then, I mean, a guy would play a tune and God knows how it didn't feed back because you're almost levitating in the room. They'd enhance the sound with these things called chippers to bring out the high end. I'm talking boxes on boxes in somebody's council flat. It shook the creases out of your trousers!"
It wasn't too long before a young Simpson began attending dance classes at the Shena Simon night school. He describes dancing as his "first serious passion," which also pushed him to get his hands on an early Boss drum machine: "It meant being able to exercise to various tempos at home. Looking back, it was so basic, pretty much just a sine wave and white noise to build with. I had a bass guitar too, so I'd be sat there, plugged into my mum's Amstrad stack, trying to play a Stanley Clarke line. At that point, everything was pointing towards making my own music."
Despite going on to study in various styles, including classical at the Northern Ballet School, dancing began to take a back seat towards the tail end of the 80s. His decision to focus on production came largely after stumbling across Boston beatsmith Arthur Baker: "From then, I knew I needed more channels to play with, so I got a 4-track Tascam machine. We used to mess around in this shop called A1 Music every Saturday, they used to think we were a right pain in the arse. That's where I first laid eyes on the 808."
Fuelled by the sounds of Bambaataa, Gino Soccio and Chick Corea, Simpson soon set to work on his own syncopations in a humble attic studio, with the idea of a bumping dancefloor very much in mind. But that, according to Simpson, is another major point of aesthetic contrast: "The idea of dance music isn't the same now. You get a lot of people standing around, yawning, especially here in Berlin. A lot of people are terrified of cutting loose because they think it's cheesy! It's a genuine problem."
He makes a good point in terms of the interaction between crowd and DJ, arguing that "it's much harder these days to spot the guys who are freaking the fuck out." Instead, the mission of analysing different reactions and "microgestures" from all four corners of the planet has become essential in order to decipher dancefloor catalysts. "Different elements work in different settings, and it's still my job to know exactly when and where. There's no quick and easy solution; although, in theory, you could have a mass-moving dancefloor, complete with MIDI-controlled hydraulics to raise and lower the floor in time with the bass." He chuckles again before adding: "That'd get 'em going!"
Simpson has always stood for innovation in that way. His albums on Juicebox in the early-to-mid 90s pushed the electronic envelope even further, blending reggae with hip hop to forge a new path for percussive breaks. "There were a few basic formulas but everybody had their own style. Dubplates started popping up around the mid 90s, which bred a nice specialist vibe between DJs. Technology played a huge part in what was actually possible, like time-stretching when Akai brought out the S1000. You could literally define the music by the equipment that was being used.
"Maybe it's my age but I don't feel that there's the same rate of movement. There's so much regurgitation. When you look at the technology that defines the music of this era, it's pretty much the sync button and Auto-Tune," considers Simpson, before dropping the news that he's planning a prolonged meditation in the Varanasi region of North India later in the month: "I've been wanting to get away like this for a long time and I think it's time to bite the bullet and go for it. Two weeks of strictly no talking, right on the banks of the Ganges!"
On his return, Simpson will play the newly opened Underland, a former abattoir just off Ancoats, on 8 Feb. Then it's back to Kreuzberg to get his global project well and truly off the ground. "There's another venue in Dalston I'm looking at, Voodoo Ray's, as well as the Analog Room in Dubai. They've got a really nice flavour over there, and a surprising number of tech-heads who deserve exposure. There's gotta be little pockets like that everywhere, man. I wonder if there are any in India. Let me get back to you on that."
[Author: Daniel Jones]