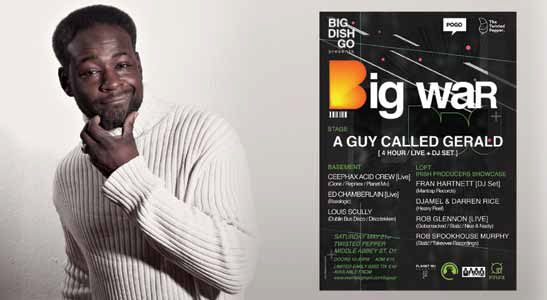 For those of you old enough, you might remember when you first heard the classic acid house track that is Voodoo Ray. Some 25 years on the creator, Mancunian legend and one of the founding members of 808 State, A Guy Called Gerald (aka Gerald Simpson) is still paving the way forward as fresh and energetic as ever.
Having launched acid house in the Hacienda days, Simpson left 808 State to go solo, setting up label Juice Box Records. Releases such as the 28 Gun Badboy LP in '93 and the equally seminal Black Secret Technology in '95, set the template for the jungle and drum and bass scene that was to come.
Since then he's been releasing on labels Perlon, Sender, !K7, Beatstreet and the like, with ninth album Tronic Jazz: The Berlin Sessions on specialist Berlin label Laboratory Instinct last year.
A Guy Called Gerald will be treating us to a very special four hour live and DJ set at The Twisted Pepper on May 21 at BIGWAR 3 Live. Electro and 80s hip-hop used to do it.
What inspires you today?
The thing that inspires me today is the ease of use of the technology. Back in the old days we had to understand binary just to get a bleep and a tweet and now the sky's the limit!
So many producers state you as an influence, who do you rate?
Chick Corea, Herbie Hancock, Afrika Bambaataa, Roy Ayers, Quincy Jones, Stevie Wonder, Prince and countless other soldiers of the soul.
How has dance culture changed since your early Hacienda' days? Do you think the scene is as hedonistic today?
Well, Hacienda' days were kind of the end of it. I would say since my early Legends' days, dance music has changed from being something that a few amateurs enjoyed seriously on the dancefloor into something that was a trainspotter's fetish and then it became kind of a superficial past-time for wankers, supermodels and megalomanic DJs. For me it wasn't about the hedonism, I took my dance very seriously from an early age and the clubs were an escape from Thatcher's 80s.
You say you never want to be stereotyped into any particular genre. How is this holding artists back when producing?
It started off as maybe two or three pigeon holes and now it's an entire birdhouse. Well, they tend to go for the genre that's pulling in the most cred - usually the latest one that's probably made of a few others. When you improvise the last thing you want is boundaries - it's like swimming in a swimming pool full of broken glass.
You composed your latest album Tronic Jazz in Berlin. What impact has moving there had on your music's development?
Well, the weather's not so clever, so there's a lot of time spent indoors which is perfect for studio life.
Why did you pack your label Juice Box in?
I decided I wanted to move to New York and start fresh.
What advice would you give to aspiring producers and DJs today?
Draw a continuous line - not straight - and never let the sides touch.
What was the ultimate highlight of your musical career?
Every time I finish a tune.
Most interesting artist that you have collaborated with?
A singer called Wendy Page. She comes from a folk background and it was a surprising fit with the music I was doing at the time.
What can people expect when they go to see you at Glastonbury?
Don't expect - just come and experience.
And finally, what's next for A Guy Called Gerald?
I'm working on secret experimental weapon with the US Government - it's called Silent Spread Sound Spectrum (it's a division of H.A.A.R.P.) That's all I can reveal right now.
[Author: Laura Kelly Walsh]