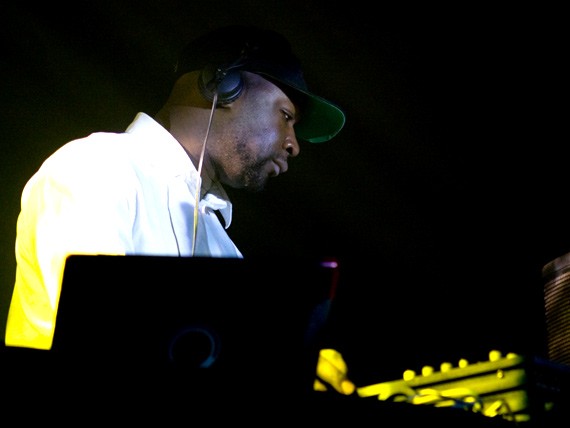 A Guy Called Gerald is one of Manchester's finest, most respected, innovative and forward thinking home-grown techno producers. His fame spread outwards from global 88 / 89 hit "Voodoo Ray" which he will be forever associated with and is arguably the first Manchester house record to simulate and soundtrack the atmosphere of that period at The Haçienda.
DJ Gerald Simpson was born in Moss Side, raised in the Spin Inn and given his stage name by Stu Allen who used to play his tapes on his massively influential Sunday night radio show, "This one's by... a guy called... Gerald", Voodoo Ray was the record that was to take him out of his day job at McDonald's in Market Street and into the career that has taken him all over the world and lasted some 23 years.
Well travelled and much in demand across the US, South America, Europe, The Far East and from his present base in the European techno capital Berlin, Gerald's production career began when he decided to leave DJing behind in the mid 80's working on cheap analogue synths and drum machines which he still employs in his studio work today.
From the springboard which was that record, supported and played to death by Radio One's John Peel for whom Gerald recorded a Peel Session in 1990, Gerald's album career began with "Hot Lemonade" and then signing to Sony Music with Automannik, whose lead single FX was remixed by one of Gerald's then heroes, Derrick May. Like many diverse talented, self willed artists Gerald's major label experience was not good as the label leaned on him for another pop hit while his interests remained with the underground and his music was never going to fit into their system. Beginning his excursion into breakbeat with 1991's "28 Gun Bad Boy" on his Juicebox imprint, Gerald became one of the prime movers on the late rave and emerging jungle scene in the early 90's, breaking his mate Finley Quaye's career with "Finley's Rainbow" and setting the blueprint for the emerging sound with 95's seminal album "Black Secret Technology" which when reissued in 2008, proved that it still sounds as groundbreaking today as it did then.
Moving to New York in 1997 and recording albums for Berlin's immensely respected Studio !K7 label Gerald returned to the UK in the aftermath of September 11, living in London for a couple of years before decamping to Berlin, where he continues to be based, immersed in the city's techno scene and vibes. His two most recent albums, "Proto Acid" and "Tronic Jazz" (his eighth studio album released in 2010), both part of the The Berlin Sessions series, showcases his production skills and class, have shown his development as a complete artist on par with the early legends that inspired him and the likes of Underground Resistance.
Still much in demand for the classier, hipper and more knowing festivals and clubs, Gerald now appears "Live in Session" at events, improvising on the spot between two laptops and keyboards, showcasing all his own productions and remixes of classics. Although his remixes are relatively enviable including the likes of David Bowie, Cabaret Voltaire, Black Uhuru, Finley Quaye, Lamb, Tricky, D:Note and The Stone Roses' "Fools Gold", it is Gerald's own productions, his consistent innovation and excellence and refusal to plough anyone's furrow but his own which has marked him out, ever since the early days. Even if people will never stop asking him and everyone else involved with The Haçienda to play bloody Voodoo Ray.
In the interview below, Gerald remembers the early days when he was starting out and discusses both the influence of Manchester and The Haçienda on the acid house scene with characteristic detail and understanding.
Gerald has also contributed a mix to The Haçienda's site, his "My Skool" acid mix which features the records which shaped him and everyone who is involved in electronic music today (even if they don't know it) from 1984 to 1988. Take a listen here.
Q: Gerald, looking back on the early days of acid house and The Haçienda back then, why do you think the scene took hold in Manchester so quickly?
We'd been through Punk and loads of other bits and pieces, the sound systems thing but it became almost like a union, a load of people all finding that common ground all at once, coming of age together if you know what I mean. Without overplaying, Manchester really was the epicentre of it all to the rest of the world. I never used to go outside of Manchester so I just took it for granted. It was only when I started travelling that I realised that it was so different to everywhere else. Manchester back then was about having a laugh, bouncing from this scene to that scene and as a place it seemed different. When you're in that community, you do know its going on but you don't really see the influence of it until you go somewhere else. The minute you said you were from Manchester they start naming all the bands and everything. They even start naming you and you go "oh yeah, that's right". That's what kind of made Manchester. It's not just the football, with the music that whole kind of thing spread world-wide. Even now, when you mention Manchester it gets a reaction like that.
Q: Do you think the culture of Manchester and its intimacy as a scene helped the development of the
scene?
Because Manchester is so compact, you really did know everyone. Even people who were supporting this team or that team, some were the match boys, some people round my way were like the funk heads and the dub heads and everyone got on together. You'd let on to someone and it was like a little village in a way. On a Saturday, you'd go into town and everyone would be in the middle of town. I remember there was a point when they had like Ghetto Blaster competitions with kids turning up with stereos playing music which they'd recorded from Mike Shaft or someone on the radio the week before. They'd all be pretending that they'd bought the record and someone would be blasting it out, spending all their money on batteries and hanging round the Arndale. It was very exciting, for me it brought the whole music thing in check, I could actually see how it was uniting people together and you could see what a laugh people were having out of it.
Q: So how did you get into being a regular at The Haçienda?
Round about the time I discovered The Haçienda I was like, wow, I want to go there every week, I wanted to be in there with everyone who was hanging out. I even blagged my way in there when I started going cos I wasn't old enough to get in. I remember I got hold of a membership from one of The Jazz Defectors and that was what enabled me to get in there. The Hacienda was like the first big warehouse place that I'd been into. I just felt that if I could make a sound that could fit into a big hall then that would be excellent for a club. I thought that was what the club sound should be like.
Q: We cant get away without mentioning "Voodoo Ray", your breakthrough record and the one you will never escape. Do you remember how it climbed the charts for months and months to eventually break into the Top 40?
There was a real buzz that developed around Voodoo Ray. I wasn't like really watching it in the charts for that long, I remember seeing it in the charts like at something like no 40, and I thought ah well that's it. Then I got a call from someone one day saying that it had gone up to no 12 and I was like great. They wanted me to do Top Of The Pops and I was like "No way".
Q: I think it goes without saying Voodoo Ray was inspired by The Haçienda...
Voodoo Ray was totally designed for The Haçienda. That's was the sounding ground for everything we were doing, even when I was working with 808 State, we always had The Haçienda in mind. It was kind of the place where you thought if we can play it in there that'd be really cool. I actually always wanted to bring the studio into The Haçienda, that was one of my ambitions but it was definitely a place where you'd look towards trying to make one of your tunes work there.
Q: It wasn't just The Haçienda though, other venues and especially where you live in Hulme and Moss
Side, individual parties also galvanised the scene?
At first there were all these little blues parties all around Manchester. I remember in Moss Side there were always these parties. Tomlin always used to throw these after parties and then there was the Kitchen round the corner from the Hac and a few other sprang up. We even did one in Rusholme for a while with MC Tunes cos we both had a few boxes of records and he had some DJ equipment and people would come from everywhere. Then the police started to get a bit on top so everyone who had motors would go to someone's place out of town. All these parties started up out of town because the Old Bill out there weren't that clued up about it.
Q: Was that how the Blackburn Rave scene developed?
By 89 I'd started to tour and I'd hear about all these parties going on and I'd hear about them. I did a PA at one thing in Blackburn but I was always touring. I did want to be a little bit more in there with it cos at the time the guys from 808 State were doing the rounds in England and I was always abroad. I remember thinking at the time that I wanted to able to play some of my new stuff, like the stuff I did after Voodoo Ray but I kind of missed out on all that.
Q: You worked with Derrick May and took a lot of influences from the States, how was that?

I started to go over there and basically that was a really big inspiration for me the stuff that was coming out of Chicago and Detroit. I was looking for people that I'd like to work with. At the time that wasn't that many people in England who were doing the same sort of thing so I was kind of pushing the envelope I reckon.

Q: It's not well known but Tony Wilson was once going to set up a dance off shoot of Factory and
wanted to sign you...
I remember one time Tony Wilson, God rest his soul, he was gonna set up Factory Dance and he wanted me on there, the guys from 808 State and I think he had some other people in mind as well. So he contacted my management about it but they'd already set up a deal with Epic and Sony. They kind of didn't leave me to decide. They were like "Well that's an indie and this is gonna be a major and to push your stuff, you're really gonna need to be on a major." What I didn't really know is that they were blagging cos they were on a percentage so they were looking at going for the big bucks and not like a long term thing.
Q: It's such a shame now that the record shop culture of Manchester has been taken apart by
downloading. What do you remember of the scene in the shops?
Everyone was going in to Eastern Bloc and also an import shop, Spin Inn. There was a lot of diversity in the shops back then, particularly Eastern Bloc. It wasn't just dance stuff, it was indie stuff as well. You'd pick up on all the gigs that were going on around in there as well. I started to talk to Martin and all the people that were in there. They were very much a community as well, they all chipped in and put together to get the shop going. They all had different ideas and were all coming from different backgrounds so I think it was interesting for people to go down there and get involved. You could always tell there was loads of activity, there were loads of flyers and posters all over the walls. It was a great time really.
Q: What are your best memories of the period?
I'd say actually going to New York with The Haçienda, that was an amazing gig. We kind of did this tour and it was a package really. We'd all just gone over there and like going over there on your own is like one thing but going over with a load of people who you know from where you're from it was such a mad buzz, it was amazing. I'll never forget that.
Q: Do you feel that Manchester back then inspired you in your career?
I think encouragement wise the fact that people were interested in what I was doing. There was so many different ways I was inspired to work, not just from the input from the people that were around me. There was a lot of times when I just used to hideaway and get on with my music and a lot of people advised me to do that as well which was cool.
guycalledgerald.com
discogs.com
soundcloud.com
[Author: UNKNOWN]