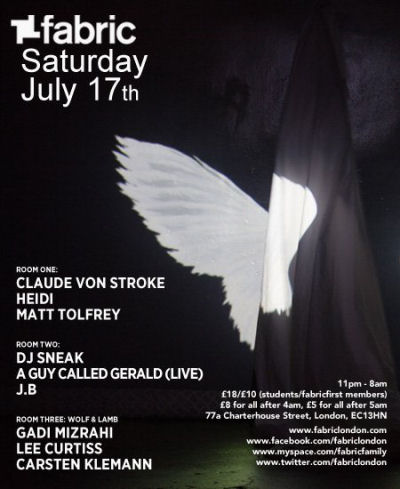 London superclub Fabric this weekend will see the likes of Claude VonStroke to DJ Sneak play alongside the UK producer and Dazed interviewee, A Guy Called Gerald
A Guy Called Gerald, or more specifically, Gerald Simpson, is the producer and DJ hailing from Manchester who has been famed for his contributions to acid house and techno in the 80s. His track "Voodoo Ray" was a dancefloor anthem heavy with trippy vocals, 303s and 808s, where his use of these Roland synthesizers and drum machines was integral to developing his sound in techno music. Playing a live set alongside DJs like San Francisco's Dirtybird/Mothership label boss Claude VonStroke, ex-Phonica's Heidi, and Matt Tolfrey of Leftroom this Saturday, we'll be expecting an eclectic mix of sounds throughout the night. The legendary DJ Sneak will also making an appearance, whilst at the helm of Room 3 will be New York's Wolf & Lamb label co-founder Gadi Mizrahi and his signing Lee Curtiss, plus Circus Company 's Carsten Klemann. Dazed speak to some guy called Gerald to find out what all the fuss is about...
Dazed Digital: You've been making music for quite a while now, how do you feel your sound has changed or progressed over time?
A Guy Called Gerald: Personally I feel that with every track my music changes. If my music didn't change I'd have been on my five millionth track that would sound like 'Voodoo Ray' by now. But it has definitely changed as technology changed. I started using analog equipment in the early years of digital music because analog machines were cheap. And if you were just starting out that was only option. It's funny now the analog machines are expensive and the digital stuff is cheap.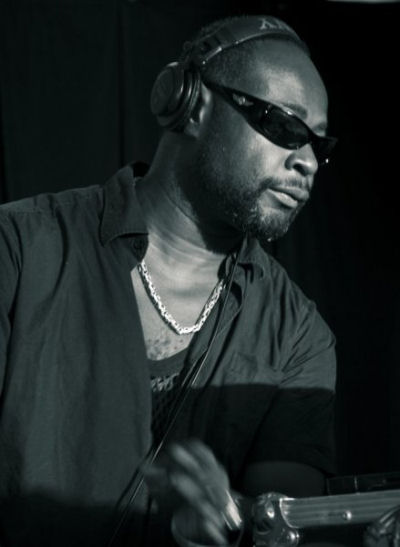 DD: What do you try to achieve with your DJ sets?
A Guy Called Gerald: I rarely DJ these days - it's hard to find the tunes. I perform with my own compositions using two computers. My technique is a cross between DJing and a live jam session. The compositions are designed so that every time I play I can take them anywhere meaning the composition is 100 per cent fluid unlike a DJ mix or someone who's playing with DJ software - every sound you hear is separated and 100 per cent under my control. For me this is amazing - this is where 25 years of studio experience kicks into play. Every time I play it's a live mix-down session. I'm doing mixes within the mix. It's the only way it feels right and I thank Propellerheads for making something I dreamed about a reality. Trying to get people to dance is the main goal but you must excuse me if I say I'm from a different planet when it comes to dancing. I was from the post disco era that means the early 80s in a community of black dancers whose recreation time was dance more than drugs so my concept of dance is slightly different from what I see today. But things are always changing and I'm looking forward to Fabric to bring the dancers out.
DD: In terms of your label, how do you pick your artists?
A Guy Called Gerald: Due to my past experience as an artist on record labels I can't really find it within myself to treat another artist the way I've been treated by record labels so I choose to encourage artists to try to release their own music as much as they can on their own label.
DD: Who are you listening to at the moment?
A Guy Called Gerald: To be honest most of the time I don't know what I am listening to. I have a really cavalier technique for choosing music I listen to. I call it the blind technique - the key thing in music is to listen to it and not to follow names. So I tend to just close my eyes and pick music by sound and not by name. The only problem with this is I never know what the track is called or who's done it. So when I do DJ I know I only have music with me I like and it's a completely random mix of these tunes. I also don't like playing the name game.
DD: Anyone you want to work with but haven't yet?
A Guy Called Gerald: I'm not the kind of artist that seeks out people to work with. Put it this way, back in the 90s my technique of working was totally alien to the producer's back then. Back then I invited producer's to my studio to work and they couldn't believe I wasn't working with a computer. I can't work in numbers and blocks and most people do with Logic and Ableton Live so it's rare to find people outside that.
DD: What's next?
A Guy Called Gerald: Well I just released a new album in May and I'm preparing for some more live shows around Europe and Asia.
Saturday 17th July, 11pm - 8am; Fabric, 77A Charterhouse Street, EC1M 6HJ
[Author: Flora Yin-Wong]