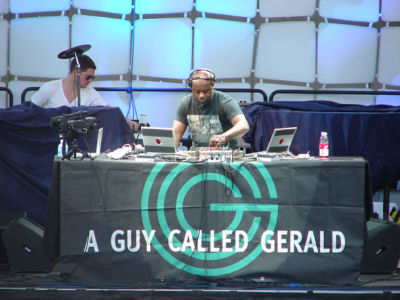 A Guy Called Gerald
Written by Harvey Wallbanger / 15 Jul 2010
A Guy Called Gerald | Gerald Simpson talks about his new album Tronic Jazz
Don't Panic online Magazine
You probably know the seminal acid house classic Voodoo Ray but you may not know that A Guy Called Gerald is not only a founding member of 808 State but has released 11 including at least 2 classic genre defining albums and after moving to Berlin a continuous series of quality rhytmic techno on renowned labels such as Perlon and Sender.
To celebrate the release of his second album for Laboratory Instinct Tronik Jazz he has embarked on a major world tour of a live show stopping in at London's Fabric this Saturday July 17. Buy tickets for it here.
We spoke to Gerald Simpson a few days ago to talk music and the upcoming Fabric gig.

What made you move to Berlin and how did that affect your music?
I moved to Berlin to work closer with the record label I was working with at the time and because studio space was a lot cheaper than London. Having more time flexibility and having the option to head out and test your music out on people kind of helps in my walk of life. I often drop by some small clubs and bars run by friends and just sound out.
How has your studio changed since Voodoo Ray and the jungle days?
Well I no longer use tape because it is too expensive and the tape machine weighed half as much as a car. The desk I used sucked up all the power and the effect units and analog equipment gave off lots of noise. It was the kind of noise that the kids like nowadays but where I'm from we didn't need to put artificial tape hiss on things to make it sound 'warm'. Now I'm totally digital and am thankful to the software geniuses out there. Because of the people at Propellerheads I can have an analog logic in a digital world.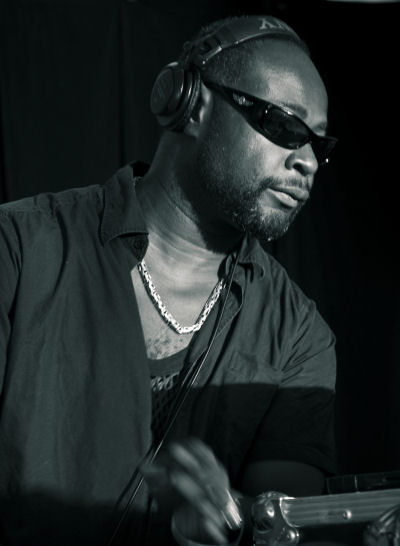 Do you feel that you have a British sound to your music?
No I think it's a Gerald sound. My sound is totally Gerald. I think if you was to call something a British sound it would most probably be jangly guitars with spotty kids singing over the top. My sound is fused from Detroit, Chicago, Jamaica and b-boying meaning breakdancing jazz fusion... I was digging in the crates when I was 15/16. I would go out of my way, literally walk from Manchester to Macclesfield to find a little old record shop that no one had been to find tunes for the sole purpose of dancing to. God I wish we had software in them days!
How long had you been working on Tronic Jazz?
My working technique is a really interesting one. I've been working with these tracks for the past five years but as you hear them on the album is not how they sound today. The album is a frozen sound image of something that is still in a creative flow. You might recognise some of the tracks when I perform live Tronic Jazz is a selection of some of the tracks that I've been experimenting with on audiences.
What's on the agenda for Summer?
Touring the album at certain places - Japan, Berlin, London and some festivals...
Do you have plans to collaborate with any other artists?
For me it's really hard. I kind of get the vibe that I'm outside of the box so it would be really hard to collaborate. I don't use the same software - how funny is that?
What can we expect from your live set at Fabric?
Bass, rhythm and melody.
Catch A Guy Called Gerald at Fabric this Saturday July 17.
[Author: Harvey Wallbanger]