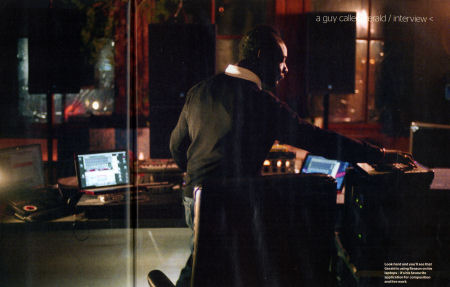 A Guy Called Gerald is arguably best remembered for kick-starting acid house, but 20 years on, his music making remains just as groundbreaking. Now it's time for Computer Music to lead you into the world of Gerald...
Talking to A Guy Called Gerald, aka Gerald Simpson, you can quite easily forget that this man, with his track Voodoo Ray, almost single-handedly brought acid house and techno to the attention of the masses two decades ago. As groundbreaking and influential as that track was, when Gerald talks about his current music-making philosophies and methods, you might be forgiven for thinking you're listening to a very cutting-edge musician, or even one from the far-flung future.
His views, practices and ideas prove that, while his grandest moment might have been some time ago, he's still cutting it today. Take his theory on recorded music, for example. He no longer believes in actually finishing a track, because he treats each composition as a fluid entity, to twist and alter with his dual laptop setup whenever and wherever he performs it. It's a refreshing approach to say the least and, if you think about it, with the elastic software we have at our disposal these days, why should a piece of music ever be finished? It offers solace to the lazy-minded amongst us, too, who have dozens of old tunes awaiting completion. Now we can just say, "We're doing a Gerald!"
He has access to banks of software, of course, but chooses to ignore most of it, keeping a vast library of his own sounds as source material instead. Mind you, having spent 20 years making music - including jungle, drum 'n' bass and breakbeat - that library is probably bigger than most. So, how did it start?
The classic studio
"I used a Roland drum machine, a really basic thing," says Gerald, reflecting on the first gear he owned. He might not recall the name of that early machine, but his next purchases were unforgettable, as they became part of a classic collection for dance music in the late 80s and 90s. "Yes, we had a Roland TR-808, SH-101 and TB-303. I was being inspired by what was coming out of the Detroit and Chicago scene - nothing was coming out of England. In the late 80s, people were getting rid of their analogue gear and I was picking it up really cheap!"
Gerald's resulting music consequently lit up the electronic scene, which was dominated by Yamaha DX7 and Roland D-50 blandness. With the track Voodoo Ray, he returned things to analogue again and has since used technology to explore genres ranging from drum 'n' bass (1995's Black Secret Technology) to ambient (2005's To All Things What They Need). Unlike some, though, he hasn't dwelled in the technological past - he embraced computers just as they caught up to his needs.
"My first adventure into hard disk recording was on the Atari with Sound Tools," Gerald recalls. "It was really slow and not too accurate, but we managed to do a few things and transferred stuff from DATs. The hard drive was a really big 8U thing with a small capacity. It was going through a really slow computer, so it was a long process just to make a simple groove. I was using a load of equipment to make music that I can now do simply by loading Reason."
As computer recording became more accessible, Gerald adopted it in earnest.
"I got into Cubase when it enabled audio editing," he says. "I then changed my system over to a Mac and it was a lot faster, with more possibilities, and I got into VST plug-ins and the soft synths that came a little later. But, I was always looking for that one piece of software to cover all the things I used to do with hardware. In the old days, I discovered ReCycle, which was really useful for cutting stuff up, so I came into the Propellerhead thing via that. Then they brought out ReBirth and I experimented with that a bit, but it was touch and go. I got into using Reason later, as it had everything in one.
"I'm still using Cubase and Reason ReWired together," Gerald continues. "When they created ReWire, it was then pretty easy to get Cubase and Reason working together happily, so I'd use it with ReCycle as an editing tool for the old sounds I wanted to use. The ReWire thing stuck with me, so I'm still using it today."
Old, new, borrowed, blue
Not only does Gerald use his original Reason and Cubase setup, he still uses the same computer as well! We'll let him explain...
"I use two systems: what I call my `System 9' and 'System 10'. I use System 9 on my old computer with an old version of Cubase and Reason 2.5. It's really stable with Mac OS 9, and it's easy to transfer and edit stuff - it's still my main system with loads of old software. System 10 is used when I'm playing out live. It features two Intel PowerBooks, running OS X, Reason 4 and a load of sounds."
And those sounds are where the Gerald story gets very interesting. Not only does he use both old and new setups for music-making and performing respectively, he also chooses to use as few software synths as possible, relying instead on his banks of custom Reason ReFills. It's not a route to music-making that many would embark on, but, then again, how many of us have 20 years of DATs and ideas to plunder?
"I develop my own ReFills, as I have masses of DATs from back in the day," Gerald confirms. "I've spent a lot of time digitising it all and making it into sound banks. A lot of the new synths are mimicking what I used to use, but I have loads of it in my sound banks, so why should I bother with them?"
So, with his vast library, he has little need to tap into the virtual analogue world, but what does he think of new analogue emulations?
"They are not so bad actually," he says. "I have used them and they are not so different to the originals. But a lot of people know the sounds, so it's easier to produce them,"
Any plug-in synths, or is it all effects?
"Not so much now," he replies. "I used Green Oak's Crystal. I like that kind of synth, as I started with the 303 and SH-101. I'm really into manipulating envelopes and these new synths are basically all about that, but they can also be too much. I was used to having just one synth doing the bass, recording it and then I'd go back and do another line and have to create each part with one synth, It was a long process. Now, I might have a bank of soft synths, but I can't even name them. If I do use them, it's just to create my own bank of sounds and then use that."
Techno overload
This streamlined approach is mostly down to the fact that Gerald's initial setup and sound was quite sparse, but he has also seen the effects of too much technology over the years...
"One of the things I learnt early on was when I saw a lot of people in the early-to-mid-90s, who were kitting out their studios with lots of stuff," he says. "It ends up changing the way you write. You end up too far in the technical side of the process, whereas it should really be about creating a groove. That was the good thing about using the TB-303. It was a machine with the groove already in there - all you had to do from then onwards was shape the sound. I try to keep that feeling in an overall production, even with effects.
"The only downfall for me is that there aren't enough hours to really push it all. In the early days, there was a real excitement about pushing the gear to its limits. There was a time when I needed another SH-101 as I'd pushed one to the limit, and it was a really big thing to get another one. Now, I just get another soft synth! When I look back and listen to some of the old stuff I remember all the trouble I had to go through to create it and all the energy I used. Now I can focus that energy on the groove and take the focus away from getting lost in the technology like we used to. It's good to have that old-skool background, but I tend to try and keep everything as simple as I can, and to have an innocence about it. I think if you tend to look into everything and the way it works, you can easily get lost in one piece of software and not get anything else done."
Crystal balls
So, how does Gerald view the state of music technology? Having been at the coalface of music-making for 20 years, he's certainly seen it shift to the point where anyone can create music, but is that necessarily a good thing?
"I think it is," he replies. "I remember ten years ago, in an interview, that it was my dream for everyone to have at least the basic knowledge for making their own electronic music, and you could see it start to happen back then. Now, a lot more people understand the process of making music - it's not so alien. But I'd say to anyone wanting to get into it to spend some time in a proper studio, as it helps - maybe record something, get your hands dirty or actually play with some original analogue synths."
Gerald's own immediate future involves throwing himself into more live work and, once again, plundering those archives. But whereas before he was using the sounds from his back catalogue to create his own ReFills, the plan is now to release them in the form of a brand new Loopmasters sample collection.
"A lot of youngsters these days want it really easy," says Gerald. "They're not excited about building up their own sounds, so I can give people loads of grooves and sounds, and they can go away and do whatever they want with it."
And while looking through those archives for content for this collection, Gerald also found quite a few hidden gems that will also see the light of day now...
"I've discovered a whole lot of unmastered DATs from Voodoo Ray onwards," he says.
"I'm remastering that and making it bigger, fatter and wider, so I'll get a shop on the website for that. I've found all these tracks of me jamming with Aphex Twin and Luke Vibert, and outtakes of stuff I did with Derrick May. It will be interesting, to say the least!"
[Author: Computer Music]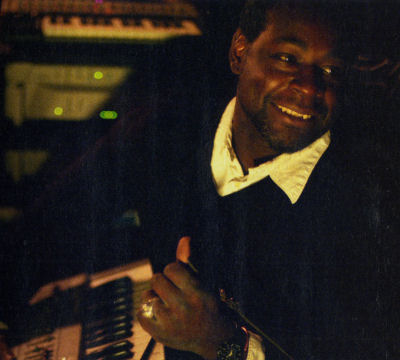 Tracking it down
How does a Gerald composiition come together these days?
"Usually, I start with a beat, maybe a bassline or a groove, and add textures like strings or a pad," he says. "It's very simple. I'll start in Reason and maybe export bits and pieces into Cubase - it's all ReWired, so I can patch certain sounds into Cubase and use the VST effects."
Whether composing or live performing, has he ever thought about getting Ableton Live in his current setup?
"A lot of people I know are using Live - it does a similar thing to what I do, but sound quality-wise, it isn't so versatile for me. Maybe if I'd used it from the start, I'd know different tricks for it. But I'm always trying to produce a different sound - when I go to gigs, I can always tell if they are using Live. It's something to do with the lower frequencies."
Live is all there is
"Nowadays, I work mostly on live stuff," Gerald says. "I'm not into creating what I call a frozen performance - a piece of music for MP3 or vinyl. A lot of my productions are in the
computer and, when I do a gig, I perform them live. It was always a dream of mine to bring the studio to the club environment.
"I'm using two Native Instruments Audio 8 soundcards and they're amazing. I'm using them at 96kHz and the sound quality is mind-bending. I'm getting studio quality from the interfaces, and on a club PA I can really take a journey with them. I use the two 'cards with laptops and Reason to replace turntables and I have a Urei mixer between them.
"I don't like the idea of hearing a track over and over, so everything I do is really fluid. Some tracks are sequenced for playing over a period of time, but others are just loops, so I can have an ambient version or a breakbeat version. It's all really versatile to work with. Sometimes I do a live gig that's recorded and I later hear that the tracks have improved, so it encourages me not to finish something. I always think if I am going to create an album nowadays it's, I dunno, really 90s!"
Gerald uses two of these Audio 8s for live work, running at a staggeringly pristine 96kHz, which brings "the studio to the club"