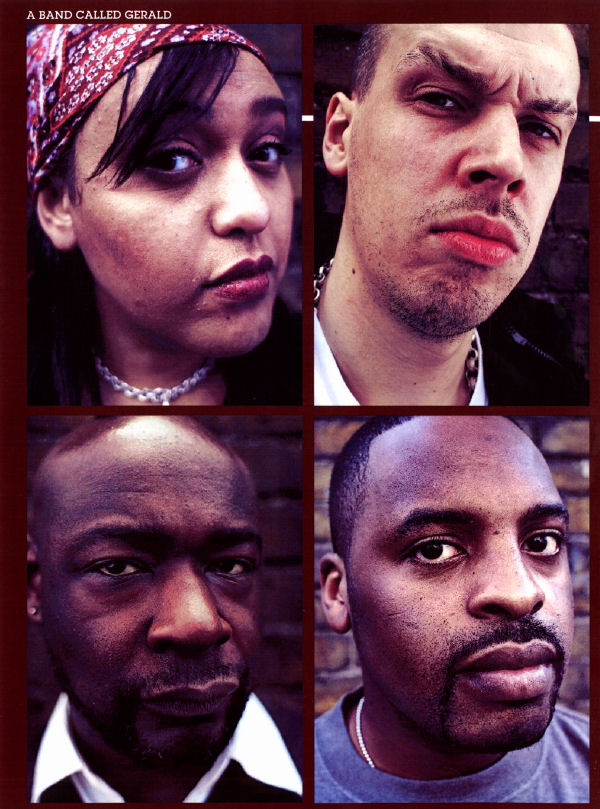 To celebrate the 20th anniversary of 'Voodoo Ray', A Guy Called Gerald is going on the road with his new live act A Band Called Gerald. After his holiday in Ibiza, that is...
"It's more pleasure than work to be honest. I played Eden yesterday but other than that I've just been chilling with some friends. It's nice and quiet," says Gerald Simpson, contentedly. He's clearly enjoying sunning his fine self in Ibiza before the graft begins on A Band Called Gerald, his new live show with Diane Charlemagne, The Jungle Drummer and Stamina MC. "It was about four months ago that we thought we'd make a nice combo. With Diane's voice, my computer programming, Chris [Jungle Drummer] doing the beats and Stamina emceeing we could do a continuous mix but as a live jam. It's a little bit different to anything else going on at the moment."
He and Diane grew up on the same estate in Manchester together while he met the other two through mutual music friends along the way. They all share a love of drum & bass so it was a no-brainer to decide to create fresh versions of A Guy Called Gerald's greatest hits together. "The sound is really old school jungle with a lot of melody, sweet vocals, b-lines and raw drumming. It's pretty wild and designed for dancing," he smiles. "We each have our own individual thing going on so we started off with my material and developed it so that everyone is influencing everybody else. That's the ideal."
Having road tested the gigs in Germany and Italy, A Band Called Gerald put on a full show at Glastonbury and now go on tour with Drum & Bass Arena. If you're hoping for a LP though, forget it. "The whole idea of putting out albums is a bit 1990's isn't it? I'm over albums. We're going to keep this thing live. We can give it to the audience hard or take a break and lighten Up with some slamming jungle."
The set includes some new freestyle cuts alongside classic tracks such as 'Survival', 'Finley's Rainbow', and '28 Gun Badboy' plus, of course, 'Voodoo Ray'. Gerald's era defining acid house anthem turns 20 years old in 2008 and Gerald can hardly believe it. "It doesn't feel that long at all, it feels about five years ago. It's mental. I only realised how long it's actually been about a month or so ago when I was playing a gig with 808 State. They look like such a load of old bastards I thought it must have been 20 years," he chuckles of his former bandmates. "You know, about every three or four days I get an email from someone saying I've done a remix of 'Voodoo Ray', can you put it out?' Why don't these people do something new? Why are they asking me about a tune that their dads used to dance to? I don't know, kids nowadays!"
Gerald's jesting, even he can't deny the enduring power of the track. "If you look back there weren't any English house tunes before 1988. 'Voodoo Ray' was the first one so it seemed like the greatest thing. Afterwards acid house started to explode in the UK but people have fond memories from that time so they hear the song and love it."
His own recollections of the Summer Of Love aren't so rose tinted however. "I was getting ripped off like crazy. I had two tracks in the charts yet living in a squat and working at McDonalds. It was a bit disorientating."
So where did all those royalties go? "It bought a sweet shop and a car for my ex managers. Oh, and a brand new fax machine! I didn't enjoy that time but my music was creating happiness for a lot of people so it seems selfish of me to complain. I'd hear all these stories of people riding around the M25 doing parties. Meanwhile I was discovering America for the first time and sowing some seeds in Detroit and Chicago. By the time I got back to England there was Guru Josh and Adamski and 808 State had really taken off."
Gerald has never bee one to stand still though and by the early 1990s he was pioneering another new sound. Jungle. With his label Juice Box he released 33 seminal records in six years, most notably the 1995 album 'Black Secret Technology' featuring Goldie and Finley Quaye. Influencing a legion of tastemakers, his innovative sound has gone down in the history books. But what he remembers most from that heady time is partying. "I used to love the jams down in London like Sunday Roast. Going and shocking out was the best thing ever. There'd be bottles of champagne and girls in bikinis. And there was no fragmentation just pure jungle. After a while I got a little bit confused by talk of 'This is a hardstep tune, this is a techstep tune' so I just locked my studio door and did my own thing."
By 1998 he was on the move again and relocated to New York, where he made two albums and worked with the likes of Tricky, Lady Miss Kier and Herbie Hancock. "That's where I learned how to work with computers. I remember once I went out on a gig with an entire rack of equipment and there were kids there with laptops laughing at me. I thought 'Bloody hell, I better get into computers'." In 2002 he found himself drawn to Berlin's emerging music scene and has been based in the city ever since. In recent years he's released techno, electro and ambient on !K7 and his own imprints Sugoi and Protechshon all the while remaining characteristically unfazed by what labels are thrust upon him. He may be back in the jungle fold right now but to Gerald it's just another full circle.
"I'm in constant rotation. When I first started getting into production in 1983 I was trying to be as funky as possible with machinery. That was my inspiration then and it still is now. Whatever music I'm making I'm going for grooves and trying to create something different. That's what's been pushing me for the longest time. Some producers I talk to have got all these technical terms for how they want to sound but have no clue about melody. If I ask them to whistle the tune, they look at me like I'm a mad hippy but that's what it's about. The stuff I make now is a lot better than the music I made in the old days because I've got more toys to play with but at the end of the day music is a means of transferring an emotion or feeling with a sound."
With A Band Called Gerald he's doing just that. Stirring up old ravers' memories, giving the jungle heads something to smile about and entertaining a new generation of music lovers, his funk is still as fresh today as it was two decades ago. So before Mr Simpson ambles back to his lbiza sun lounger, one last question - where's he going to be in another 20 years time? "Hopefully in my dream studio. It will be underneath a swimming pool someplace that no one will ever find me."
[Author: Helen Jennings]
GERALD'S TOP FIVE TUNES
A Guy Called Gerald talks us through five of the Juice Box era tracks he's revisiting with A Band Called Gerald.
28 Gun Badboy: "This is one of the first jungle tunes I ever did. If any old school people turn up to see A Band Called Gerald they will remember it."
Anything Can Happen: "This track is one of my favourites. I have very fond memories of recording it. I was living in this house where my studio was in an attic. I was trying to cook a chicken in the kitchen on the ground floor and work on the track at the same time. Needless to say the chicken burned. I didn't have a vocal for it at the time so I came up with 'Anything can happen.... You'll see'. At the time it was funny but it actually sounds very dark and ominous."
Babylon: "The band is doing a jungle version of this acid house track with my style of heavy b-lines. It's Jamaican bass!"
Energy: "I did this song with Goldie who came up to Manchester to see how I worked and was blown away that I was still working on tape when everyone were using Ataris. He gave me a sample to use, which turned out to be of Diane Charlemagne. It sounded beautiful so now I'm excited to be doing the same track live with Diane."
Humanity: "This is a later track that came out on !K7 in Germany. It's a melodic mellow jungle tune I wrote with Louise Rhodes from Lamb. It starts off pretty jazzy and has a folky vibe to it but somehow it sits well in the set."