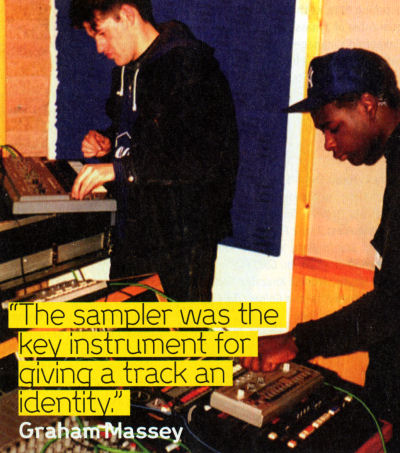 GRAHAM MASSEY
808 State, Massonix
"I remember several attempts at electronic music making in the mid-'80s being a bit frustrating and scientific. At some point the Roland 101, 202, 303, 808 and 909 machines became a set of kit that would all connect together happily and became affordable due to all the new midi/digital technology, making analogue a dirty word. "Gerald [Simpson] had most of this gear already and was merrily making his own type of what we called electro back then. We made a raw LP in a weekend called 'Newbuild' and called the trio State 808. Meanwhile one of Gerald's experiments in another studio became huge at the Hacienda - that was 'Voodoo Ray'.
"The next important bits of kit were the Atari 1040 computer, Hybrid Arts sympte track software and a Casio FZ1 sampler. Our early experiments with this equipment resulted in 'Pacific State' and the album 'Quadrastate'. The sampler opened up a huge sound world to us and would be the key instrument in terms of giving a track an identity. For instance, the chords on 'Pacific State' were created by sampling a chord from a Juno 106 keyboard layered with a d50 string sound with a bit of filtering in the Casio FZ1 sampler. The bird sound on that record was an Akai sample demonstration disc of the Canadian Loon. "'Cubik' was again a multi sample stacked up with sounds from a Waldorf microwave and a Chase Bit 99 digital keyboard played by a Casio Midi guitar, which we had just got that day."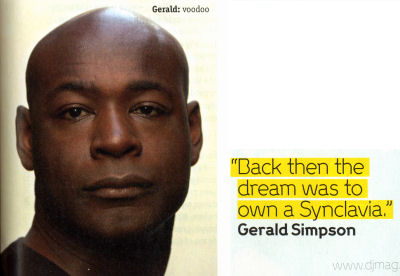 GERALD SIMPSON
A Guy Called Gerald
"It actually started for me around 1984 when I got a set of turntables - Garrards with a Citronic mixer. I got the itch to start cutting and scratching and at one point I modified the mixer to create my own transformer button using the cue jacked into the mic socket.
"By 1987 I was trying to push the envelope on what I could do. I managed to advance my kit and figured out that if I used everything that was by the same manufacturer, i.e. Roland, I could sync everything together. So I would programme each unit individually and have it all connected to one main sequencer. Then I would press 'start' and everything would Lock into place. God bless Roland!
"Back then the dream was to own a Synclavia, which was a very expensive work station. It was used by Paul Hardcastle. The Synclavia came with your own personal tutor and I think it set you back something like £20K.
"But I was satisfied with my Roland stuff. The TB303 cost me £50, SH101 was about £150 with the handgrip and the Juno 106 and the TR808 were both around £250. It's funny though, I was in a shop in Tokyo a few months ago and these same synths are going for hundreds of pounds."
The Big Bang! - The Classic Tunes
A Guy Called Gerald
VOODOO RAY
Rham 1989
After debuting with 808 State, Gerald Simpson went off and made this seething classic on his own. Not only did it strike a massive chord with clubland, it also made it to No. 12 in the charts.
[Author: DJ Magazine]