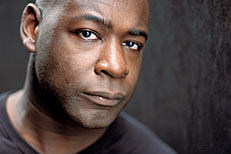 Acid-house patriarch, A Guy Called Gerald, unveils the new Proto Acid - The Berlin Sessions
If one were writing the story of the British acid-house explosion of the late '80s, there's a cut that would deserve its own chapter: 1988's seminal "Voodoo Ray," produced by Manchester native Gerald Simpson, better known to the electronic dance-music scene as A Guy Called Gerald. The thing is, the song sounds utterly unlike any of its contemporaries, such as D-Mob's goofy "We Call It Acieed" or S'Express's ecstasy-powered (and Rose Royce-sampling) "Theme from S'Express." In comparison to them, "Voodoo Ray" - along with "Pacific," another classic from '88 that Simpson helped produce as a then-member of 808 State - was otherworldly and subdued, as well as about ten times more funky.
"Well, I didn't really have much to go on back then when I was making those tracks," says the soft-spoken Simpson, who's about to release the new Proto Acid - The Berlin Sessions (Laboratory Instinct) and is playing at Saturday 22's P.S.1's Warm Up party. "At the time, the rave thing hadn't quite kicked in yet, and I was interested in electro and early Chicago house. I was really trying to do that kind of music, not create anything like a rave anthem."
Simpsons's new longplayer, a no-frills collection of straight-up acid-techno belters, is similarly devoid of any rave-era, glowstick-and-pacifier inflections. "I used the name Proto Acid because this is the kind of music that I think I always would have been making if the whole smiley-face thing hadn't happened," he says with a laugh. "Acid, to me, wasn't what happened during that era; it was mid- to late-'80s Chicago and Detroit. It's basically how I think the music would have developed if British acid house had never happened." (Simpson's always been a ramblin' man; since moving from Manchester, he's lived in Detroit, London and New York, and now hangs his hat in - where else? - Berlin.)
Simpson's had a long career as a producer, with a half-dozen albums and scores of singles to his name, including many successful forays into breakbeat and drum 'n' bass. But since those heady "Voodoo Ray" days, he's never really enjoyed the high-profile status that many of his peers possessed. "Early on, it used to kind of bother me a bit," he says. "I mean, all these superstar DJs getting all that fame.…But this music is all about dancing and movement, not about the person making the music. House music was always in opposition to the pop culture thing to start with anyway - it was more an anti-stardom kind of thing. I'm here to help people know who they are, notwho I am."
He's never been one to seek out the limelight, anyway. "I sincerely just enjoy doing what I'm doing," Simpson says. "In Berlin, sometimes I'll just go the bar near me and jam out, and the people there will have no idea who I am. But when someone comes up to me and goes 'Wow, that was really great! What's your name?' - that's what it's all about, isn't it? People should just be into the music because of the music, not because of who you are."
Still, it's hard to escape one's past glories. "I was really against playing 'Voodoo Ray' for years, and I was even sick of talking about it," he recalls. "But there are so many kids that have never even heard it, or have never heard that kind of music before, that I've gotten over it. It's cool, you know? Besides, if I don't play it, people tend to go, 'Oh, come on, man!' "
A Guy Called Gerald plays at Warm Up Saturday 22.Proto Acid - The Berlin Sessions (Laboratory Instinct) is out August 22.
[Author: Bruce Tantum]