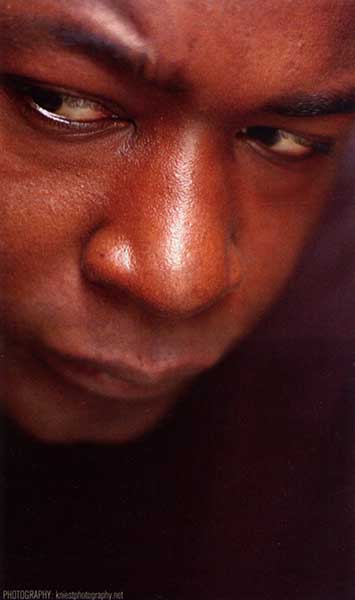 A Guy Galled Gerald (aka Gerald Simpson) recently launched two new independent labels, Protechshon and Sugoi, and plans to re-release the majority of his back catalogue through the imprints. The Berlin based producer has also just released a drum & bass 12" entitled 'Is Man In Danger'. Frontlines takes a closer look...
Protechshon was established to cater for Gerald's own individual sound, and is billed as a breaks and d&b label. He describes the labels music policy as, "Freedom to bang my drum." Rather than signing other artists, Gerald will be providing 100% of the music for his labels: "It's a way of keeping out of hot water. I need to release music. I started on my own and it seems to be the best way". The first release comes in the shape of 'Is Man In Danger' (featuring Gerald's brother David Simpson on vocals), and features a d&b track on one side, with a breakbeat mix on the other. The second release planned for Protechshon is 'Anything Can Happen', an old Juice Box classic, and will feature a remix from Bailey.
Gerald's other label Sugoi was established for his more house/techno flavoured material, and recently released a 12" called 'Flo-ride'. Gerald also plans to bring out some of his older material: "I feel the need to re-establish myself on all levels now that it's possible, so I'll be putting out back catalogue on Sugoi as well. It would seem a shame to totally dismiss all my musical roots. When I look into the vaults I find music from all genres. A lot of the material was actually made before jungle/d&b was in existence. I feel it's a missing link - people need to hear where urban dance music in the UK was conceived. It's been nearly twenty years, and when I sit down and think about it, the progression of where I actually come from in the scheme of things in urban British dance music and then the mark of this music on the rest of the world, it got me thinking that it's best to compile it and put it out myself. Part of the goal of Sugoi and Protechshon is to release this back catalogue between the two labels.
"There's a big list of material and I'm doing it all independently with no financial backers, so it's taking some time to pull together. I'm aiming to put out the entire remaster series '92-'98 from mid 2006. You can check the discography on my website - I'm going to try and make most of this stuff available." Fans and crate diggers will be pleased to know his 1992 Juice Box album '28 Gun Bad Boy' will also be re-released, it's on the list and will be out in 2006!
Gerald has purposely chosen to go the indie route rather than deal with major labels. "For over fifteen years there's not a major who would come within ten miles of me. When I escaped from house music, I started working with jungle because in them days it was somewhere I knew that major labels didn't want to go - It was too black, too aggressive. It's now all been mellowed out, everyone around the world knows what it is. It's been in car adverts and earned millions for certain artists, but for me this is survival music. This is my personal resonance. It didn't come from Jamaica, it didn't come from America, it came from the inner cities of working class minorities in the UK. Three years ago I was stepping through sleepy arsed Brooklyn listening to my jungle. This is my protechshon!"
[Author: Knowledge Magazine]