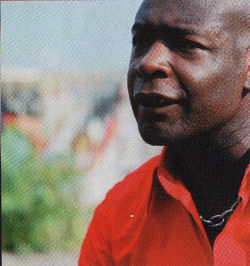 But for many, the highlight of Futuresonic will be the return of one ex-pat Mancunian, now Berlin resident - and a man whose music rightly deserves the prefix seminal. Gerald Simpson, better known to anyone with a passing interest in modern music as A Guy Called Gerald, defined acid house with 'Voodoo Ray' and practically invented drum 'n' bass with his 1995 album Black Secret Technology (soon to be reissued along with 1992's 28 Gun Bad Boy). So it's fitting that he's in place, alongside Robert Lippok on the night, to benefit from electronic music's new status in the musical hierarchy with a selection of past, present and future music stretching from BST to work from his new album To All Things What They Need.
"It's one of the things that make me push on," says Simpson in a Manc accent untainted by spells in NYC as well as Berlin. "There are so many things that have developed out of what happened back then. People have conducted studies and built software out of that early groundwork. I still think it's just the beginning though - it's been developed and moved on, but it's just the start. There are so many branches musically and technically."
As a pioneer held in such high esteem, he also understands the twin pillars of humanity and evolution that seem so crucial to the best of this type of music.
"I always, from day one of working with machines, tried to put a human element into it. It's kinda the hardest thing to do with a machine or a computer, but it was a challenge. I like some things to sound like machines - I used to get the computer to imitate live instruments, but now I try to make it sound like the machines. If you've got a serious concept, sonically and visually, it's a lot easier to do it with a computer than an acoustic guitar. Unless you're Bob Dylan."
So those comparisons between electronic music at its best and classical music really do hold water. As capable of targeting the heart and the feet as much as the head, the music Futuresonic does so much to promote seems a million miles away from the stereotype of the geeky boffin, cooking up bizarre schemes hunched over a laptop. Well, almost...
"For a while I've been looking at different aspects of what audio can be used for, part fiction part real, and there's this thing called Silent Sound Spread System," laughs Simpson menacingly. "Basically it's a way of using subliminal sounds to suggest things to people. It uses high and low frequencies outside human hearing, and I found a load of material on it - so I thought it'd be a cool way to end the show..."
Futuresonic, 22-24 July @ the Bridgewater Hall and venues across the Northern Quarter. All events in the Northern Quarter are free with a wristband. For a full festival line-up and details of how to get a wristband, check www.futuresonic.com, or book tickets on 907 9000.
[Author: City Life]