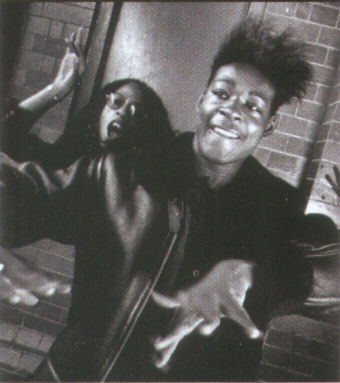 Title: Voodoo Ray Date: June 24, 1989 Chart Position: 12 (UK)
Available: Various - We Call It Acieeed! (WSM)
When Acid House hit the UK in 1987, A Guy Called Gerald - aka Gerald Simpson - did his bit for the cause by recording tracks for the rave-friendly Manchester Piccadilly Radio DJ Steve Allen. Tuning in was Peter Lahey of local independent Rham! Records, who took a chance on the startling sounds Simpson was teasing out of his Roland TB 303 Bass Line and TR-808 drum machine. Rham! pressed up 500 copies of Voodoo Ray in mid-1988 and they sold out in a day.
Over two days in June 1988 at Moonraker Studios in Manchester, 21-year-old Simpson had created one of the Acid era's finest singles. A thrillingly disorientating assemblage of electric pulses and kicks, with brain-burrowing vocalising from guest singer Nicola, it still sounds remarkable. One story had it that the tune was to be called Voodoo Rage after a sample taken from the sketch Bo Duddley from Peter Cook and Dudley Moore's filthy masterpiece Derek And Clive Live, though Simpson laughs at the idea. "It was supposed to be like a chant," he recalls. "I wanted to create something really tribal." A spring-board to chart success was provided by the single's popularity in the clubs. "The reaction was electric," says Simpson. "It was the end of the '80s and people must have been ready for a change."
However, a series of unforeseen events meant he received little of the cash the single generated. Though able to laugh at the experience now, Simpson, who was living in a squat at the time, was far from sanguine. "For the first seven or so years I couldn't get away from Voodoo Ray; says Simpson, who made a series of highly-rated drum'n'bass releases in the '90s and is shortly to release a new version of Voodoo Ray. But now I'm over all that stuff that happened. This time I've taken control from start to finish. I call it the Julius Caesar syndrome - you know, writing your own history".
See: https://www.guycalledgerald.com/
[Author: Stuart Aitken]