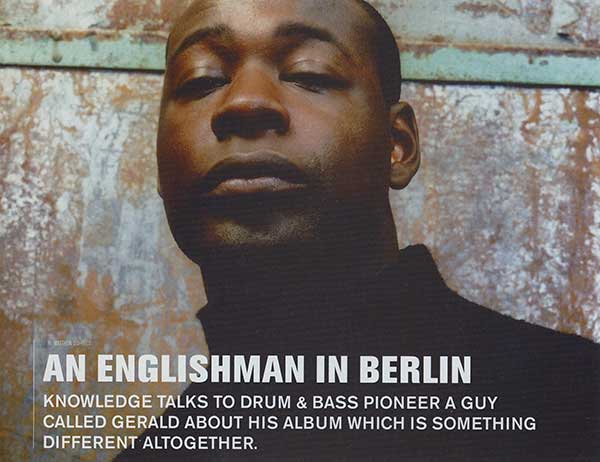 Whether you're a house head, a techno aficionado, a drum & bass fanatic or an acid house raver, you've probably been touched by the music of A Guy Called Gerald. The softly-spoken Mancunian has been making music since the late 80s and holds an important place in the hearts and history of dance culture. Gerald Simpson, to give him his full name, was born and raised in Manchester and grew up listening to his father's ska and reggae record collection. It wasn't long before he became immersed in the city's burgeoning dance scene, eventually be-coming part of 808 State and releasing the seminal solo single 'Voodoo Ray' in 1988.
It was on his second solo album, "Automanikk", where he first developed his passion for breakbeat which lead to the creation of his own Juice Box label. Goldie, LTJ Bukem and 4Hero are among those who cite the Juice Box sound as a major influence and Gerald became a pivotal figure in the development of drum & bass, most notably with the "Black Secret Technology" album.
Never one to get tied down to one particular style, however, he signed with the well respected electronica label !K7 Records - home to people like Smith & Mighty, Vikter Duplaix and Ursula Rucker - in 2000. His first album, "Essence", for the Berlin-based imprint soon followed with Gerald following a new musical path perhaps best described loosely as freestyle.
His second album for !K7, "To All Things What They Need", is out now and it sees him push further and deeper into more experimental music; in fact, much of it consists of sonic landscapes rather than dance-floor cuts. There's a strong cinematic feel across the album's ten tracks with spoken word vocals, intricate and delicate melodies, beatless moments and eastern-influenced rhythms fused into an intriguing whole that grows better with each listen.
"To All Things What They Need" may be far removed from drum & bass but you can still hear its influence in the music and for those looking for something different it has much to offer. This album is perfect for those quieter, more personal moments and it's easy to get lost in its hypnotic, swaying rhythms and subtle textures.
Knowledge recently caught up with Gerald to find out more about this intriguing album and we began by talking about Berlin where he now lives. 'I was sick of London,' he explains. 'It seemed to be constantly looking for something new but doesn't have the balls to change. Music there just seemed to be the same, even all the supposedly new genres seemed like the same old thing. Berlin's an easy place to work because there are not so many distractions.
'Living in Berlin has given me a clear head. The city is an inspiration as it doesn't have any pretence, although the language itself is a bit of a barrier, so if I communicate with people usually there's no time for bullshitting. It's pretty straight. Everyday things inspire music, so if there's not a lot of bullshit there's more time to make music.'
'To All Things What They Need' also features guest vocals from Finley Quaye and Ursula Rucker, surely the high priestess of conscious electronic music, on "Millennium Sanhedrin" and "Strangest Changes" respectively, while all the music was produced solely by Gerald himself except for the vocal on "To Love" which was done by Ann Yoshie Narahara.
Gerald himself describes this album as 'an introduction to something different' and that's a pretty accurate reflection. There's also clearly a spiritual, philosophical or political - call it what you will - dimension to the album: 'All my work is spiritual and very personal, but I don't have a political agenda. I feel the music will speak louder than any "bollitics". There is a sample of Margaret Thatcher on the al-bum but the only reason I used it is because I think she's got a sexy voice - honestly!'
There also seem to be a lot of musical influences from outside of usual dance culture, particularly eastern and Middle Eastern: 'I introduced this onto the album because it's basically my personal lash back at the USA for its propaganda against certain religions and peoples. I think it's wrong because I hate Christianity but I don't have to kill people over it'
Since the release of his first album for !K7, Gerald has spent his time rebuilding his studio and rethinking and experimenting with the way he makes music. It's been to good effect judging by "To All Things What They Need", but how close was the finished album to the original ideas he had in his head when he started? Another galaxy away:
"To All Things What They Need" is out now on !K7 Records. For more information on A Guy Galled Gerald visit www.guycalledgerald.com or https://www.k7.com/
[Author: Matthew Duffield]