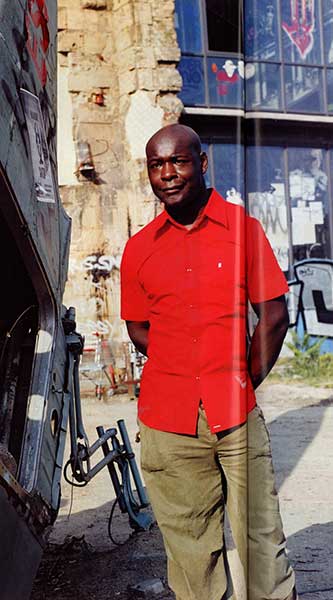 Mancunian pioneer A Guy Called Gerald is back with a new long-player that sees him exploring more mellow pastures. But, he explains, it's just one more leg of a long journey - both musical and geographical 
So it wasn't just a one-off, after all. 17 years since 'Voodoo Ray', A Guy Called Gerald is still innovating, still searching for new sounds and still in love with digital soul. It's just that, inevitably, it's down to the kids to make the dancefloor bombs these days, while Gerald Simpson gets on with creating something a lot more thoughtful.
New album 'To All Things What They Need' feels like the culmination of Simpson's fascinating journey: from the raw dance music that was acid house, through drum & bass and breakbeat to, finally, this sixth record. It incorporates jazz, chill-out, beats and heavy doses of urban atmospherics redolent of the kind of sweeping synths that went overground with Goldie's 'Timeless'. It's the kind of record that gets called "a masterpiece" in the broadsheets rather than being piled high in HMV, but it's also a long way from those primal Voodoo Ray' days. Not that Simpson appears to mind.
"People will always associate me with Voodoo Ray': he says. "and there isn't a thing written about me that doesn't mention that song somewhere. But I'm getting older. And the thing is, if I was making exactly the same music I was back in those acid house days, then people would say I hadn't moved on. So in that sense you can never win."
It's appropriate, though, that innovators like Simpson keep pushing things forward, even if the audience that made them famous might prefer them to stay still. This second album for German label !K7 says much about how he's moved on - from Manchester as much as acid house. It's the creative, frontier spirit of Berlin that excites him in 2005.
'In Berlin there seems to be plenty of time to do things, and there's always stuff going on. The thing that I love is the lack of advertising, the village vibe. But best of all, being in Berlin has given me space to listen to music, to go through old albums and think about sounds again. I really enjoyed the process: for a long time I wasn't enjoying or making music as much as just knocking out breaks."
It's that sense of calm and space which runs right through 'To All Things What They Need'. Simpson has put everything in place to make this record work in a similar way to his earlier output - he even rents a room in a Berlin art house with fellow musicians and painters, in a place reminds him of the vibe that late 1980s Hulme had.
"I'm trying to get a feeling for space in my music:" he admits. "My last LP had too much emphasis on the technical side. I was almost showing off in a way, and I needed to do something that wasn't so specifically aimed at any one genre. That used to be necessary before we had MP3s, but these days, if someone wants to find out about what you're up to, they can type your name into a search engine and find you, anywhere around the world. You don't have to be stuck in a specific section of a record store. And I think as times change in that way, your music has to change too."
Simpson has certainly changed his outlook on life. All of his records, he admits, are like a diary for him, a document of a place and time. 'To All Things What They Need' may been made in Berlin, but writ large throughout the LP is his disenchantment with the time he spent living in New York.
"It is more thoughtful, and New York was a really important part of my life. So it would have sounded wrong if it was house or full-on drum & bass. With the opening track, 'American Cars', I really wanted to tell people what America was really like, and that was the main fuse of the LP. But listening back, it was too negative, too aggressive, so we took most of the lyrics out. I need to have a punch bag, something to hit against. But after a while, I realised that being negative about a negative situation doesn't really get anyone anywhere."
LIVING IN AMERICA
So what is America really like? "It's a really dangerous place!" says Gerald. "People get killed, and no-one gives a shit. I saw that so many times. I lived in the middle of the ghetto and things happen that open your eyes. The people there can't get out of the situation. Yes, music is an escape. But most of the kids will never hear the music I'm making. It's impossible. They have to go through five layers of hip hop just to get to Biggie Smalls, who is like the Elvis of Brooklyn.
'The system means that they strive to be big rap stars because of the money and girl,." he continues, "and they'll kill each other for it. But there's no movement out of it - it's a vicious circle. It got to the point where I got so depressed by it all!! couldn't listen to rap music any more."
This urban drama is very much the basis for the intense soundscapes of 'To All Things.... There is the space Simpson craves on the beat-free tracks. but also the claustrophobic electronic chronicling of inner city life. Which brings us back to Goldie again. is this album like 'Timeless'?" Simpson ponders. "Well, I'd like to think 'Timeless' had a bit of my 'Black Secret Technology' to it. So maybe what you're hearing is my sound, all over again. I was trying to go back to my roots with that record. Juan Atkins. Kevin Saunderson and Derrick May were my early influences and I've been listening to them all over again.
Alongside, naturally, 'Voodoo Ray'. With A Guy Called Gerald it all comes back to that tune, and indeed said anthem is getting yet another re-release this year. One can't help thinking he deserves another stab at the limelight - both with this new record and his oldest, most famous one.
"Ten years ago I'd had Voodoo Ray' up to here." he laughs. "I'm good at leaving things behind. trust me. But this new release started off as a repress - apparently there are still loads of DJs who want to play it. I'd like to leave it at that. but because it's the launch of a new record label I'm doing there has to be the whole fanfare with a Jeff Mills remix and so on."
And if soundscapes, claustrophobic electronica and excursions into jazz are a worry for anyone who, like Simpson, grew up with Detroit techno and Chicago house, he hasn't gone completely soft. His move to Berlin may have opened up many more musical avenues for A Guy Called Gerald, but best of all, it's reignited his love of his formative years too.
"Having said all this," he chuckles, "I am going to release some old skool drum & bass later on this year. It's literally going to be drums and bass, back to the simple elements."
Simple, but effective. IDJ
'To All Things What They Need' is out on !K7 on Jan 31
[Author: Ben East]