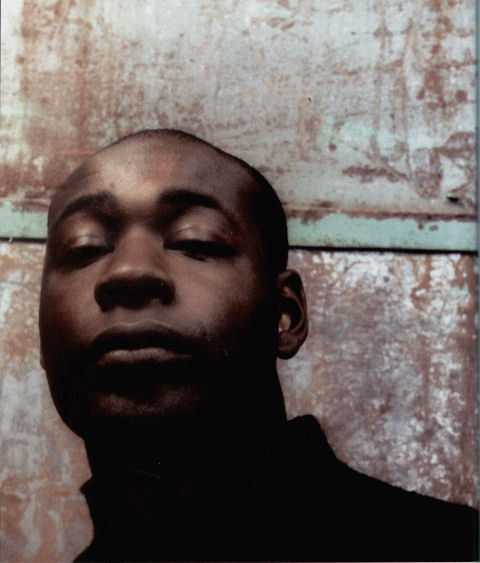 This month Aphex Twin's Rephlex Records have released a selection of acid house recordings from the vaults of 808 State. Previously believed lost, the recordings illustrate the often forgotten fact that back in 1988, as they strove to translate the new sounds coming out of Chicago and Detroit into a UK version of acid house, 808 State were a truly unique force. What's more, the recordings serve as a timely reminder of the key role played by the quiet genius behind so much important electronic music released since those early days, A Guy Called Gerald...
"There's a lot of music stuff going on and there's a lot of art here," says Gerald Simpson of his adopted home, Berlin. "I've got really into Bauhaus and all that kind of stuff, so I came over here looking for a modern version of that in a way." The German capital with its strong modernist architectural history seems a long way from Gerald's roots. Back in 1986 he was living in Hulme and working at McDonalds. Early signs were not great - where Gerald went to school, the music teacher was stabbed. What saved him from the drudgery that was to befall so many teenagers in Thatcher's Britain was his absolute dedication to his art. "I was totally taken over by music," says Gerald, pointing to jazz-fusion musicians like Chick Corea and Herbie Hancock as major early influences. From here, Gerald moved on to electro tunes like Pumpkin's Here Comes That Beat and early Mantronix material, and another important part of his early musical make up was rap, with him citing Ice T's Dog N The Wax from 1986 as another key track.
Inspired by such records, Gerald began acquiring the essential tools of his trade from music shops around the city, and by the age of 16 had put together enough rudimentary equipment to begin making his own rough recordings. Aside from bedroom experiments, Gerald's first record was released in 1987 under the name The Hit Squad MCR. Back To Attack was a hip-hop track that showcased his production skills alongside the rapping ability of his friend Nicky Lockett, aka MC Tunes. On the other side of the record was a track called Wax On The Melt which featured the talents of another group of young Mancunians, among them Graham Massey and Martin Price. Gerald then teamed up with Massey and Price and the threesome - in the guise of 808 State - went on to record Newbuild, a record that was to become the blueprint for dance music in the UK. Since its release in 1988, Newbuild has been hailed as the first serious attempt at acid house music recorded in the UK. Its repercussions were felt throughout Manchester and spread across the Pennines to Sheffield, where the record inspired the founders of Warp Records. Curiously enough, in rural Cornwall too, 808 State's debut had a huge impact. A young Aphex Twin was to hear the record and later produce his own version of the standout track Flow Coma.
It was Aphex Twin's love of the early 808 State material that inspired the new releases on his Rephlex label. Intrigued to hear more of the material 808 State were recording before the release of Newbuild, Aphex Twin encouraged Graham Massey to hunt through his old tape recordings from the period for an LP release entitled Prebuild. Massey duly obliged, producing a selection of material ranging from a recording of the band's first ever gig at the Boardwalk Club in Manchester (a raw 14 minute acid work out) to a live radio jam from 1988. Another amazing find was the remixes of New Order's seminal Blue Monday and Confusion, never originally intended for release but staples of 808 State's early live gigs. The discovery of the lost tapes came as something of a surprise to Gerald: "I think it was 2002," he explains, "He (Massey) sent me a CD with a load of stuff and said he was moving and he'd found it behind a cupboard. I remember giving him some tapes years ago. I'd always sort of wondered what I did with them. Listening back to them I was like 'Wow'." The pick of the roughly recorded material has been drawn together on vinyl for the first time and captures much of the atmosphere of what was a very raw time for electronic music. Gerald was well known for his early experiments with basic Roland equipment, pulling apart drum machines, manipulating them into doing much more then they were originally intended to do. This rough and ready approach is apparent on Prebuild tracks like Johnnycab, Clonezone and Cosacosa, which were recorded in the attic of Gerald's mum's house.
While raves and hip-hop gigs in the city gave the fledgling 808 State an audience to play to, there was also of course another place to play and listen to the new music sweeping across Manchester. Opinion is divided as to where acid house really took off in the UK. Tales of the movement's early beginnings in Manchester have now become the stuff of legend, making it difficult to separate the myth from the reality. However, there can be no doubt about the importance of the Hacienda. "I think it was Jon Da Silva also Mike Pickering and Graeme Park I remember spinning the new house stuff," recalls Gerald. "It was really underground acid type stuff. Also at the same time Stu Allen was playing a lot of stuff on the radio. It was all imports from Chicago and Detroit". Manchester, with its long history of openness to different forms of music, was quick to embrace the new acid house sound, so much so that by the summer of 1988 acid house was kicking off in a big way. Gerald and 808 State were at the centre of it all.
For Gerald, the first rush was a revelation. "You can't wait for something like that to come along. It just kind of happens," he says. "Now I get the sense of a load of people waiting for something new. I think in that anticipation, anything that appears or shows its head is just totally engulfed by everyone straight away. It doesn't really have a time to develop whereas when the really stripped down raw acid stuff started to appear, because it wasn't really taken that seriously, it kind of just crept in without being scrutinised or recognised at first so it had a chance to grow out of Chicago and Detroit. A lot of the stuff was really individual. That inspired me to say, 'I can use the beat but just do my own thing to it'. Because there wasn't that much money involved it was easier for people to just express. It's funny that."
Much of Gerald's reminiscences about the early acid house era are marked with a sense of nostalgia for a less complicated time. Talking of the 1986-88 period he explains: "It was a lot freer. I had a lot more time to just mess around and try and learn the equipment and stuff like that. I reckon it was one of the better times of my life really. I definitely had a different outlook on life back then to now." This somewhat bittersweet take on events has more than a little to do with what would happen when the first wave of acid house explosion began to subside.
First up was a bitter court case with 808 State over the rights to the huge hit Pacific State. In its original form on the mini-album Quadrastate, the track was partially credited to Gerald. Following the band's signing to the ZTT record label, and the release of the single, Gerald's name mysteriously disappeared from the credits. A bitter feud ensued during which Gerald claimed that he had recorded the original version of the track and that he was responsible for the chord sequence, bass sequence, percussion pattern and drum pattern. All he didn't claim as his own work was the famous sax solo - a product of Graham Massey's large collection of exotica records. In the fall out, Gerald went on to record a tack called Specific Hate (on the B-side of 1989's, FX) and to subtitle 1990's Automanikk with the message 4Q 808. The disagreement raged for years and was only resolved in the courts.
While this was going on, Gerald was also involved in legal wranglings over another huge hit, Voodoo Ray. Although the record quickly established itself as a dancefloor favourite almost as soon as it was released, and reached number 12 in the UK charts, it is often claimed that Gerald initially made only £200 from the record. The track, which was to define so much of the house music that followed, was pirated in the UK by EZE and Boy Wonders and in the US by an act calling themselves Voodoo Dolls. As if this not enough, the record was reissued in 1996 and incredibly was credited only to Lisa May, the previously unknown singer who appears on the track. Gerald's name was nowhere to be seen. Perhaps unsurprisingly, Gerald now believes the track to be cursed.
Throughout however Gerald has maintained an incredibly calm demeanour. So what has brought him through the tough times? "I think just music really," he says. "I've basically focused on just wanting to push on with my music and actually find a meaning, to find out what the music's about. I've done loads of travelling and analyzing and all sorts and it's still a quest. I think that's what keeps me going more than anything. It's a religion." As part of this quest, Gerald's music has constantly evolved. Since the early days of acid house, Gerald's sound has moved more into the drum&bass arena. 1992 saw the release of the landmark 28 Gun Bad Boy LP, followed up in 1995 by Black Secret Technology, and five years later with 2000's Essence. Gerald has regularly explained that his sound is a reflection of "ancient African music." This is clear of course in the title of Voodoo Ray and more explicitly in the liner notes to Black Secret Technology where he explains: "I believe that some of these trance-like rhythms reflect my frustration to know the truth about my ancestors who talked with drums."
His musical journey seems set to continue. He explains that in the coming months he'll be concentrating on "kind of doing a label". He is also focusing on "doing really stripped down minimal dance music type stuff". On top of this he's finishing an album for German label !K7 [of the legendary DJ-Kicks series] and working on "some experimental stuff" as well. "I decided to do this ambient kind of chakra thing with some friends in Berlin," he explains. "Basically we're going to try and go through the entire chakra movement. You've got seven power wheels or energy wheels in your body called chakras and they all have a different surface on your body and different colours and different notes. So we're going to do some music and also some visuals to experiment with to see if we can almost give people an entire body massage starting from your crown chakra and working your way down to your kundalini chakra. It's not dance music I don't think," he says laughing.
In the meantime he is more than pleased that Rephlex have released Prebuild. "They are really into their electronic music and you've got to have an affinity with people like that," he says. "For me they grew up listening to the stuff that I was doing and I was putting all my energy into doing that stuff. So having someone appreciate it is really cool. Having people like that move it on to something else - to take the inspiration that they've got and take it somewhere else – it's enjoyable getting their records and actually seeing them influencing other people now. It's really cool." And the best thing about both Rephlex releases is that this time Gerald's name appears on the credits. What a nice change.
808 State's New Order Acid House Mixes 12" and 808 State's Prebuild LP are out now on Rephlex.
[Author: Stuart Aitken]