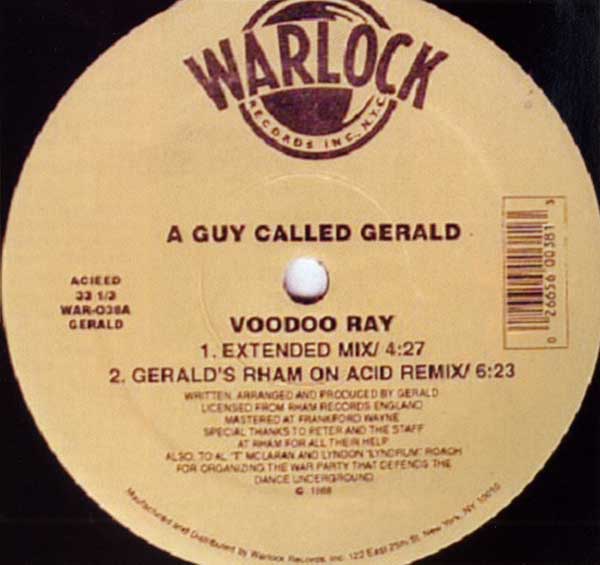 Number 1:
A GUY CALLED GERALD 'Voodoo Ray'
(Rham Records)
If you can tell a classic record by how good it sounds 15 years later, then 'Voodoo Ray' is a stone cold better. But, of course, we all know that - we've been dancing along to its haunting arabic wail and minimalistic acid house groove for the last 16 years.
Back in early 1988, house music had yet to take Britain by storm. The famous 'second summer of love' was still some months away, and Mancunian Gerald Simpson was dividing his time between flipping burgers in McDonalds and playing around with his new Roland 303 bass synth. As a regular at Mike Pickering's nights at the Hacienda, he was familiar with house music, and set about making some of his own. Using his 303. an old drum machine and a simple sampler he put together a set of tracks for an EP. It was all pretty basic stuff, influenced by the sounds of Detroit and Chicago, but one track stood out 'Voodoo Ray'. It was like nothing else around; stark, hypnotic and other-worldy, with a weird tribal feel that came from the 'Voodoo Ray' chants [sampled from an old Peter Cook comedy record] and the snaking arabic vocal.
Simpson's Hacienda hero Pickering loved it, and set about championing it at every opportunity. A year later, in April 1989, 'Voodoo Ray' became Britian's biggest acid house hit so far, reaching number 12 in the charts. Yet Simpson never made a penny - he'd sold the rights to the record 12 months previously for a measly E200 quid so he could buy a new drum machine.
Some 16 years on, 'Voodoo Ray' still stands out as one of the finest dance records ever made. It's interesting to note that despite showing its age, it still sounds futuristic and other worldly - like all the best early techno and acid house, in fact. It's proof, if any were needed, that the best dance music is often the simplest. It is, without a shadow of doubt, the best dance record ever released.
Alternatively: T-Coy - 'Carino'.
[Author: International DJ]