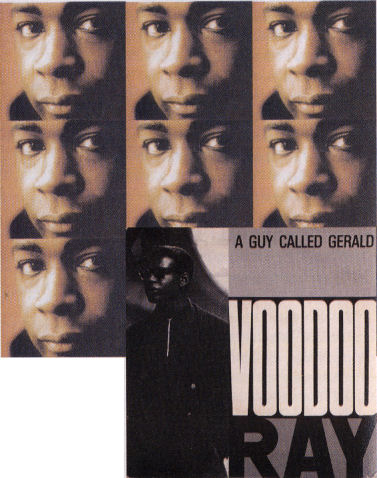 A Guy Called Gerald
Voodoo Ray
(Picador single)
Gerald Simpson's listening habits were fed by several overtly Kraftwerk-influenced genres. The producer/DJ grew up listening to the electro of Afrika Bambaata and Mantronix, the synth-pop of Yellow Magic Orchestra, Gary Numan and Visage, the art-rock of David Bowie and the updated jazz stylings of Herbie Hancock, Chick Corea and Miles Davis.
After leaving 808 State (the Manchester 'Pacific State' hit-makers named after the Roland 808 drum machine), following a disagreement over money/writing credits, Simpson went solo as A Guy Called Gerald. He had an instant hit with 'Voodoo Ray', which peaked at No. 12 in June 1989, and a similarly-titled album, which was described by Simon Reynolds in Energy Flash: A Journey Through Rave Music and Dance Culture as "the first truly great British house album".
Simpson released Automanikk but its intended follow-up for CBS, High Life Low Profile, was never released. Such was Simpson's techno-obsession, that when he re-emerged in the mid-90s as a stunning jungle producer, Simon Reynolds was prompted to ask him if he ever felt like a cyborg, if his machines were extensions of his body giving him superhuman powers. "You become like a god," admitted Simpson, speaking of the long hours spent in his studio, which he'd appropriately named the 'Machine Room'.
[Author: Record Collector]