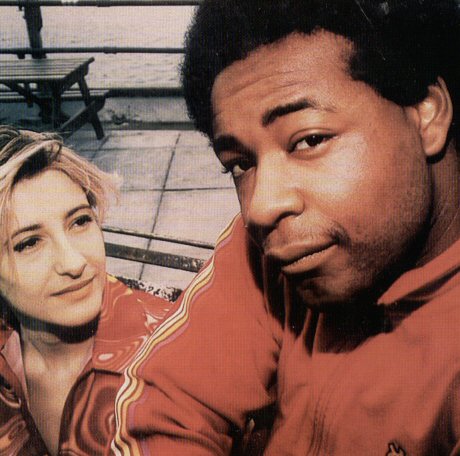 A seminal figure in both techno and jungle
Gerald Simpson first surfaced as a member of Manchester's Hit Squad, who released 'Wax On The Melt' in 1987. The core of this collective - including Gerald - went on to become 808 State and in 1988 they debuted with 'Let Yourself Go' on Creed. This was quickly followed by the legendary 'New Build' LP, but Gerald left shortly after, leaving 808 State to release his anthem 'Pacific State'. It took a few years before he received full credit for it, which is just one example of the bad luck that has dogged his career.
1988 saw his first solo release, with an EP on Rham that featured 'Voodoo Ray', a Hacienda favourite that remains an anthem to this day. He then secured a deal with CBS which spawned the 'Automanikk' album. CBS rejected a second LP, and he left in 1991.
In 1992 he set up his own Juice Box imprint and set about inventing jungle, a process which reached its peak with the release of the masterly' Black Secret Technology' in 1996. But what are the most collectible records in this Guy's cannon... 

1. £40 New Build (Creed LP, 1988)
Classic acid LP and an essential purchase, even if you buy the Rephlex reissue! Includes 'Sync/Swim', 'Flow Coma' and 'Narcossa', which influenced a host of admirers like Hardfloor.

2. £30 Voodoo Ray EP (Rham 12-inch, 1988)
The first release of this UK house classic, which was followed by a host of remixes. The EP also includes 'Rhapsody In Acid'. Fact: Gerald was working in McDonalds while this was being caned at the Hac.

3. £30 Dream 17 (Deconstruction 12-inch, 1988)
Co-written under the guise of Ricky Rouge with Mike Pickering, the Hacienda DJ who went on to find fame and fortune with M-People. Another much sought-after UK acid classic.
4. £30 Peel Sessions (Strange Fruit 12-inch, 1989)
Includes the only version you need of 'Emotions Electric'. A beautiful and sublime moment of pure techno-soul that's also available on the 10-track 'Peel Sessions' CD from 1999.

5. £40 Trip City (Avernus 12-inch, 1989)
A rare white label 12-inch that accompanied the book of the same name. A remixed version of 'Trip City' appeared on the 'Automanikk' 12-inch. The original five-tracker includes 'FX' and is very scarce indeed.

6. £20 Automanikk (CBS LP 1990)
His one and only major label album - two other efforts have been binned or rejected, leaving him a bitter man. This limited edition version includes a 12-inch: 'Voodoo Ray Americas'/'Moroccan Black'.

7. £40 Nowhere To Run (Retroactive 12-inch, 1991)
A rare 12-inch on Carl Craig's imprint, released while Gerald was trying to free himself from his CBS contract. Another Inertia track, 'Satisfaction', appeared on the LP 'Panic In Detroit', on Buzz.

8. £20 Digital Bad Boy (Juice Box 12-inch, 1992)
Gerald's first release on his own label was a limited white label stamped with 'Juice Box JB001' and no other info. A sparsely produced four-track EP, feeling its way around the foundations of drum & bass.


9. £20 Cops EP (Juice Box 12-inch, 1992)
Only the third Juice Box release, but the beats were already getting darker and phatter as Gerald developed the drum & bass sound. This EP is sought after for the classic '28 Gun Bad Boy'.
10. £20 Black Secret Technology (Juice Box Double LP, 1996)
Originally released in 1995, this re-mastered and re-packaged version of this classic LP is still one of Gerald's finest moments.
[Author: Muzik]