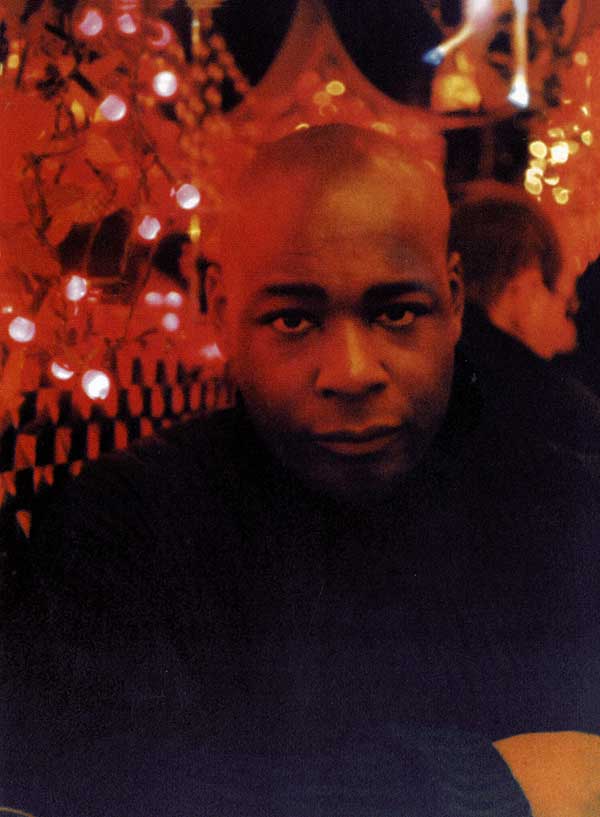 NOT MANY ARTISTS PLAY A MAJOR PART IN SOME OF THE MOST GENRE DEFINING MOMENTS IN THE HISTORY OF ELECTRONIC MUSIC. A GUY CALLED GERALD IS ONE.
Bigged up and respected by many artists across many musical spectrums worldwide, AGCG and his musical vision have tempered the way we now listen to modern music. An innovative force behind such tracks as the classic acid house anthem Voodoo Ray; the e[c]lectronically mesmerising Pacific State with 808 State; one of the seminal drum 'n' bass tracks 28 Gun Bad Boy and, Finley's Rainbow, which unleashed the talents of a certain Mr Quaye. Looping beats, turning time around, twisting rhythms and ensnaring movements, his music induces reflexes in the human ear, body and mind, which seem impossible to control and analyse.
Gerald Simpson is the consummate musician, determinedly focused on making his music without the limitations of a genre market in mind. As his artist name suggests, it's not about making a name, it's about making good music and letting that represent. He's had more than his fair share of mismanagement from major labels first embracing him, then moving him politely along as they realise they know nothing about marketing DJ/Producer artists. Alongside well as his fit to bursting point crate of 12" masterpieces are three albums Automanikk [Sony]; Black Secret Technology [released on his own JuiceBox label]; and last year's Stud!o K7 release Essence, which presented a more soulful, song focused selection.
With the Berlin based Stud!o K7, Gerald has found his natural home, finally. This month sees the release of Blueprint presents: A Guy Called Gerald, a two CD compilation featuring 19 tracks, which have influenced him and his career. The selection contains music mainly from the 1970s, which saw a teenaged Gerald soaking up music of many different genres. The collection features such tracks as; Slave's Just A Touch Of Love, Stevie Wonder's All Day Sucker, Kraftwerk's Trans-Europe X Press and Minnie Riperton's Loving You. Be it funk, soul or electronic, it gives the listener some insight in to what inspired and influenced him whilst growing up in Manchester.
He's now resident in New York, but I spoke to Gerald in London, where he's currently chilling in a friend's flat during a brief visit. I asked him how the project came about.
"I think originally Shaun Ryder wanted to use Voodoo Ray", he says. "He was doing the same kind of LP, so that's how they got in touch with us. It's one of them things where you get a lot of tunes scrambling about in basements and stuff like that, and you really become attached to them. It's almost like a way of giving someone a gift if they can get it on a compilation. That's if you can get clearance on it! "
He laughs. When I speak of Gerald's consistently evolving sound and genre defying moments in music making, he self-deprecatingly tells me how he feels when people talk of his music in such ways.
"It's one of those things where you just listen to music and enjoy," he points out. "I don't see it the way a lot of other people see it. I don't really see music as a competition. The actual art behind doing music isn't recognised as much as it used to be. People that are into classical music will like break it down and analyse it, and they'll be like, 'Listen to the 5th movement of this whatever', and they consider that to be art. I'm not saying all music has to be the same and have the same values. But I think it should be recognised first of all for their artistic value before anything else."
The day we see electronic based music being analysed in the same way as classical and jazz will indeed be an interesting one. Is it because we don't have the language, or, is it because we're too lazy to go there? I think the latter to be the truth in this case. Books like Kodwo Eshun's More Brilliant Than The Sun: Adventures In Sonic Fiction and David Toop's Ocean Of Sound both herald the way towards a more realistic, modernistic and futuristic way to write about modern electronic-based music. Their stream of consciousness, feel the music styles immediately place you inside the sound; you are the needle in the groove, letting the sound change your very form. Gerald's music also features the art of the spoken word where he explores such questions as our sense of self and our place here in the universe.
Gerald's compilation will also feature detailed sleevenotes about how his selections have influenced him, so I asked for a sneak preview on two of the tracks. Firstly, Minnie Riperton's Lovin' You.
"That reminds of my youth," he laughs. "I think I was 13, 14. It was just the vocal really. Really simple, especially for then when it came out, because everything started to get heavy. I haven't got a copy of it that's not really crackly, so I figured if I put it on the compilation, they could find a good copy! It's beautiful: every time I hear it, I get tingles."
What about Yellow Magic Orchestra's Computer Game?
"That does actually remind me of an arcade on Princes Road in Mosside," he reminisces. "There was this old school tank game I used to play. There wasn't really many electronic tracks out at the time that were trying to be electronic. There were loads, but there weren't any that were blatantly like synths trying to sound like a computer. It gave me an appetite for wanting to do stuff like that."
[Author: MARILYN CLARKE]