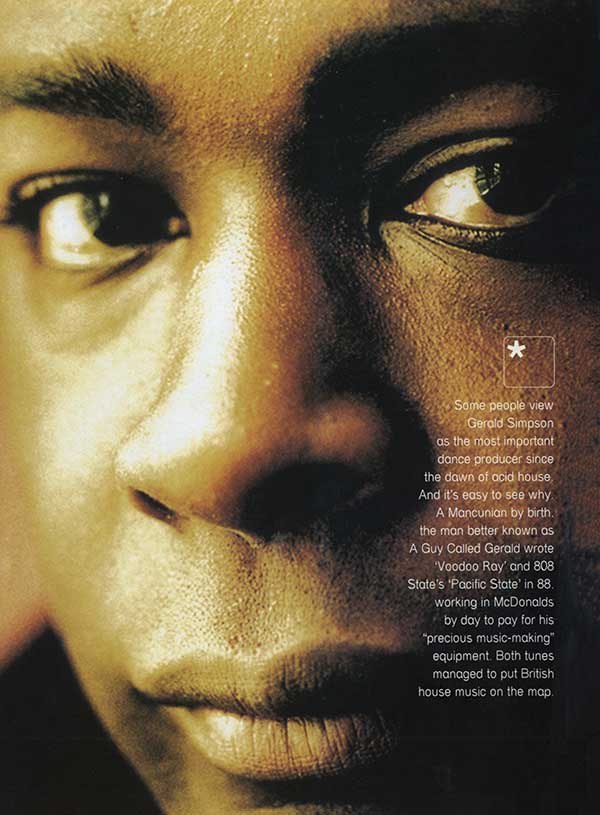 After a brief stint DJ-ing hip-hop, soul and funk as part of Scratchbeat Masters for MC Tunes and the Ruthless Rap Assassins, Gerald had stumbled on house at a supremely febrile moment in its Stacy evolution. By the early 90s, Gerald was buzzing on several fronts, signing a major deal with CBS (Sony) and releasing the influential house album 'Automanik'. His second album however still anguishes in the vaults, "probably never to be released", and he was dropped. Thereafter he perceived his sampler as a time machine, something that could induce trance like rhythms with breakbeats, "an attempt to reflect my frustration to know the truth about my ancestors who talked with drums." His next project-come-album released in 1993, '28 Gun Bad Boy', was an essential document of urban malevolence, gangster posturing, skull-snapping beats that still sounds like a landmark in the music we now know as drum & bass.
'28 Gun Bad Boy' laid the foundation for producers like DJ Hype's jump-up sound but it was his newly established Juice Box 12's that really announced his intention to write a new blueprint, 'Black Secret Technology', the album of evocative African rhythms and phased out voices that followed in 95 definitively showed that drum & bass was capable of making a full-length statement of intent. Utterly unique, Gerald Simpson has consistently explored new territory throughout his 12-year career and has no shortage of admirers amongst house and drum & bass producers globally.
Yet if you put these facts to him, he looks genuinely shocked and remains speechless for a few minutes before scratching his head and saying, softly, 'Thank you, but you're wrong. I'm sorry, but I reckon there's many other producers who deserve that term better than I do, like Dego and Marc from 4 Hero. They've managed to establish a label [Reinforced] for ten years and to do a multitude of different projects. I haven't." He sighs, bouncing up and down on the sofa in his new label K7's London office. Interviews seem to make Gerald nervous. Perhaps it's because he doesn't tend to think about what he does too much or because he is genuinely embarrassed encountering the lavish praise that his frankly marvellous new album, 'Essence' has engendered. Then there's the faint chance that he's worried about being misrepresented, ("it's happened so many times I've lost count"), tarred with the wrong brush, aligned with people and movements barely has any connection to.
A resident of New York ("it's not as glamorous as it sounds. I live in this neighbourhood where I have to pay protection money to rude boy gangsters just to get in my flat") he is generally quite denigrating about the current state of drum & bass. Last time he was here it was the era of the noise for noise's sake practitioners. "Too many of the producers that people rabbit on about these days don't realise what the roots of the music were," he says, giggling. "It's just rubbish to believe that you can write a good drum & bass track without a funky element, that you can win people over with bass. A couple of years ago, when everybody was falling over themselves for that sound, Dego, Mark (4 Hero) and I were listening to some radio station and we were just falling about the floor, laughing. I mean it's just a waste of programming skills and proves that a lot of drum & bass producers have no imagination."
He calls himself a musical loner, living a hermetic experience in the wilds of Brooklyn, dabbling and experimenting, so wasn't aware that his new label, !K7 were responsible for the great 'DJ Kicks' series. He only hooked with them because he was looking for a European distribution deal for his Juice Box and Rotary Code labels. Generous to a fault, many would be eternally resentful that they received £200 for a song that became a top ten hit ('Pacific State') but Gerald isn't having any of it. "You live and learn and I don't feel resentful for the rum deals that I've signed or the early years, that makes me an idiot, but I can't do anything about it now, I can't change anything. Things fall apart sometimes and you have to pick yourself up and move on. The only thing I was a concerned with was that I might not be able to make music."
His long creative break is put down to 'trouble with my former Juice Box and studio partner. legal stuff that took forever to sort out. I wasn't sure about Essence' for a while: I recorded about twice as much material and then had to filter it. A lot of it was recorded five years ago. I mean, Louise Rhodes of Lamb] came into the studio ages ago for 'Humanity' (Gerald's backing track was originally earmarked for Lady Miss Kier). I just wanted to make sure everything was perfect." Much has been made of Gerald's professional link with the former Dee-Lite singer, Lady Miss Kier who sang on Black Secret Technology' and appears alongside Gerald's brother,. Dave Simpson, Jennifer Neal, singer/songwriter, Wendy Page and Louise Rhodes as a featured singer on 'Essence': "Kier is good fun and, without being disrespectful to the other singers on the album who are all great, I like her contributions, the most. I asked my brother to sing on the album because I've always been perturbed by how little investment is placed in black male singers in this country and he's a great singer. I was toying with the idea of an R&B drum & bass album at one stage, but it didn't quite work out like that."
No instead, A Guy Called Gerald has recorded something more timeless than that, he's moved on, redefining the parameters of drum & bass yet again. Like a film shot entirely at golden time, the sounds on 'Essence' acquire an extra luminescence, brightness and clarity at every listen. The soulful songs, 'Humanity', 'Fever (or a Flame)', 'Universal Spirit' and 'Could You Understand' are soulful sultry and sexy but his instrumentals will rattle your flat/office/club with their earth-shaking basslines and the skitter of ragga and deep house grooves.
As befits a true innovator, Gerald was asked by Bill Laswell to contribute to a project he was working on with Herbie Hancock earlier this year. Now, Laswell, a notoriously finicky producer has arranged to have artists as diverse as John Lydon (Sex Pistols/PIL), Ginger Baker, Ryuichi Sakamoto on the same record or even more extremely, Whitney Houston,. Archie Shepp and Fred Frith. He's a pioneer of hip-hop, ambient, avant-funk and world music and has worked with Africa Bambaata, George Clinton, Sly & Robbie and Hector Zazou amongst others. By all accounts, Laswell is an archetypal musical revolutionary who has the perfect qualifications to rework new named from another archetypal revolutionary, A Guy Called Gerald. "I haven't met them yet, but trot on honour. I mean, I worked with a couple of heroes for the album that wasn't released but Herbie Hancock, he's on another level. He's written some classic tunes. I've written the drum programming for the track and Herbie is going to play the keys. How many people can say they're going to work with Herbie Hancock? Not many. It's like a dream."
[Author: Maxine Kabuubi]