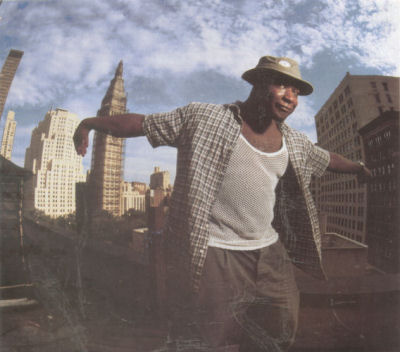 A Guy Called Gerald distils man and machine into Essence.
"It 's the most complex machine that we know of." Gerald Simpson a.k.a. A Guy Called Gerald, The Man From Manchester, techno's original "Voodoo" child - isn't speaking about the latest mixing board, sampler or computer effect, he's raving about the human brain. "Even if you were inside the world's greatest computer, you'd still be like 10 billion times as advanced as that," he says with awe. "To have the knowledge to control it, to know how the world's most advanced computer works, you'd have to also have that in your consciousness."
This line of questioning and need to think everything through is characteristic of Simpson. It's probably one of the reasons it has taken nearly five years to release Essence (Stud!o K7), his first full-length recording since '95's classic Black Secret Technology.
Simpson cites record label changes and "repositioning" himself between New York and London as reasons for the delay. But with a listen to the new album, it's clear that A Guy Called Gerald was also evolving. "There's always progression and change," he says. "The mission is to build an LP which is an advancement on the last LP."
Simpson wanted to use something other than the latest technology on Essence. "The music I'd been doing was mechanical and sample-based," he explains. "There's never been a human element before, not on a full LP." The sensual delivery of Lady Miss Kier, the warm singing of Lamb's Louise Rhodes and the jazzy stylings of Wendy Page all breathe the human element into Essence. Although Simpson has stripped down his arrangements, long-time fans will recognize the signature drum 'n' bass patterns, rhythmic wizardry, and the studio shamanism that characterize his work.
As for his sonic evolution, A Guy Called Gerald only hopes fans will follow. "Hopefully they're not going to expect really hardcore techno - not at this stage!" he laughs. "You can get hardcore techno as a preset on a drum machine now!"
[Author: Steve Gdula]