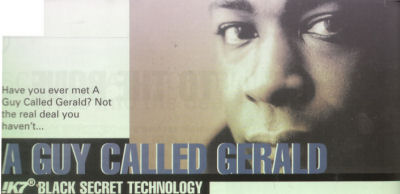 Gerald Simpson is an elusive character. Following an involvement in the early days of 808 State, where he was responsible for the production of their first long player 'Newbuild', he split to concentrate on his own material, with his first solo single, 'Voodoo Ray', crashing through the national forty and bringing him a deal with Sony. Despite critical success, he ducked back into the shadows of the burgeoning jungle scene, unleashing '28 Gun Bad Boy' on his own Juicebox imprint, which grew a reputation synonymous with experimentation and culminated in the release of the 'Black Secret Technology' album. Critically acclaimed, this seminal drum 'n' bass long player took the music beyond the darkness which had previously dominated, introducing slo-mo instrumentals and cross genre material which featured the vocals of the unknown Mancunian Finley Quaye, in addition to more straightforward output.
In 1998, Gerald wound down Juicebox and moved to New York. Apart from a couple of singles and some notable remixes, he again disappeared. With his 'Essence LP' due for release in August, Kingsley Marshall caught up with Gerald at his label's London office.
He explains what happened with the label. "There were a few problems. Polygram were just around the corner from the studio; the guy I had running the label was hanging out with the guys from there. All I wanted to do was get on with my next album, but he had ideas of our label being something it wasn't. I found myself badgered into doing remixes and work away from my own projects. I've fallen into that kind of situation a few times; where someone else has wanted to control what I was doing, I guess through me trying to be too easy going and just wanting to get on with it.
"At one point Juicebox re-released 'Black Secret Technology', which I found to be a step backwards when I was personally trying to progress from one album to the next. It was quite a claustrophobic situation and, because I really felt the need to get out and find the space to finish writing the album, I disbanded the label and moved out to New York."
New York Stories
"You get a lot of space in America," he says. "I'm actually based in Brooklyn, and have found myself a cheap spot in the ghetto, but it's a big place to write in." Laughing he adds, "Though I guess there are parts which are nice, no one wants to hang out where I am unless they're into burning cars or shooting people. There's a lot more feeling here - more colours and diversity - and though music is still categorised, it all falls under the general banner of electronica. Though I'm a bit dubious about the name, to look at something as a whole seems more positive than continuing to fragment, as people have a tendency to do in the UK. When I started making music, there wasn't really a scene around and it was like being on the outskirts of something which then went on to grow around the people involved.
"When I first went over to the States my intention was to get a label together and put stuff out myself. After the onslaught of egotism that had taken over Juicebox, I wanted to go back to something simple - just making music and releasing it. Someone mentioned that Studio K7 had an office in New York and I should hook up with them for my distribution. We got on really well, all being Europeans in the US, talked it through and figured we'd work together. Although I'd got into some pieces like Kruder and Dorfmeister I'd never really focused in on the label. They've allowed me to develop and move onto vocal material and for them, as a label, they're moving on from that DJ Kicks type thing to artist albums. They've just taken on Beth Hirsch, which is as far away from dance music as anything can be."
So to the album... five years in production and more than a worthy follow up to 'Black Secret Technology'. A science fiction theme runs throughout, with spoken interludes breaking up the track listing, and contributions from the likes of Lamb's Louise Rhodes, David Simpson, Wendy Page and Lady Kier providing an additional vocal dimension.
Gerald explains, "After the last album I realised that it would be a difficult project to take out on the road, which is something I really wanted to do so people can see the music and get an idea of how it was put together. This album was really designed so it would lend itself to a live show and I have a bass player, guitarist and drummer. With the singers, it wasn't a case of getting specific people in to do any one particular track, it all happened more organically with people I knew. We'd just have conversations about what we wanted to do and write songs from there. We did a gig in Miami in March and had all of the singers there, which was fantastic, but with the tour later this year I'll have another singer coming with me from New York. When Lou is available she'll do stuff with us, but obviously everyone is professional in their own right and so are either touring or writing material for their own projects.
"I've always wanted to work on albums as opposed to singles for a few reasons really. Primarily, because I feel that an LP is more a piece of work, a mother ship where the singles are like satellites. It has reached a point with me where singles have almost no value, DJs are almost just doing stuff to play to their mates and the music has become so personal that a single is almost like doing a tape for someone."
Continuing, he says, "I never really recorded music for DJs and didn't get played in a lot of places for that reason, but though I don't mind being part of a scene, I certainly won't go out of my way to be part of something. After the re-release of the last album I just wanted to cut loose of any competition, or what anyone else thought of me personally, and that has perhaps affected the way I look at things in that I'll try and take the broader view. As such, the thoughts towards 'Essence' were to really focus on the music as opposed to what genre it was going to fit into. The world is a small place; wherever you are there will be people who just want to listen to music – good music and songs. Although that sounds self indulgent, I see it as tapping into a purity where you focus on your art and try to sharpen it to a point at which you feel it's supposed to be."
Head-hunted
Following the completion of the album earlier this year, Gerald has gone on to work with the legendary Herbie Hancock and Bill Laswell. "Another organic accident," he says. "I wanted him to do a remix for me and we traded some material. From there, he asked me to do some beats."
As for the rest of the year, Gerald adds: "There are a few things around the LP that I'm recording. After that, I'll be spending most of my time working on orchestrating the band to act like machines – that's the next step."
The 'Essence LP' is released on Studio K7 in August.
[Author: Wax]