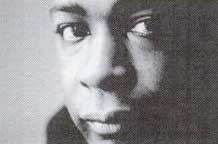 SAN FRANCISCO - Eleven years after helping to define the sound of British house and acid house with the anthemic single "Voodoo Ray" Brooklyn, N.Y.-based A Guy Called Gerald (born Gerald Simpson) is ready to update the techy state of drum'n'bass with "Essence," an album filled with warm dub bass lines, tender soul vocals, and midtempo jazzy breakbeats.
Streeting Aug. 28 worldwide via Studio K7 Records, the set is the Manchester, England-born artist's first full-length since the 1995 release of his critically acclaimed drum'n'bass album, "Black Secret Technology"
"Essence" - which includes vocal and songwriting contributions from Lamb's Louise Rhodes, former Deee-Lite front woman Lady Miss Kier, MC Krusta, and singer/songwriter Wendy Page - is the direct result of A Guy Called Gerald's last six years of musical experimentation.
The set's first single, "Humanity," was serviced to specialty radio and drum'n'bass club DJs the week of June 19.
"For 'Essence,' I wanted to develop songs," says the artist, whose songs are published by Chrysalis Music. " `Essence' is different from my last album, which was basically all sampled vocals. This album is all me, my own little journey. I'm not following the trends; I'm just trying to push myself forward. I decided I needed to do something like that before going back to the real, raw dancefloor tracks."
As a producer and DJ, Simpson first made waves in the British dance scene in 1989 with his production and compositional work with British house outfit 808 State, of which he was an original member. Shortly thereafter, he set out on his own and adopted the moniker A Guy Called Gerald.
Several years after the release of "Voodoo Ray," Simpson grew bored with the increasingly commercialized state of British house and serendipitously stepped into the nascence of jungle and drum'n'bass.
Simpson recalls the night in 1991 when jungle became his new raison d'être. "House had really thinned out at this time," he says. "You'd have the Elvis Presley house mix, and it just seemed really stupid to me at that time.
"So one night," he continues, "I was playing at a party outside London. I heard an MC rapping over someone else's set, which was house with breakbeats. I had prepared my set for that night but changed it live onstage, and the crowd was really vibing to it I recorded the set and flipped it into my sequencer at home and worked on developing my own vibe to what was going on. And that was it for me."
That same year, Simpson began releasing a series of breakbeat tracks on his own label, Juice Box. Two years later, the artist released the singles on "28 Gun Bad Boy," a collection that is considered one of the earliest jungle albums. During this period, Simpson often traveled to Detroit, where he found inspiration in the works of techno pioneers Kevin Saunderson, Derrick May, and Juan Atkins.
While "Essence" finds the artist combining his lifelong influences of reggae, dub, jazz, soul, techno, and jungle - and blending them into an introspective, sophisticated, and somewhat melancholic oeuvre - Simpson says he's already pondering the next musical step.
"After this album, I'll start a new label like Juice Box," explains Simpson, who has remixed and collaborated with such acts as David Bowie, Goldie, Lamb, and Finley Quaye. 'And I'm going to take it back to a dance level. In the early days, I just released jungly stuff with heavy b-lines and fast breaks, but I'm not going back to that. I don't want to push my music back into a specialist thing, which is what most labels do."
According to Studio K7 GM Dave Watkins, Simpson can expect extensive press. "He's such a key figure in the evolution of electronic music as we know it today," says Watkins. "Like many other important artists from Europe and the U.K., he has a much smaller fan base than his accomplishments deserve, but we're confident that Gerald will get his due when 'Essence' is released."
Watkins says A Guy Called Gerald, who is managed by Ziggi Golding-Baker of New York-based ZG Management, will embark on a 15-city North American tour in September with a five-piece band. Confirmed cities include New York, San Francisco, Los Angeles, Miami, and Chicago.
[Author: AMANDA NOWINSKI]