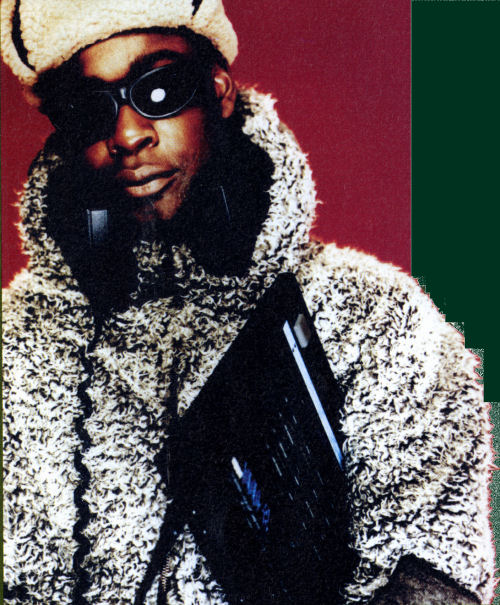 IS SPEED GARAGE SELFISH? IS EVERYONE A NUMBER? DOES DERRICK MAY LOOK LIKE EDDY MURPHY? GERALD SIMPSON THINKS SO AND HE'S SEEN BIGGIE AND TUPAC DOWN TESCOS...
WHAT ARE YOU DOING AT THE MOMENT?
I've been working on my album for the last year. It's called 'Aquarius Rising', because that's the actual star sign I am, and because we're actually in the beginning of the period of time for Aquarius.
BIT OF A MYSTIC MAN ARE YOU?
No, not at all mystic. What's that all about? The Age Of Aquarius is just a reality isn't it? It's instruments for marking periods of time. You've got to name it, or you'll probably forget it.
WHAT IS THE BEST ALBUM TITLE OF ALL TIME?
Hmm that's a hard one. Hmm. (long pause) Aquarius Rising! (laughs).
ANYTHING YOU'VE HEARD RECENTLY THAT'S BLOWN YOU AWAY?
I used to like Nirvana's style really musical powerful shit. On the dance front, it's kind of, eating itself alive. Speed Garage? What's all that about? It's cool if you're into house music, but it's a bit selfish to have one beat pounding away. We might as well be living in the 80's or something. I suppose there's a future in it for people who can't dance.
WHAT DO YOU SAY TO PEOPLE WHO ARE SAYING JUNGLE IS DEAD?
They got conned, man. They got conned out of their culture. They've been blagged out of something totally English by thinking that there has to be something new every five minutes. Can you imagine if Bob Marley thought 'oh well, I'll do a bit of reggae for a while, then I'll try a bit of, like, German music.' There'd be no culture.
WHAT'S THE WORST JOB YOU'VE EVER HAD?
Working at McDonalds. It was terrible. Long hours, no pay.
HAVE YOU GOT ANY VICES?
Loads of 'em. Crazy women. Cannabis. Loud music. More crazy women.
DO YOU BELIEVE IN CONSPIRACY THEORIES?
They do exist. At the end of the day there's someone controlling the country. Everyone's got to have a number. Have you got a National Insurance number? That's your number. Bill Gates is on a mission to make a one world computer system, and once that happened there'd be no reason for everyone not to have a credit card style passport, ID, and bankbook. Once that comes out, if you don't have an ID, you wouldn't be able to buy anything or go anywhere.
DID YOU VOTE?
Nah. I don't believe in all that, seriously. Politics is a distraction for the people from what's really going on.
WHAT'S THE LAST DREAM YOU HAD?
It's really blurry, but being chased, held with my back being bent over so far and someone holding a
blade on my windpipe. If I bent backwards my back would have broke and if I went forwards the blade would have burst into my pipe. I don't dream very much, but I try and grab hold of the bits I can remember.
WHAT WAS THE LAST THING THAT MADE YOU LAUGH?
I've got an abstract imagination. I bumped into Felix The Housecat the other day, and asked after Derrick May, and he was like 'Yeah he's bought a little BMW and he's zipping around Detroit looking like Eddie Murphy without a top on.' That made me laugh.
ARE YOU ANY GOOD AT TELLING JOKES?
Which kind, dirty ones? I can tell jokes. Usually they're made up on the spot jokes. But I was out all last night, so jokes? I'll phone you back with one.
DO YOU REGRET PUTTING OUT ANY RECORDS?
For a while I regretted doing Voodoo Ray then I got totally bored of regretting it and just forgot all about it. I like the feeling of putting music out.
HOW WOULD YOU SUM UP GERALD'S STYLE?
I've got loads of different styles. I call it versa-style. Like versatile. I'm working on a rap tune.
WHAT'S YOUR FAVOURITE HIP HOP RHYME?
(Straight into hip hop mode) 'I Bettcha mickey won't slip/ yeah like it didn't slip/ Got the calico with the black talents loaded in the clip'. Calico, that's a firearm. Black Talents, they're bullets. It's from 'Warning' by Biggie Smalls. I seen Biggie, you know, down Tesco's! Him and Tupac. He was! It's all a con. All the Machiavelli, Life After Death business. Ultimate marketing.
ALL A BIT COINCIDENCE...
They happen sometimes. Yesterday I seen about five people fall over. I saw an old woman fall, I saw a guy trying to get on a bike, smashed his crotch into the crossbar. The guy in the car in front of us was on the phone, and we were kind of up his bottom in the car, and he hit this motorbike. Sometimes you get a burst of accidents like that.
NAME A CURRENT INNOVATOR?
There's loads. Squarepusher, Talvin Singh, Mark and Dego and Reinforced. Them guys are ultimate creators. Goldie, Rob Playford, me, me, me...
WHAT'S YOUR MOST OVERUSED PHRASE?
Give me.
DO YOU BELIEVE IN GHOSTS?
I don't believe you die and come back like the movie Ghost, but I believe in many dimensions. Things that exist outside of our periphery.
HAVE YOU EVER RIDDEN A HORSE?
Yeah (long pause). When? About two years ago, I was out on a country trek thing. It was a trail and I was sat on a horse, clunking along. They make a mad movement. I don't mean to get X-Rated or anything but I'd love to have a shag on the back of a horse when it was going.
[Author: EMMA WARREN]